Being a gambling enthusiast doesn't have to mean spending all of your time at a casino – whether online or land-based. Even professional sports players don't spend all their time on the field or in the gym, right?
If you want to find a balance between still living your best gambling life and staying close to the games you love, keep reading. Punters from around the world have plenty of creative ways to show off their favourite pastime, and if you are a fan, these ideas will work perfectly for you.

 Kick It with Online Streamers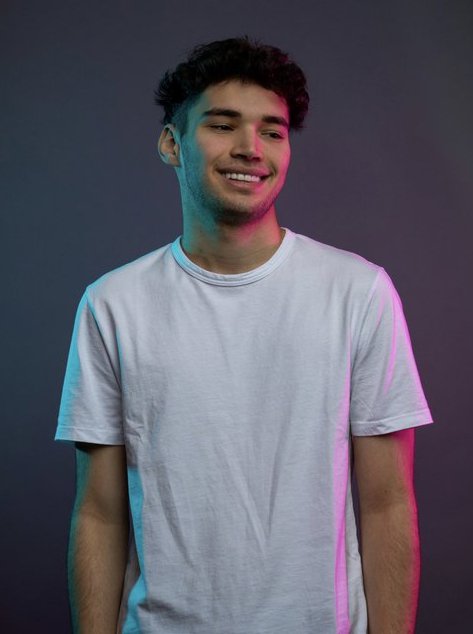 Being a spectator while you take a break from placing bets yourself is one way to stay connected. Casino streamers became all the rage in the last year, and sites like Twitch and YouTube Live host millions of live streamers who cover an array of topics. Twitch is by far the most popular choice for gambling live streams, though, and they have well over 100 channels devoted to this topic.
You can expect to see a live feed of the game the streamer is playing as well as a video stream of the player - if they're not playing from a land-based casino. Because these live recordings are of real money gambling, which is an age-restricted topic, the streams are only intended for viewers of legal age.
The advantage of tuning in to a live stream of a popular casino streamer is that you get to enjoy the thrill of casino games, most often slots, but you don't spend a cent and you can chat to your fellow viewers.
One of the most popular Twitch streamers is Trainwreckstv. Tyler Faraz Niknam has 1.7 million followers on his Twitch channel, and the streamer plays various casino games while preferring slot games.
Streamers like AdinRoss take a different approach and stream with a bunch of friends. They stay online for hours and incorporate other entertaining feeds into their videos. With a mind-blowing 5.4 million following, they rake in close to a million views on a session. CasinoDaddy streams every day and plays high roller games, including poker. Roshtein is very popular on Twitch as well with 830K followers and Teceno is a good choice for esports betting fans.

 Get Inked with Gambling Symbols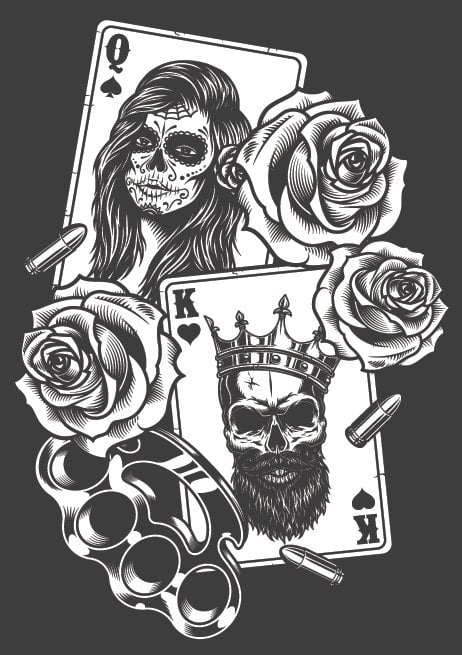 Serious gamblers have often turned to a permanent trophy they can always have with them. The popularity of tattoos increased tremendously in the 21st century, and the stigma attached to getting inked slowly became something of the past. Today, it is an art and tattoo artists with tremendous talent create masterpieces for enthusiasts.
Punters no longer need to page through a booklet of pictures and pick their favourite image. Modern tattoo artists can envision the inspiration behind your tattoo and create something truly unique to you. Some of the most popular gambling tattoo images include playing cards and most refer to luck in some form.
The Vegas, Nevada, sign is a very popular choice to incorporate into your art, as well as casino chips and whiskey on ice. The ace of spades card is a good option and blackjack as well. Some of the most famous gamblers have tattoos that incorporate all aspects of gambling, making it a stunning collage of casino images.
A hand that holds a royal flush, rolling dice, and money often make it into the design and they can easily incorporate lucky numbers to make it as personal as possible. With the right tattoo artist, you can get a piece that is incredibly personal and may even be your own personal lucky charm.

 Dress in Gambling Apparel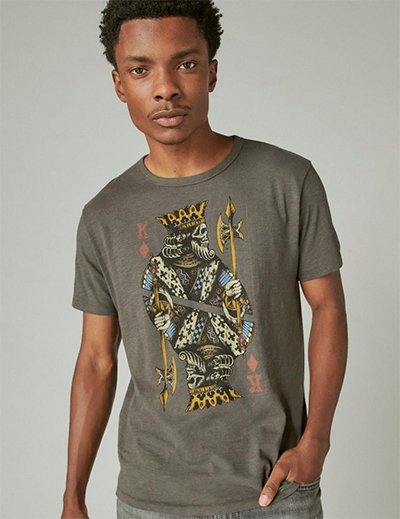 The love for gambling is nothing new and a couple of designers have used it as the inspiration behind their labels. Lucky7 is one such brand and the iconic logo of the brand incorporates the luckiest number. You can't help but feel lucky dressed in this men's brand available in Quebec. A brand with a similar name called Lucky Brand, founded in Los Angeles, gives you the chance to dress in luck from head to toe.
Other brands may not scream gambling, but a name like Ed Hardy is a quintessential rock label and his designs incorporate some symbols well known in gambling. Wearing a Don Ed Hardy creation may not be everyone's style and you will definitely stand out from the crowd, but his recognisable work with its skulls and tigers will tick all the boxes for punk punters. Rhinestone finishes and contemplative phrases make his clothes an exciting choice for gamblers.
If you are looking for something unique, you can design a custom image or download free templates of gambling images and have them printed on clothing. Some websites offer a range of images to choose from and a variety of shirts or hoodies to print on. These include cute phrases and iconic images to show off your love for gambling. Textiles with unique gambling prints on them are available online as well and with these, you could make outfits according to your liking.

 Hollywood and Casino Life
Gambling is such a big part of society that it must be part of filmmaking. Movies allow us to travel from this world to one where anything is possible. Casino inspired Hollywood titles are a great way to enjoy the wagering life while placing nothing on the line.
✓ Rounders (1998)
Matt Damon takes the lead in this classic gambling flick. The young Mike McDermott (Damon), a gifted poker player, is a reformed gambler that faces a tough call when an old friend knocks on his door. Lester Murphy, portrayed by Edward Norton, lures Mike back into the game and before long he is tangled in a KGB mob drama where he must face his nemesis Teddy, played by John Malkovich. This gambling drama is one of those must-watch 90s movies.
✓ 21 (2008)
If you are a blackjack enthusiast, you may have heard of the MIT club of students who trained to become card-counters and subsequently cleared out Vegas casinos. 21 is the movie based on facts of the MIT crew and this release has Kevin Spacey as the team's coach. Jim Sturgess, Kate Bosworth, Aaron Yoo, Liza Lapira play the team of students, and Laurence Fishburne portrays a ruthless casino boss. This drama-thriller is the dramatised version of the story and makes for superb entertainment while teaching us about a piece of gambling history.
✓ Ocean's Eleven (2001)
Possibly one of the most popular Hollywood films in the casino genre, this star-studded movie was released at the beginning of the millennium. Since then, Danny Ocean and his 10 accomplices became synonymous with epic heists, and we can't imagine a movie where Brad Pitt and George Clooney are in that does not include Julia Roberts. Matt Damon shows up once again in a casino film and Andy Garcia helps with a well-rounded cast. The team plans to rob three Las Vegas casinos simultaneously and the crime thriller will capture you from the first scene.
✓ Casino Royale (2006)
A James Bond (Daniel Craig) fan favourite, this 007 film plays out when Bond first received his 00 status, and his mission is to beat a private banker to terrorists at a game of poker. The venue for this extremely high-stake game is Casino Royale, Montenegro. The villain, Le Chiffre, must win the game to maintain his status within the terrorist market. M sends Bond and Vesper to prevent this at all costs. A classic within the spy-film world, this is a must-watch for any gambler.

 Listen to Casino and Gambling Inspired Music
One of the best ways to unwind is by listening to music. Creating a playlist with songs inspired by gambling is easier than ever with streaming sites that have music from all corners of the world, dating back to when music was first released on public platforms. Here are five gambling songs to get you started.
✓ Lilly, Rosemary, and the Jack of Hearts by Bob Dylan
Some may argue that this is about more than gambling, but the theme that will resonate with gamblers is one of chance and fate. It includes a haunting murder plot involving a game of cards and a love quartet. Seems like Bob Dylan created the perfect dramatic song to suit the highs and lows of gambling.
✓ Viva Las Vegas by Elvis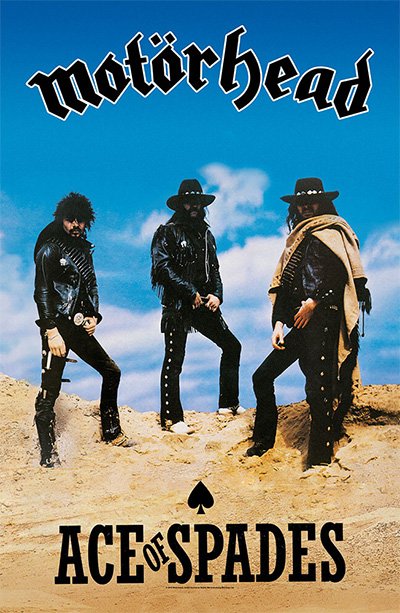 Perhaps this song is the reason Elvis has the honour of officiating marriages in Sin City. One thing is clear, though. The king of rock and roll certainly captured the glamour of Las Vegas in this song and if you want a different take on it, try Bruce Springsteen's cover of it.
✓ The Gambler by Kenny Rogers
A gambling playlist would be incomplete without this one. An absolute classic for the moral value late Kenny Rogers put into this song, it is a must for any punter. Naturally, it has a country tinge to it, but whether or not you enjoy that type of music, you may learn a thing or two from the lyrics.
✓ Atlantic City by Bruce Springsteen
One of his many hits, this is a bit of a sombre one from The Boss, but he tells a story many could identify with. Atlantic City is a well-known gambling hub, and the lyrics are about a man who struggles to make ends meet and he is going to take his chances there.
✓ Ace of Spades by Motörhead
The rock and roll legends wrote a song about the most important card in the deck. Perhaps that has something to do with the enormous hit this song became, but it is one of the most famous gambling songs of all time. The lyrics are all about card gambling and it is a must for any punter's feel-good playlist.

 Take a Breather
The above methods are all good fun when you want to soak up what gambling offers without taking part in games of chance and staking your money. However, take a breather from gambling now and then to clear your head. Returning to the slots or tables with renewed vigour will help you think clearly and place bets responsibly.
TAGS
Related Blog Posts