With gambling success stories, many tend to believe that luck has a lot to do with the win. We all know that casino games usually stack odds against the gambler and the house mainly wins. For this reason, countless punters believe that charms may add to their fortune and, with some games, players can use all the luck they can get.
Certain gambling games require a level of skill to win, but even these skilled punters have superstitions and carry talismans for added luck. Others may even have a ritual they perform before playing their game of choice.
Let's take a look at the interesting lucky charms people believe in around the globe and explore where some of these amulets originated. Some are well-known beliefs while others have questionable roots, but some believe these charms to bring fortune to the wearer.
✓ American Charms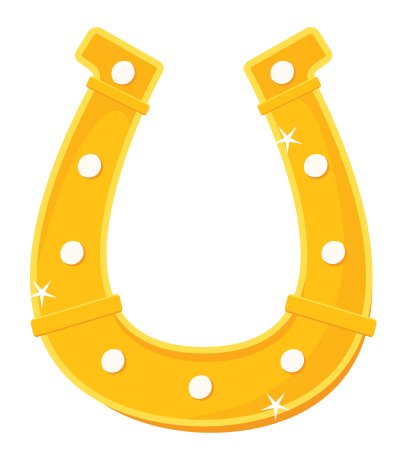 Thanks to the media, American traditions seem to be some of the most well-known ideologies in the world. This rings true for superstitions and good luck charms as well. One of the most popular amulets is the horseshoe. This belief stems from folklore about Saint Dunstan, who struck a deal with the devil and from there on out the horseshoe wards off evil and brings luck. Be sure to position your charm in the right direction though as the u-shape will catch the luck for you if pointed up, but lose it if pointed down.
The Rabbits Foot is another well-known lucky charm that America seemed to have put on the map. Its origin is debatable but said to be linked with the European mid-century practice of the 'hand-of-glory'. As it is not the most upbeat of tales, we suggest you rather focus on the luck of the rabbit's foot. Not to worry, as you do not need to capture and injure a real bunny. Faux rabbit's foot charms are available, and you can always have one made in silver or gold. If you want a real one though, be sure it is the left hind foot of a rabbit caught in a cemetery at night.
Animals seem to play a big role in the realm of superstitions and one more American folk tale states that alligator teeth are a talisman that will bring the wearer luck and money. It is not surprising that American gamblers wear these odd trophies to ensure big wins then. Alligators have better luck than bunnies though, as their teeth fall out periodically, so gator slaughtering isn't necessary for these trinkets.
Moving toward the more ancient parts of America, Peru has a national symbol represented by an ornate ceremonial axe. It is also a lucky charm in Peruvian culture. The origin of this charm is a little strange though as it used to be a ceremonial axe used to perform religious sacrifices and trepanation. The latter is an ancient Incan surgery performed to remove a piece of the skull. Today, they wear it for fortune and hang it on walls of homes to ward off evil.
✓ European and British Lucky Trinkets
Beliefs from the European and British continents seem to be well-known ones too like the four-leaf clover everyone hopes to find. The clover symbol is so well-known as a lucky charm that we can find it in many casino games and although the rare four-leafed version is scarce, clovers have a positive meaning. The inspiration comes from the Christian faith of the Holy Trinity and when there is a fourth leaf; it represents God's grace.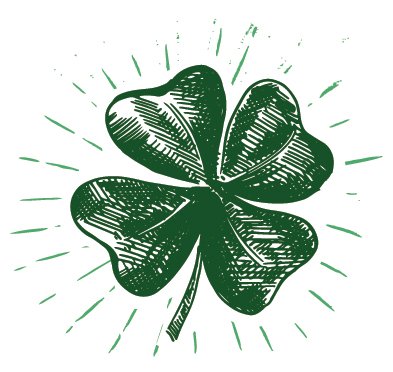 In Britain and certain parts of Europe, they believe an acorn to be the symbol of prosperity, wisdom, fertility, and youth. Legend has it that the Norse god Odin hung himself from an oak tree to get wisdom and from there on, people wear the tiny nut for good fortune. The acorn does not need to be real. Simply pick from a variety of jewellery items made with this symbol.
Some European traditions are not that well-known and these two smaller countries have unique amulets they believe will bring luck to the wearer. In Poland, it is a tradition to eat carp for Christmas, but the meal includes some scales from the fish. Superstitious Poles then carry a few of these scales in their wallet for the rest of the year to attract wealth, prosperity, and good luck. Swedes carry a Dala horse which originates from the 18th century. Soldiers would carve these horses out of wood and trade them for food. Since then, it represents luck, perseverance, and good fortune.
When it comes to luck, many believe that the key is not just to attract it, but also to ward off evil omens. Nazar Boncugu, aka the Turkish evil-eye bead, is for exactly that reason. The name seems counter-intuitive, but many believe this cobalt blue symbol has the power to ward off curses and ill intentions from other's staring eyes. People from all over the world place these glass beads on key chains, in their cars, their homes, or wear them as jewellery. It is especially lucky to wear while gambling, as opponents could not block your luck.
✓ African and Middle Eastern Amulets for Luck
The very popular Hamsa Hand is now found in most western cultures as a universal sign of protection, but it found its origins in the Middle East and North Africa. It is predominantly a Jewish and Islamic symbol with similar meanings in the religions. Also known as Hamesh, Chamsa, or Khamsa, this charm is a hand with five fingers, but the two outside fingers are often symmetrical thumbs. Linked with the meaning of the number five, it wards off evil and brings the wearer happiness, luck, health, and good fortune.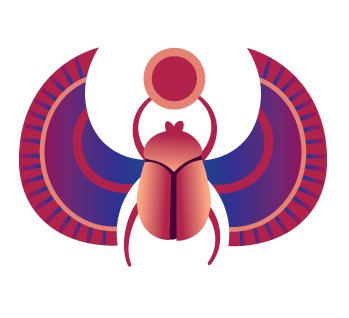 Ancient Egypt had a language made up of symbols, so it is easy to find meaning within the cultural signs, but some symbols carry significant weight. All Egyptians wore the Scarab Beetle to protect them and guide them, even in the afterlife. Punters will recognise the symbol, as many slot games have Egyptian inspiration and the beetle is present, more often than not.
In Ghana, West Africa, the age-old tradition of Adinkra symbols originates and the Ghanaian people have a symbol for almost everything. They create their beautiful textiles with these symbols printed on them and wear traditional clothes made from them. Wrap yourself in cloth covered with Mmusuyidee to remove bad luck and attract good fortune. It is not uncommon for these traditional prints to show up in high-end fashion collections, so you might even find a scarf or purse to carry along when you place your bets.
✓ Eastern Money Charms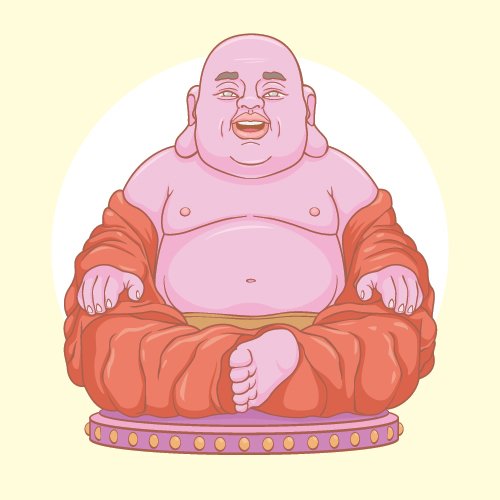 In the East, they usually ordain their homes and businesses with gold and red ornaments and symbols, and in Chinese culture, one will find the luckiest charms of all. Laughing Buddha, also known as 'Hotai' or 'Pu-Tai', is a figurine of Buddhist origin. A version of this chubby figurine holds a pot of gold or gold nugget, and this represents prosperity and wealth, befitting for gambling luck. Best you rub the smiling figurine's belly so that his luck can rub off on you. Don't worry, there is no need to carry a statue into the casino. Because he is such a popular charm, laughing Buddha is available in many sizes and in a keyring shape to travel with you.
A Chinese money frog, often found at the entrance of a business or Chinese family home, known as Jin Chan is a three-legged gold bullfrog. He has red eyes, a coin in his mouth, and sitting on a pile of traditional Chinese coins. Chinese folklore tells how the golden toad appears near homes or businesses during a full moon to announce the coming of good fortune and wealth. Be sure to place it in the correct direction, as the frog must face inward to bring money. According to tradition, if it faces outward, the money will flow away from you.
The colour red is the national colour of China and represents happiness, beauty, vitality, good luck, success, and good fortune. Most Chinese charms and symbols display this colour, and it is a tradition that children receive a red envelope filled with Chinese coins for New Year to bring fortune. This is one of the easiest ways to ensure added luck when placing your stake. Wear something red for added fortune to beat the odds.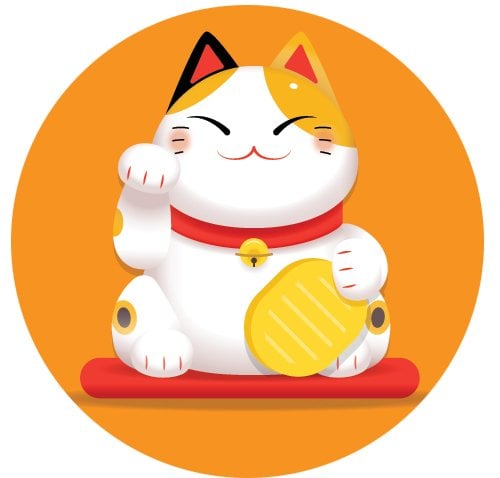 Maneki Neko is a Japanese talisman known as the beckoning cat. This figurine comes in different colours and always has one front paw waving. Depending on which paw is up and what colour the cat is, the owner will experience different fortunes. It dates to the 17th century and often one will see it at the entrance of Japanese or Chinese businesses. Some of these charms are available with a mechanical paw that waves at you and others come in luxury materials like jade or precious metals. Look for a Maneki Neko that has a coin in its paw and a koi fish, as this charm will bring fortune and wealth. With a raised right paw, it attracts good luck and wealth. This is the feline to accompany you to a gambling outing.
✓ No Charms? Here are Other Tricks for Luck
Seasoned gamblers have their charms of choice, although some choose not to carry a trinket for luck. You may wonder what you can do if you don't have any of the above talismans, and the following tricks will help. Carrying a momento that is sacred to your family is an age-old manner to carry luck around. Many successful gamblers wear an item of clothing they wore when they first won big, so dig out those lucky socks before you place your bets.
Craps players sometimes set up their dice with certain numbers facing up and others blow on the dice for luck to transfer on the die. Astrology followers can visit their gambling horoscope to see whether the planets align for their big win to roll in. Finally, you can always bet on 7, the luckiest number, or in increments of it.
✓ Feeling Lucky?
At the end of the day, all forms of gambling come down to odds and in some games the numbers are great, but in others not so much. Whether you knock on wood or cross your fingers, the fact remains that the house always wins. Carrying charms should add to the fun of the game and applying wisdom and limits to your betting ensures that the fun doesn't transform into a negative experience.
TAGS
Related Blog Posts