There is no doubt that having good luck every now then is a fantastic experience. In an attempt to coax the luck gods, some would even endeavour to enshrine their fortune into lucky charms and trinkets.  
While some might think this sort of superstition is crazy, other influential celebrities believe wholeheartedly in the advantage that their charms give them. 
Did you know? The word 'luck' originates from the Middle Dutch word 'gheluc' which means happiness or good fortune. Contrary to popular belief, it does not stem from the name 'Lucifer' and therefore has no devilish connotation. 
Here is a list of ten A-listers who lean on a little luck from time to time. 
1. Colin Farrell – Belts Off To Boxers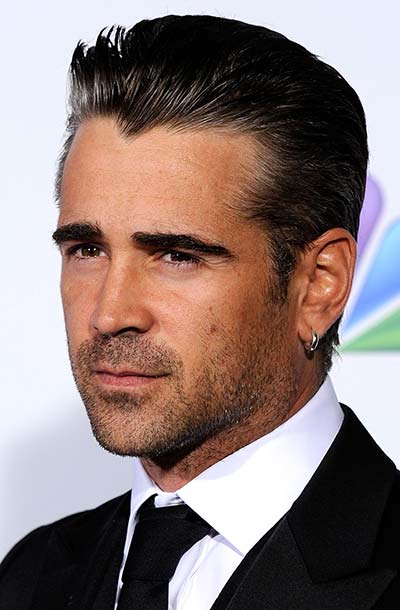 Irish action star, Colin Farrell, has admitted that he relies on the luck of the Irish for good fortune in the competitive business of Hollywood film production. He had not one, but two lucky charms that he is convinced improved his luck. 
He admitted in 2004 that he always wears the same boxer shorts when he starts filming a new movie. Lucky four-leafed clovers cover the shorts, and the waistband reads ''The Luck of the Irish''.  
The second fortune favouring item has ironically been lost. It was an old belt his father gave him. Such was Colin's urgency to get the item back, that he posted a reward of $25,000 for its return. Unluckily, it has not turned up. 
2. "Socksy" Serena Williams 
Serena Williams is one of the world's top female tennis players. She believes that talent and training are not enough to remain on the cutting edge of the sport. Instead, she likes to lean on a little superstition to help her by. 
The sports star confessed that she owes a little bit of good fortune to a lucky pair of socks that she wears on every match day. When we look at her impressive career, how could we ever argue with her magic recipe for success? 
3. Bend 'em Like Beckham?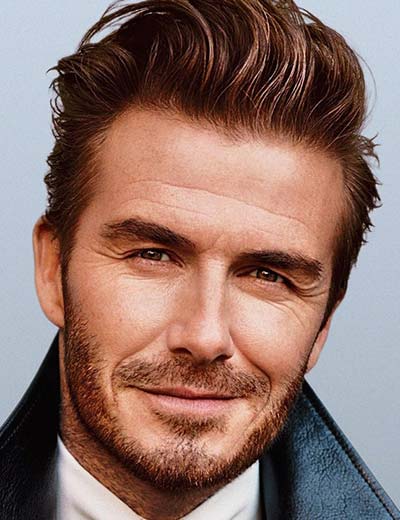 David Beckham is probably one of the best free kick-takers the British football world has ever seen. Ironically, there is no place for bends in the star's locker room before a game. Instead, the ex-footballer confesses that his togs, accessories, and even items in his hotel room would all have to be lined up dead straight before a match so as not to mess with his juju. 
His superstition doesn't stop there though. Mr Beckham had to wear a new pair of football boots before each of his matches. This way, there's no chance of any bad energy carrying over to his kicking boot from one match to the next. 
4. Tiger Woods' Power Booster 
While Tiger may have gone through a period of bad luck a few years ago, his return to golf has been admirable. The multiple-time golfing champion obviously has a lucky charm when he is competing in the final rounds of competition, as his iconic red shirt makes an appearance each time. 
Woods was forthcoming of his reason for wearing red. He said, "I wear red on Sundays because my mom thinks that that's my power colour, and you know you should always listen to your mom." Given that our moms always know best, who are we to argue with his traditions? 
5. Heidi Klum Bites Off More Than We Can Chew 
Heidi Klum is not only a pretty face with straight pearly white teeth – she is also a woman given to somewhat weird superstitions. In fact, her teeth have a large part to play in whether she feels lucky or not. 
Heidi carries a purse full of her old milk teeth as a lucky charm. While not the best conversation starter, the ex-supermodel and America's Got Talent judge confesses that she has had a few embarrassing moments explaining to others about her incisor intricacies. 
6. Diane von Furstenberg Coins a New Tradition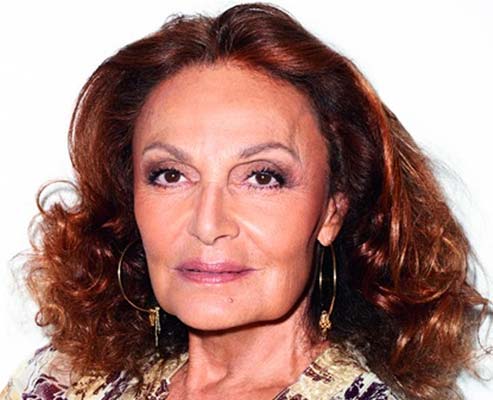 Diane von Furstenberg's shoes are worth just a little more on show day. The fashion mogul has built up a great reputation in the fashion industry and has put a lot of hard work into her success. It seems though, that luck has had its part to play too. 
She tapes a lucky 20 Franc coin to her shoe when her models take to the catwalk. Apparently, the old lucky charm belonged to her dad who wore it in his shoe for good fortune during the war. 
7. Barrack Obama's Collection of Keepsakes 
It seems that former US president Barrack Obama's luck just keeps increasing. Ever since he began running for office, random people would hand him lucky trinkets to wish him well on his way. These lucky charms may have helped him, as we know his campaign was a resounding success. 
There are far too many keepsakes to carry on his person at all times, but you will catch him with one or two of them in his pocket each day. We guess he must feel like the luckiest guy in the world with such a great bunch of supporters. 
8. Mother's Memento Encourages the Snyder Sisters  
Danielle and Jodie Snyder are the faces behind the Dannijo jewellery brand which has accrued a massive cult following. Not only do the sisters have themselves to lean on for encouragement, but their mom has proven to be their best good luck charm. 
The two have a framed picture of their mother from her high school yearbook. The portrait follows them across the world to every trade show where they say it provides them with all the good fortune they need. You can't fault these mommy's girls for their choice of charm – no one is as faithful as mom! 
9. Courtney Celeste Spears and Her Ring Dance 
It seems that Tiger Woods and the Snyder Sisters are in great company when it comes on relying on their moms for good fortune. International dancer and member of the Alvin Ailey American Dance Theatre, Courtney Celeste Spears, feels lost without the David Yurman ring that her mom gave her. 
When she dances, she finds comfort in the thought of her mother's love for her. When asked in an interview whether she considered it good luck, she affirmed that it was and that it felt strange when she was without it. 
10. Tory Burch's Red Ribbon Rescue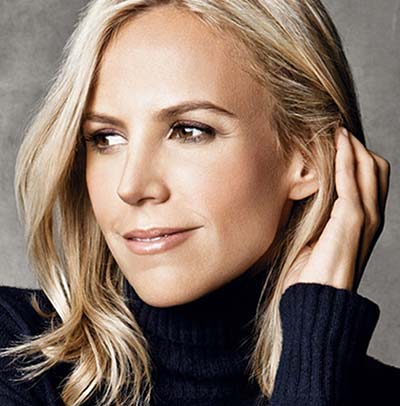 Most people take out insurance when they fly across the globe. Others might even say a little prayer upon take-off or before landing. Tory Burch, however, adds to her protection by donning a piece of red ribbon. As someone with great influence in the fashion industry, perhaps Ms Burch will set a new trend for travellers everywhere. 
The wearing of the good luck ribbon is a tradition that is reportedly handed down from her beloved great grandmother, but it gives her a sense of peace when she is 30,000 feet above the ground. 

 A Duo of Delights from GamblersPick 
If lucky charms play a big role in your lifestyle, we'd like to introduce you to some fabulous good luck in the GamblersPick way. Enjoy a duo of luck charm-themed slots from game studios like Novamatic and Spinomenal and rack up the potential for great fortunes. 
✓ Lucky Lady's Charms Deluxe by Novamatic 
If you are into all things superstitious, then Lucky Lady's Charm Deluxe is right up your alley. Novamatic has a knack for making suitably themed games to suit your mood. This lucky game comes with the potential for great rewards of up to 4,633x your stake. 
Reels:  5x3 
Paylines: 10 
Volatility: High 
RTP:  95.13% 
Max Win: 4,633x 
The colourful game design is a delight to the eyes and the selection of stereotypically lucky items on the rollers bolsters the idea of good fortune on each reel spin. Line these up in combinations of 3 or more matches across the 10 paylines for instant cash prizes. 
The game maker shares the fortunes via several fabulous features, including a Wild Multiplier, Gamble Feature, and a Free Spins round where you earn up to 15 free games with a triple win multiplier attached.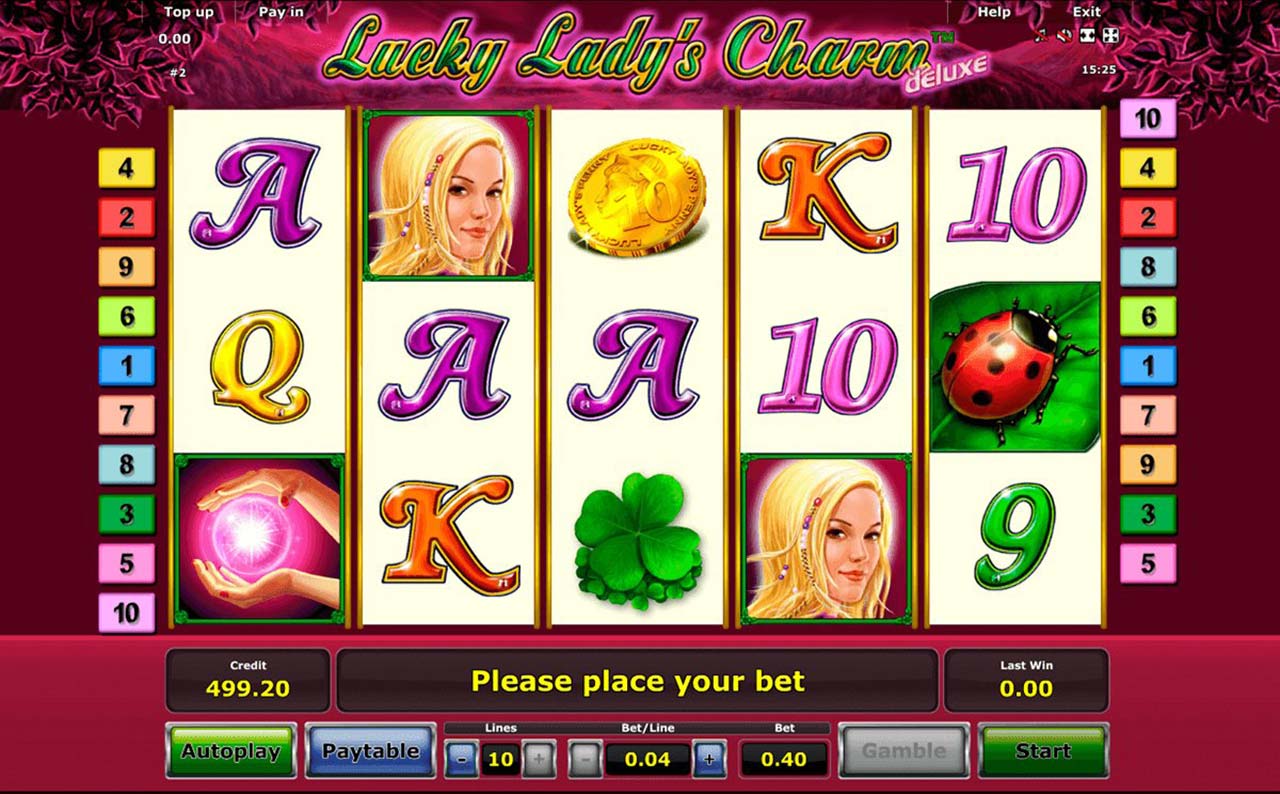 ✓ 8 Lucky Charms by Spinomenal 
8 Lucky Charms by Spinomenal is an Asian-themed game where Chinese Lucky charms frequent the reel set to land you wins of up to 200,000 coins on a single spin. 
Reels:  5x3 
Paylines: 50 
Volatility: Medium 
RTP: 97.4% 
Max Win: 200,000 coins 
The deep rich red colours of this slot's background ensure that the bold symbols stand out on the screen. Land wins over 5-reels and up to 50 bet ways. The medium game variance and high RTP combine well to provide a mix of prize sizes. While smaller wins are more frequent, large cash rewards are most assuredly possible. 
The best luck lands your way when the reels stack with multiplying Wild symbols, or you manage to trigger the free spin bonus round. Muster up all your good fortune to land between 5 to 20 free spins with win multipliers of 2x or 4x on winning combos.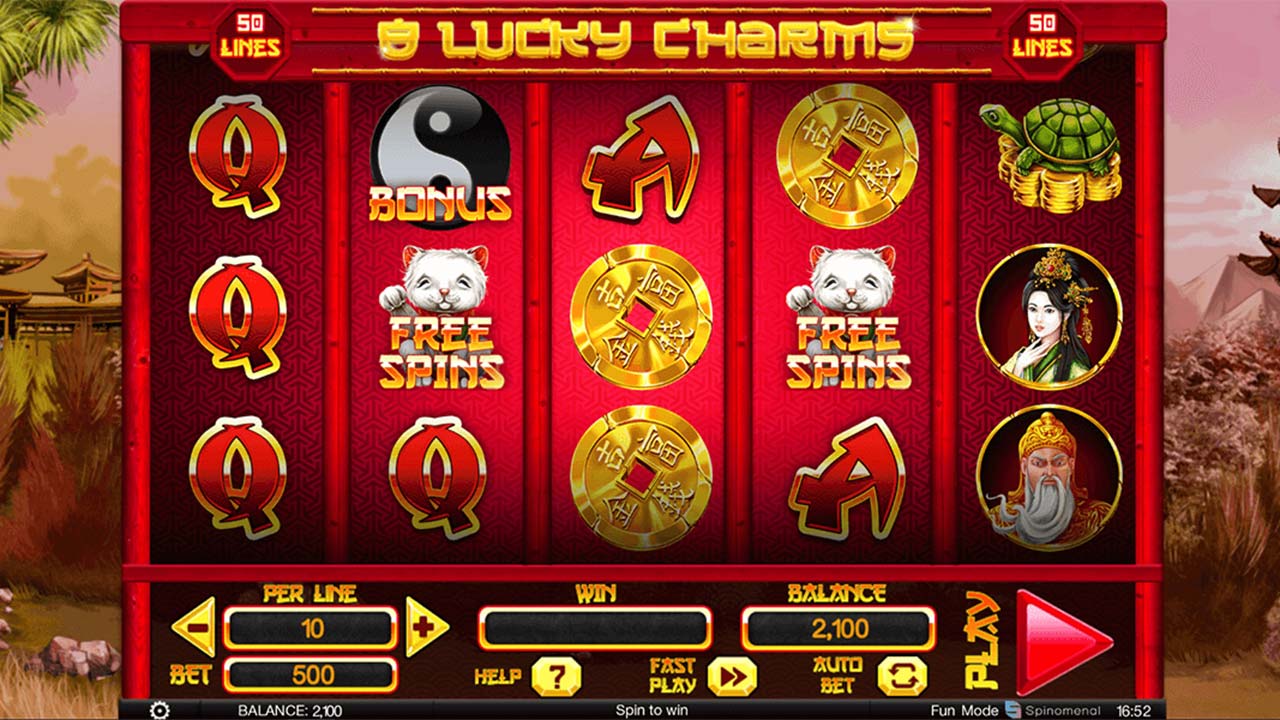 TAGS
No related content