While the US has Las Vegas as its gambling mecca it is Great Britain which has the most widespread and accepting relationship with gambling of any country in the world.
While going the races with your dad might be a fond memory of a special occasion for some, in the UK all you need to do to place a bet on any number of sporting events is head down to the local bookmaker which can be found on any high street.
With the regulation and licensing of online gambling, this access to betting and casino games is now more ubiquitous than ever. There is no longer a need to leave your home, simply click on your mobile casino app and gamble in the privacy of your own home while watching Netflix or doing your taxes.
✓What Does This Mean for Young Britons?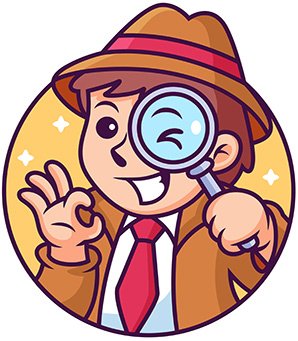 Growing up with this ease of access to gambling be it in town, at your pc or on your mobile phone does raise the question of whether the UK runs the risk of its young people becoming too familiar with gambling.
Tim Miller, Executive Director of the Gambling Commission said:
"Protecting consumers is at the heart of everything we do, and it is important we understand the ways in which children and young people gain exposure to gambling, the products they are playing, and what factors influence their relationship with gambling."
While it is a hobby there is the risk of losing one respect for the addictive potential that is inherent to the fast-paced risk-reward cycle that makes gambling so thrilling. Especially in the 16-30-year-old age bracket where many financial and societal patterns are being formed and instilled.
To gain a practical insight into the mindset of young Brits and their major influences when it comes to gambling the Gambling Commission had global insights agency 2CV survey the target segment using "a combination of quantitative and qualitative methods" to paint them a real-life picture of "this demographic in their own words and reflecting their own voice".
✓Snapshot of the Survey Results
In addressing the intent of the Commission's inquiry 2CV surveyed two market segments sequentially. The first group consisted of having online participants aged 16-30 take part in a series of community exercises over a 10 day period that would test their understanding of gambling and what formed those opinions.
The second test was a straightforward survey aimed at 16-25-year-olds. The survey covered their current experience with casinos and sportsbooks, how young they were when they first gambled and several other key indicators to gain an understanding of who and what shaped their view of gambling.
The highlights of the report indicated the following:
Engagement with gambling throughout childhood and early adulthood aligns to a familiar set of life events and milestones, such as family holidays, first jobs and increasing financial independence.
Engaging with gambling or gambling style activities during childhood is common, but participation is primarily passive.
Exposure to the positive and negative extremes of gambling (e.g., witnessing big wins or big losses, or being exposed to very positive or very negative attitudes about gambling) at an early age can lead to an increased interest in gambling in later life, and in some cases riskier or more harmful gambling behaviour.
Friends and family played an influential role in shaping gambling behaviour, whilst advertising and marketing has less of an influence on young people's tendency to gamble.
Young people are most vulnerable to experiencing gambling harm after achieving independence from their parents and moving out of home.
As people grow older gambling behaviour does not stay the same, rather it fluctuates according to personal (and peer) experiences of wins and losses, and alongside changes in lifestyle and responsibility.
To ensure that these findings are as true as possible to the experience of the broader UK gambling population all participants were divided across the country's regional demographics based on gender and socio-economic status.
✓The Family Dynamic
While there is an ongoing debate about nature versus nurture in the development of habits and mindsets the 2CV reports shows that the familial views and interactions with gambling impact the development of younger people.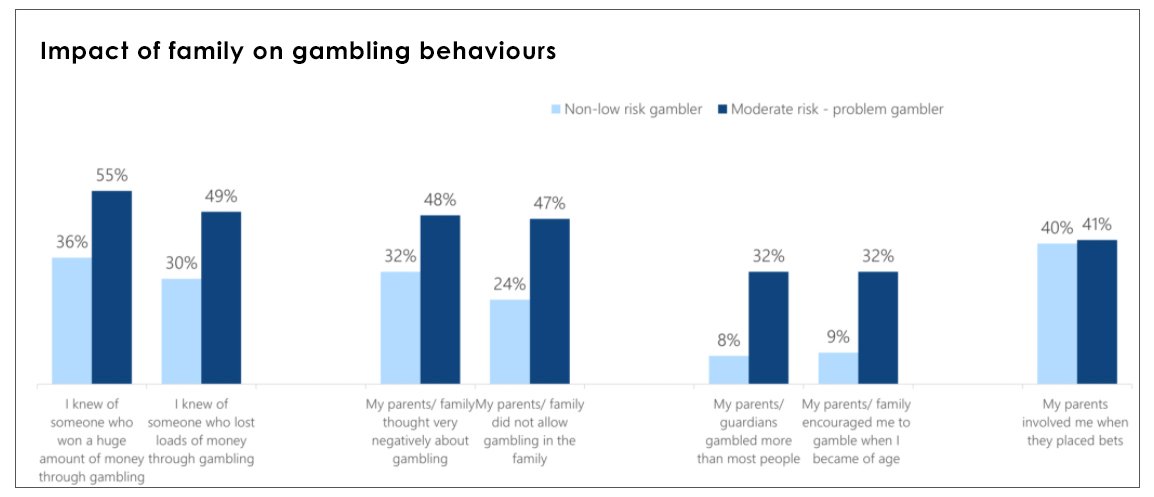 It is interesting to see that where family members were seen to be voracious gamblers or actively encouraged the participants to gamble less than 10% of them had a healthy relationship with gambling, while in both cases more than 30% showed a high risk of addiction.
✓Follow The Leader
We know all too well the pros and cons of the herd mentality of is an inherent part of the human condition. This is especially strong in younger people as they are creating future support structures. In a region where gambling is so easily accessible, it is not surprising that those friendships play a huge role in forming gambling behaviours.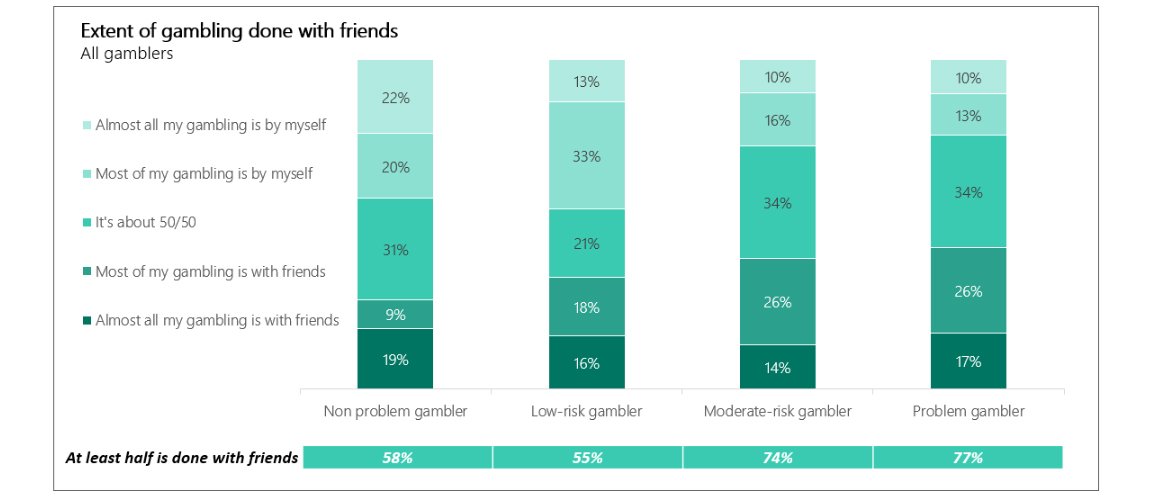 The interesting vacillation point here is that while isolated adults are more likely to fall foul of compulsive gambling disorders, it is more likely that they could develop a reliance on gambling as a form of escapism through social gambling during their formative years.
This is supported by the final point in the earlier highlights list where ones changing view on gambling comes about with age, be it for better or for worse is up to the individual.
✓Marketing Is Underplayed
Unfortunately, the report underplays the impact of advertising, popular culture, and influencers on enticing younger audiences. The Gambling Commission heading on the topics writes it off with a footnote:
"Advertising is primarily a trigger or 'nudge' to play as opposed to the reason to start gambling, however more targetable marketing channels – such as social media and email – are more influential."
Yet with the extensive research being done into the impact of video game loot boxes on instilling gambling triggers in children, the bans on certain types of influencer marketing across Europe and limitations placed on venue advertising there is clearly more to this than the 2CV report was able to highlight.
Additional exercises or survey questions around video game spend on loot boxes, watching Twitch streamers who either play Online Slots or are sponsored by betting companies like Barstool Stops and how they were introduced to these mechanisms would have been a nice addition to this already insightful project.
✓Put Your Best Foot Forward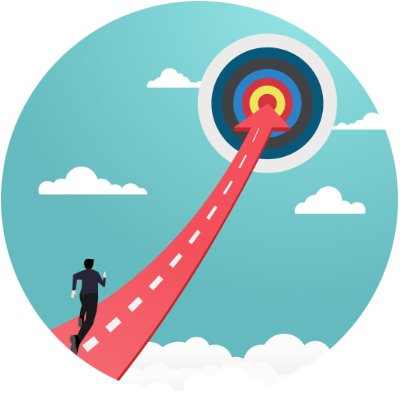 Based on their analysis of the two projects 2CV has recommended the following focus areas of for the Gambling Commission moving forward:
Education for parents should focus on protecting children from the extremes of gambling (positive and negative experiences) – responsibly modelled play doesn't appear to have the same impact on people's future behaviour.
Education for young people on what 'normal' play looks like will have wide-ranging benefits – enabling young people to benchmark safe play more accurately for themselves, for family and friends.
Education and early exposure to gambling ought to be 'neutral' (not overly negative or positive) to minimize the risk of unsafe play – e.g., understanding of odds and probability of loss.
A more holistic approach to tackling problem gambling within friendship groups rather than individuals will have a longer-lasting benefit – highlighting the influence of friends on play.
We can only hope that the Commission sees the value in pursuing a more socially aware campaign of education and support, rather than following the Ministers suggestions we which all revolve around limiting player choice and financially penalising the businesses who operate in the sector.
TAGS
Related Blog Posts