Covered topics
---
Online blackjack can be as much a game of choice as chance. Our blackjack basic strategy charts can help increase your chances of winning.
When you hear the term "blackjack," do you picture a skull-and-crossbones flag or a hand of 21? If the latter sets your blood racing, perhaps it's time to get into the game of blackjack.
When it comes to one of the world's most popular casino card games, blackjack traces its origin to Vingt-et-un, a French card game that came to America in the 1700s and translates to "21." In the early days of playing 21 in the U.S., a bonus would be paid out if a black jack (a jack of spades or clubs) accompanied an ace. While the bonus eventually disappeared, the name stuck. 
If you are interested in learning how to play blackjack in Las Vegas or online, read our basic blackjack strategy guide to learn more.
Blackjack Playing Basics
Blackjack's popularity stems from the fact that it's a simple but exciting casino game to play. When you play it in an online casino, the house's much greater odds of winning are shrunk and players have a better chance of winning. However, with the right blackjack basic strategy, you can increase your chances even more while following the rules of the game.
With an online casino blackjack game, you are playing against the dealer on a virtual blackjack table. You want your cards to beat theirs or add up to 21 (or as close as possible). If you go over 21, you have a "bust" and lose the hand. In blackjack, the face cards are worth 10 points, the ace is 1 or 11, and the other cards are their identified numerical values.
Some basic set of rules playing blackjack include:
Blackjack is the highest hand in the game, consisting of an ace and face card.
After players place their bets, the dealer gives every blackjack player, including themselves, two cards from a single deck, double deck, or a higher number of decks, depending on the type of blackjack being played. One of the dealer's cards is face down. This is called the "hole card."
If the dealer's face-up card is an ace, they will offer players an "insurance bet" — a side bet insuring against the dealer's hole card being a face card, giving them a winning blackjack hand.
Blackjack insurance odds pay out at 2:1 and the maximum bet allowed is generally half of the player's main bet. This potentially offers the blackjack players the chance to break even on the hand if the dealer has blackjack.
All player bets are lost if the dealer does have blackjack, except for insurance bets and player blackjack hands. The latter case results in a "push" or tie, so money is neither paid out nor lost.
The house edge (the percentage a casino will gain over the long-term from the game) is quite low for blackjack. For an inexperienced player, the house edge is around 2%, which means for every $100 in your bankroll, you will lose $2 to the casino per game.
Avoid card counting, which is not only against blackjack rules but it's also illegal. Keep an eye out for card sharks, as blackjack can be a popular choice for card counters.
Good-to-know player choices include:
Stand: The player stays put with their cards (they don't take an additional card from the dealer).
Hit: The player takes one or more cards. If they go over 21, they lose their hand.
Double down: The player doubles their bet and gets just one more card.
Split: When a player's first two cards are of equal point value (for example, two 4s or two kings), they may separate them into two hands and play them both. 
Surrender: In some versions of the game, players are allowed to "late surrender" or yield a poor hand on their first two cards, rather than play against a hand that looks stronger. Surrendered hands return half of the bet to the player.
If the dealer hits and goes bust (over 21 points), any players still in the game win. If the dealer stands or doesn't go bust, a player who has higher hand total points wins. If the result is a tie or push, money is neither lost nor paid.
Hard Hands Chart
Hard hands are blackjack hands that don't contain an ace (or have an ace that must be counted as one or the hand will go over 21). They are considered "hard" because without the flexibility of the ace, which can be counted as 1 or 11, the point total is set in stone (i.e., a 3 and a king always equal 13 points and a 9 and a 6 always equal 15 points). In these cases, you don't have much wiggle room. If you decide to hit and receive a face card (10 points), you are bust.
There's less concern if your hard hand adds up to four, five, six, or eight since there is no risk of going over if you get hit with a face card. If your hand adds up to nine and the up card of the dealer is a 3, 4, 5, or 6, it's a good idea to double down because of your increased chances of winning. If you have a total of 10 or 11, you should always double down unless the dealer's up card is a 10 or an ace. 
Look at the blackjack strategy chart below on what to do with hard hands.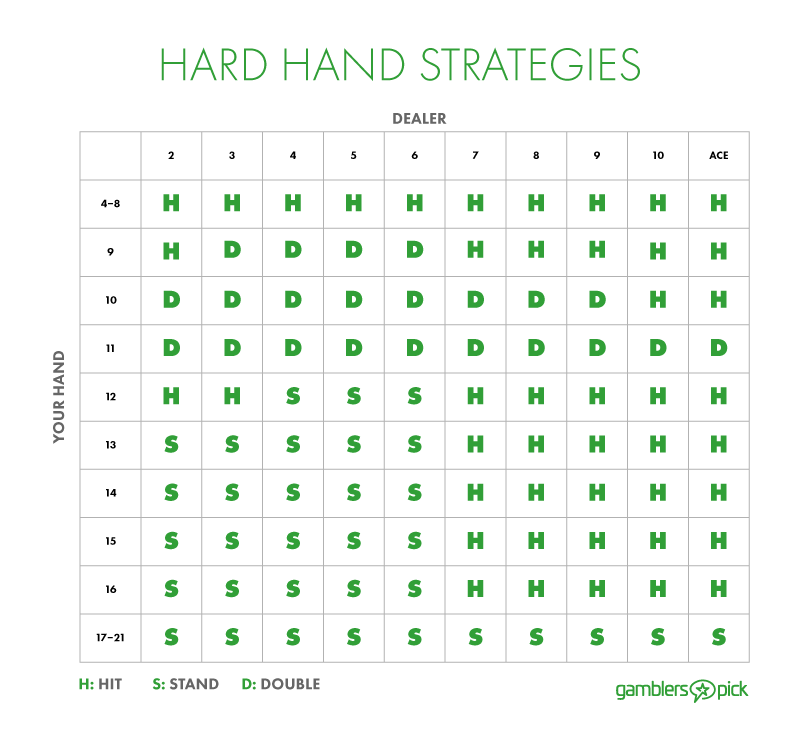 Soft Hands Chart
A soft hand is one with an ace, which can be counted as 1 or 11 points. With this point flexibility, you can't go over 21 with your first hit. Knowing that you won't lose your bet instantly is one reason players hope for soft hands.
There are a lot of different scenarios for a soft hand; for example, if you have an ace and a 2 for a soft 13, you should always hit unless the dealer's card is 5 or 6 (in which case you should double down). If you have a soft 19 or 20, you should always stand regardless of the dealer's card. See more soft hand basic strategy scenarios below.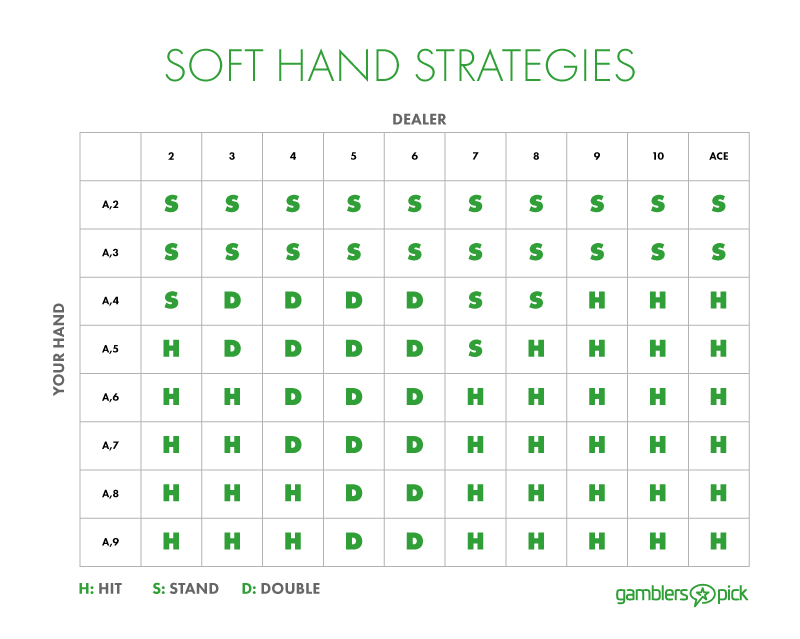 Split Hands Chart
Most variations of online blackjack let you split pairs. When you get dealt a pair of the same cards (two jacks, two 3s, two aces, etc.), you have the choice to split the cards to form two new hands and then bet on both hands.
In this case, you make a second wage on each hand equal to the starting bet. You would play both hands as usual, standing or taking new cards. Doubling down is a good idea if you have two 5s unless the dealer is showing a 10 or an ace.
It's wise to stand rather than split if you have two 10s, regardless of the dealer's hand, since it's unlikely that you'll beat your total of 20 with either new hand. For basic strategy, see more split hand playing decisions below.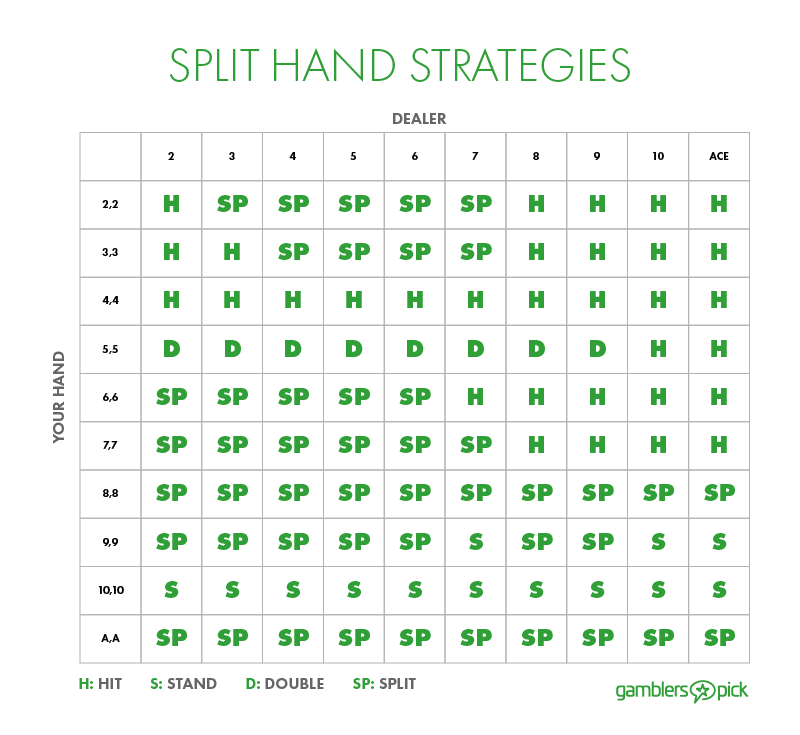 Your Online Gaming Hub
If you want to play online blackjack in all its forms — classic single-deck blackjack, blackjack surrender, blackjack switch, double attack, double exposure, and others — GamblersPick is here and ready for you. With our industry news, casino recommendations from real players, expert advice, and other resources, we'll help increase your chances of winning real money.