Covered topics
---
Use these blackjack strategy charts to shrink the house's edge and get your best odds of winning.
Not only is blackjack one of the most popular casino games to play, but the game can also give you some of your best chances of winning. Blackjack is a game that gives players at least some control of the outcome, and good blackjack players can really increase their odds.
By using a good basic strategy, blackjack players can lower the house's edge to as low as 0.5%, which would make their return to player percentage (RTP %) around 99.5%. This means that for every $100 a player puts into blackjack, they will only lose $0.50. When you compare that number to slot machines, which have an average RTP of 90% to 97%, you can see why players love blackjack.
When it comes to playing blackjack, having a solid strategy can increase your odds of leaving the casino a winner. To give yourself the best chances, you'll need to know what to do in any situation; that's where charts come in. Blackjack strategy charts show you the right decision to make regardless of which cards come your way. 
In this guide, we'll take a look at some of the best blackjack strategy charts that can help you double down on your winnings. 
Blackjack Rules
It's simple to learn how to play blackjack. The basic set of rules for Blackjack pit you against a dealer and require that the card hand total must be higher than that of the dealer or equal 21, which is "blackjack." If your cards go any higher, you "bust" and automatically lose that blackjack hand. An ace can act as a 1 or an 11 and face cards and 10s are worth 10 points each. According to the rules of the game, number cards are worth whatever number is on them. 
All the players place bets, and the dealer will give everyone two cards. One of the dealer's cards (the hole card) will be face down. If the dealer's upcard is an ace, players can make a side insurance bet. The insurance bet protects a player in case the dealer has a blackjack. (It's usually not a good idea to take the insurance bet.)  
Players win the insurance bet if the dealer has 21 and are paid 2:1, which basically covers their initial bet. If the dealer doesn't have blackjack, players lose the insurance bet but still continue with their hand. 
If the dealer has blackjack, all players lose the hand except the ones with blackjack, as well. A "push" occurs when a player ties the dealer, in which case, the player won't win or lose money on the hand. When the dealer busts, all the players who are still in the game win. 
Blackjack is also a popular game for card counting, due to its straightforward rules and frequent use of a single deck, but this should be avoided as it could result in card counter's ban from a casino.
 Player options:
Stand: The player refuses another card and ends their turn. 
Hit: The player gets an additional card from the dealer. The player can hit several times, but if they "bust," they lose.
Double down: The player's bet is doubled and they will get one more card.
Split: A player has a pair worth 10 points each. The player can split the cards into two hands and play both. You'll receive a second card for each new hand. Your wager will also be doubled.
Surrender or late surrender: Some casinos let players surrender after they get their first two cards. A player might surrender if a dealer has a good face-up card, and they have poor cards. A player who surrenders will get half of their bet back.
Soft Hands, Hard Hands, and Split Hands
As mentioned, aces have a special place in blackjack: They can act as 1 or 11. In blackjack, an ace gives you a safety net. With an ace, the chance of busting on your first hit is zero. If you are initially dealt an ace, you have what is known as a "soft hand,"which means the ace acts as 11 points to start.
For example, if you had an ace and a 5, you would have a "soft 16." If you chose to hit, and you got a 5, you would have blackjack. However, if you got a 6, you wouldn't bust because the ace's value would switch to 1. In that situation, you would now have a "soft 12," and you'd likely choose to hit again.
Without an ace, the value of your cards is fixed. If the initial value of your cards is high, you run the risk of going over 21 when you hit. If your hand lacks an ace or the ace can only act as a 1 instead of an 11, it is considered a "hard hand."
In blackjack, you can split pairs into separate hands. For example, if you have two 8s, you'll almost always split them to give yourself a better chance with both hands. There are a few universal rules when it comes to splitting cards. 
One rule is that you should always split aces because splitting them gives both hands a higher chance to hit 21. Never split 10s because the odds aren't very good that you'll beat 20 again with either hand. 
Different games also have different regulations when it comes to splitting. Some tables will let you split as many as three times if you keep getting matching cards. This lets you play a possible total of four hands at a time. Meanwhile, some tables will only let you hit one time after splitting aces. Make sure you know what a blackjack table will allow so that you can play accordingly. 
How Blackjack Charts Differ
Depending on where you're playing blackjack, the chart you use can vary greatly. For example, some dealers will deal from a single deck, while others will have multiple decks. Blackjack can be played with as many as eight decks, but it's usually played using four to six. You have to adjust your strategy to make up for the added chance of drawing a face card. 
The number of decks used, along with the rules of a table, can also have a big effect on your chances. Usually, the more decks that a table uses, the larger the house's edge becomes. 
Different tables also have different rules. Some tables will allow you to double down after you split pairs, while others will not. The ability to double down after splitting can really help your odds and lower the house's edge.
Some tables will allow you to surrender after the initial deal, while others have rules against it. 
Surrendering will let you recoup half your first bet if you don't have much of a chance of beating a dealer's hand. There are several situations where surrendering is your best bet. For example, it's wise to surrender if you have a "hard 13," and the dealer's face-up card is an ace.  
It can be wise to do your own research online to find out which online casinos have the best tables. Keep in mind that gambling organizations do change their rules and tables from time to time. Being familiar with the standards wherever you choose to play blackjack will help you choose the right chart for your needs.
Blackjack With a Single Deck 
Single-deck blackjack used to be the ideal form of blackjack, as it gave players the best odds. In these games, the house's edge can be as low as 0.15%. Single-deck blackjack also makes it easier for you to keep track of which cards are still in play. Because these games give players such great odds, they have to find ways to increase the house's edge. They might have rules against things like doubling down after splitting or surrendering. 
Here's a list of abbreviations we'll be using. Note that in these charts, the column on the left represents the player's hand, while the rows represent the dealer's hand.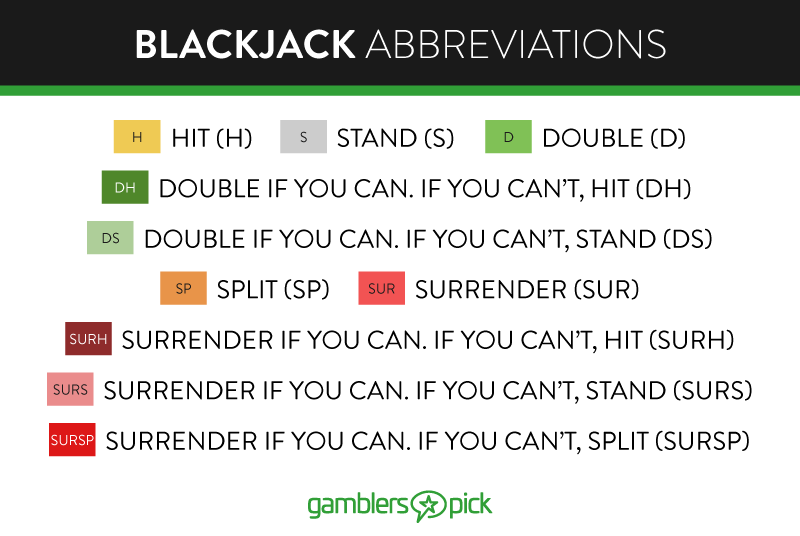 Single-Deck Blackjack, Doubling Allowed After Splitting, Dealer Stands on 17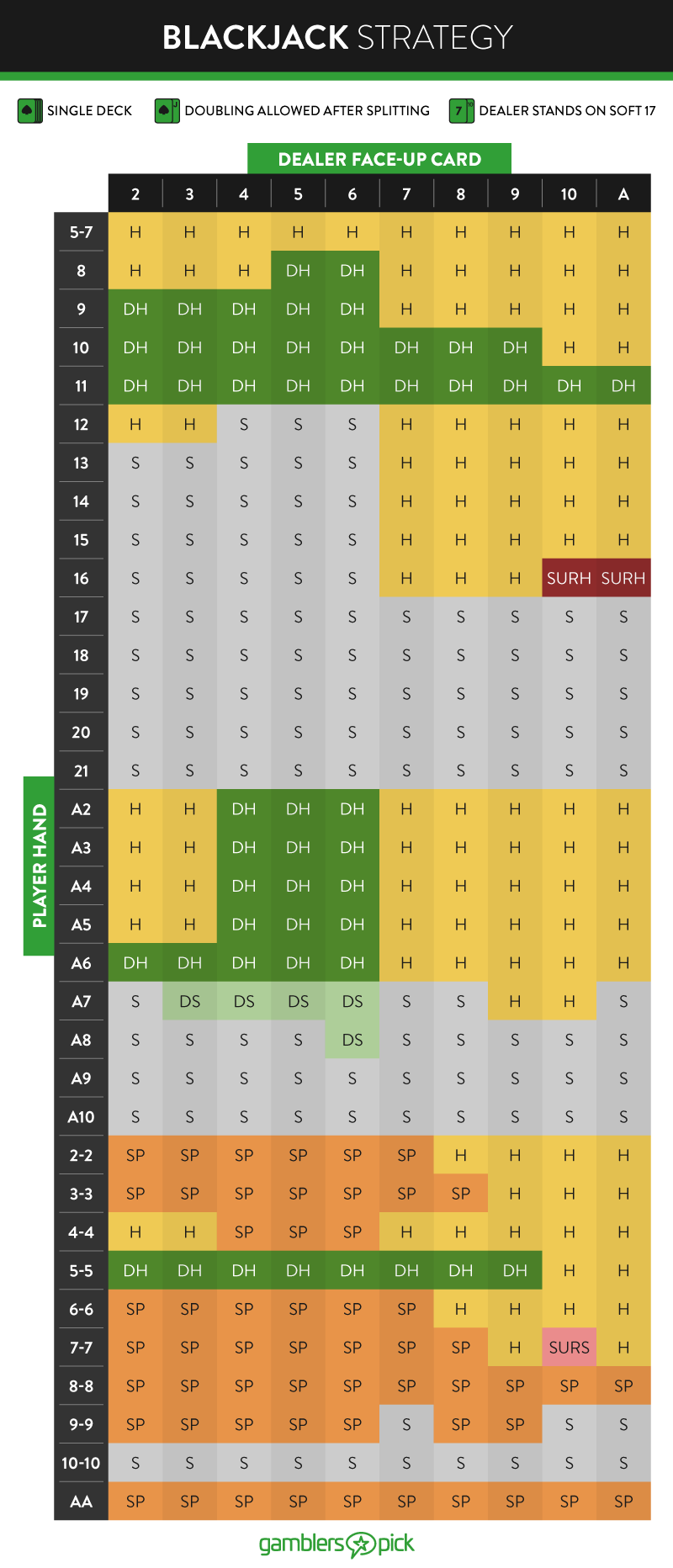 Single-Deck Blackjack, Doubling Not Allowed After Splitting, Dealer Stands on 17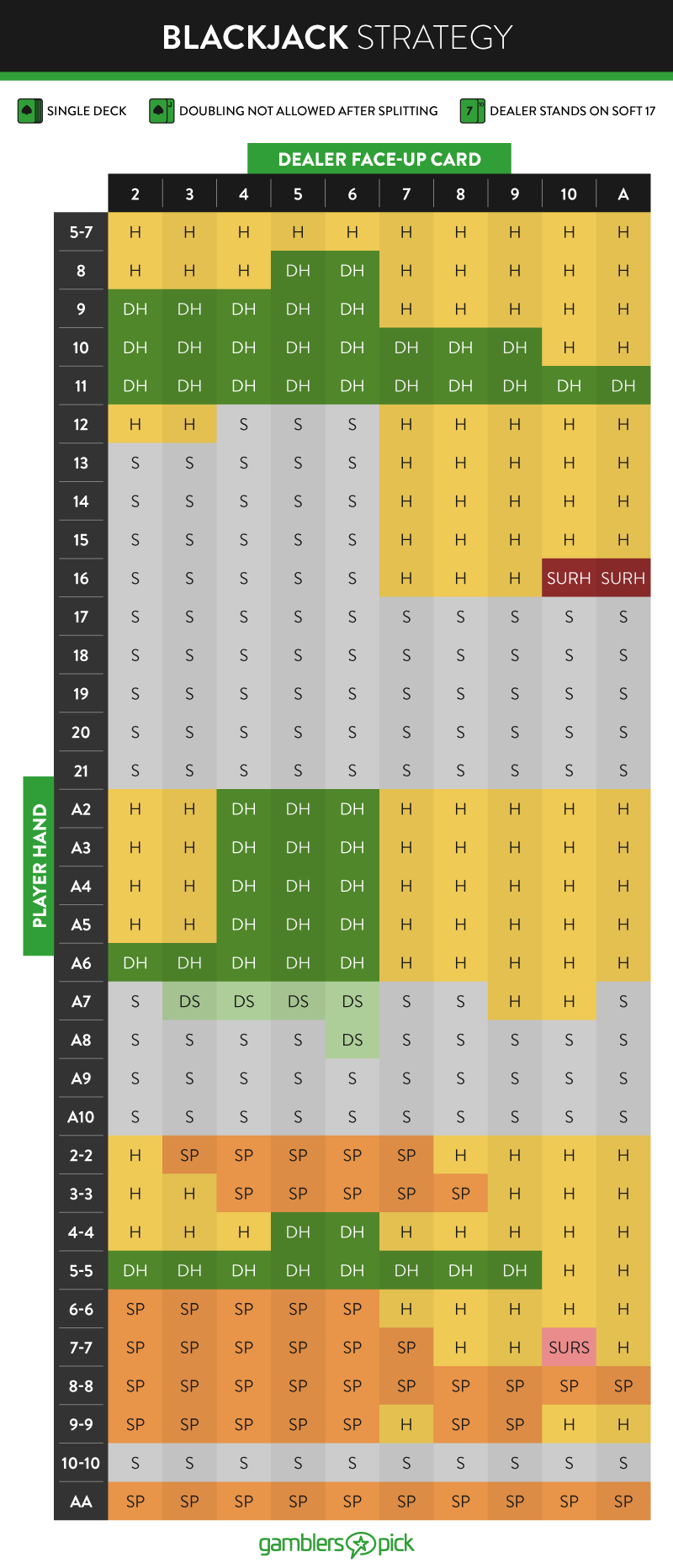 Single-Deck Blackjack, Doubling After Splitting Allowed, Dealer Stands on Hard 17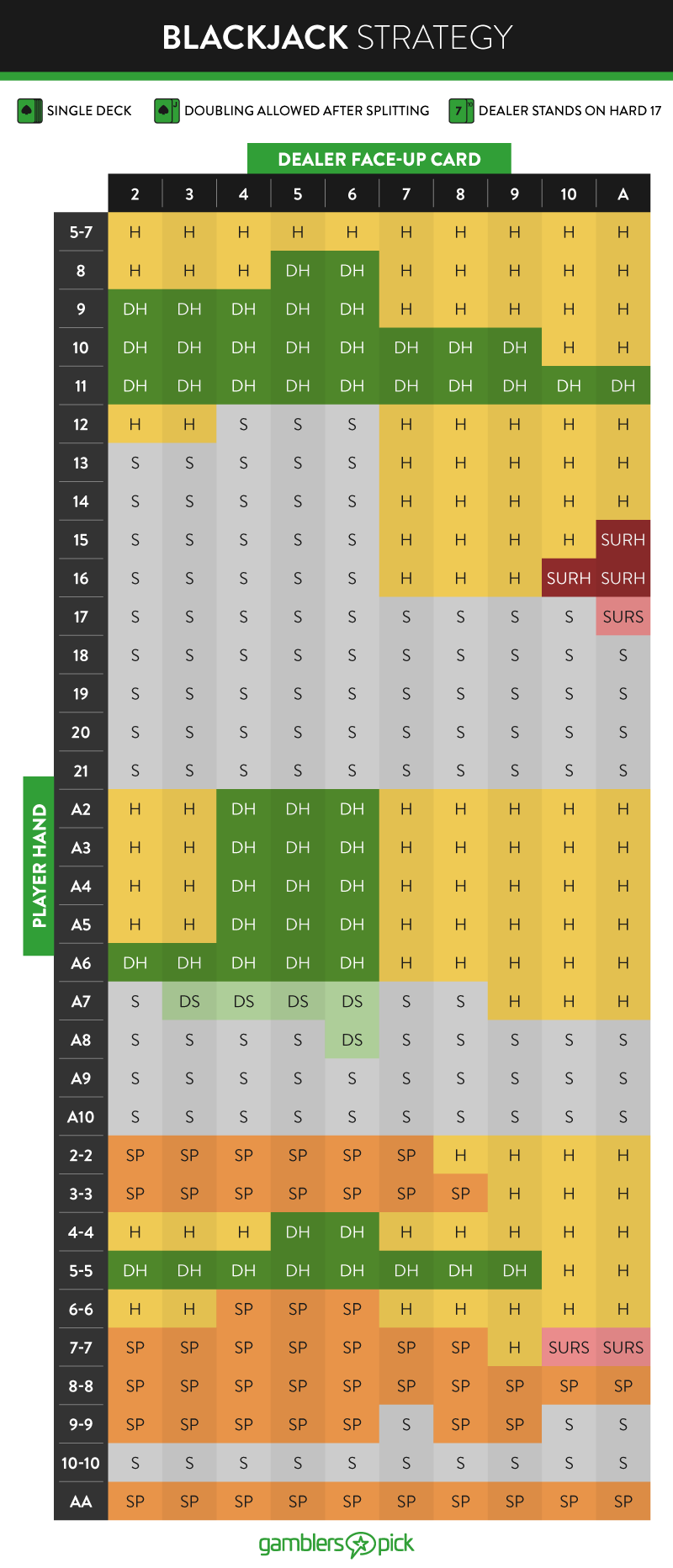 Single-Deck Blackjack, No Doubling After Splitting, Dealer Stands on Hard 17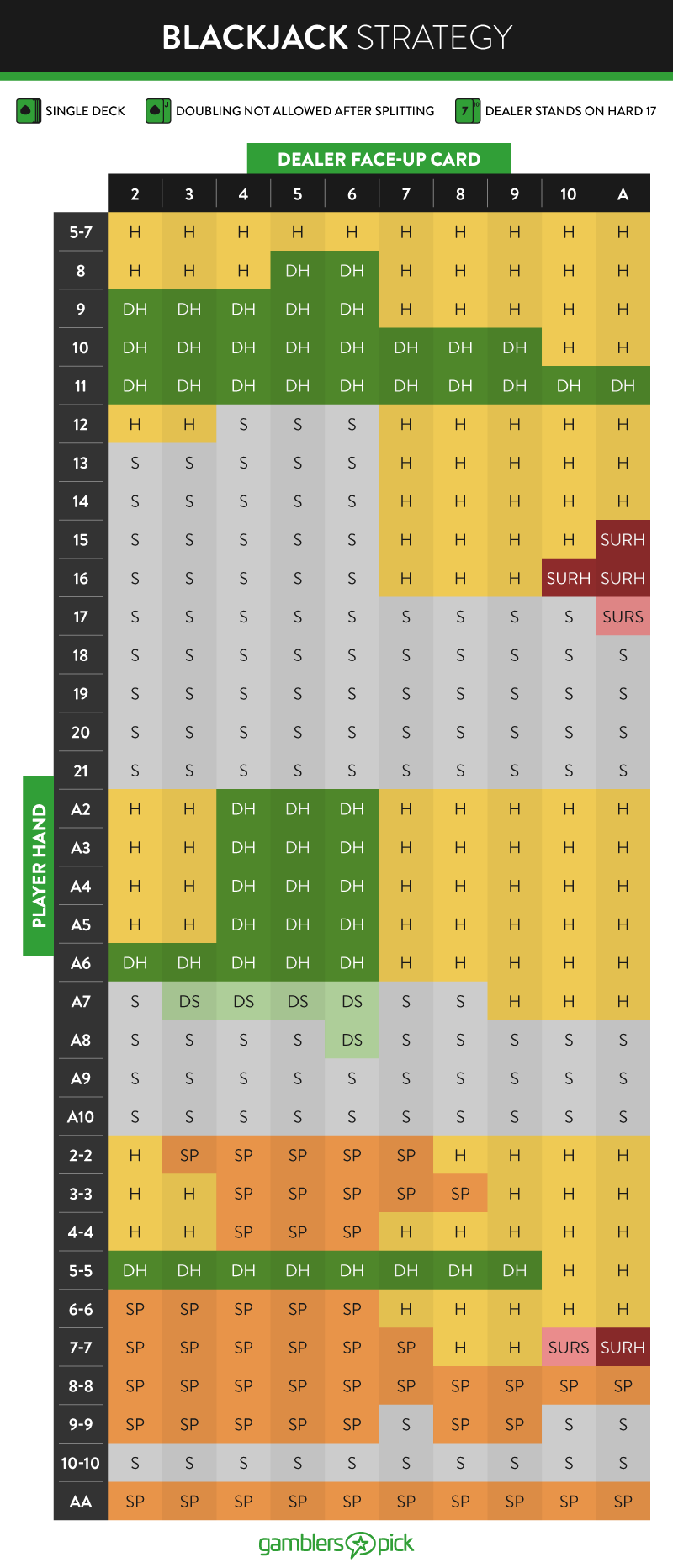 Pair splitting is encouraged more often for tables that allow doubling down after splitting because it can help maximize your winnings. Even though they're not quite as common, single-deck blackjack games are available online.
Blackjack With Multiple Decks
Most blackjack games now use multiple decks. These games can sometimes have a lower house edge than single-deck games that don't allow doubling down after splitting because more face cards and 10s are available. This makes it easier for a player to double down and win bigger hands.
Blackjack With Multiple Decks, Doubling Allowed After Splitting, Dealer Stands on Soft 17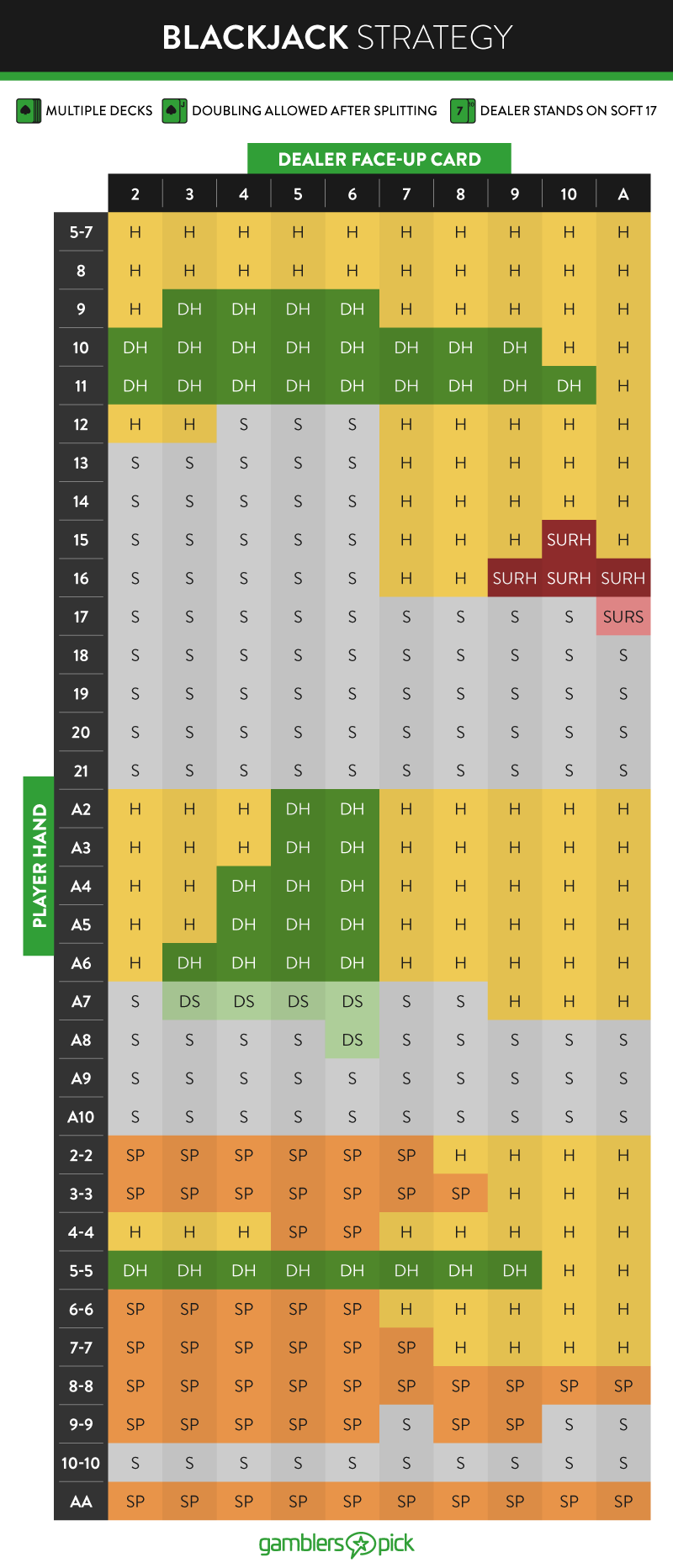 Blackjack With Multiple Decks, Doubling After Splitting Not Allowed, Dealer Stands on Soft 17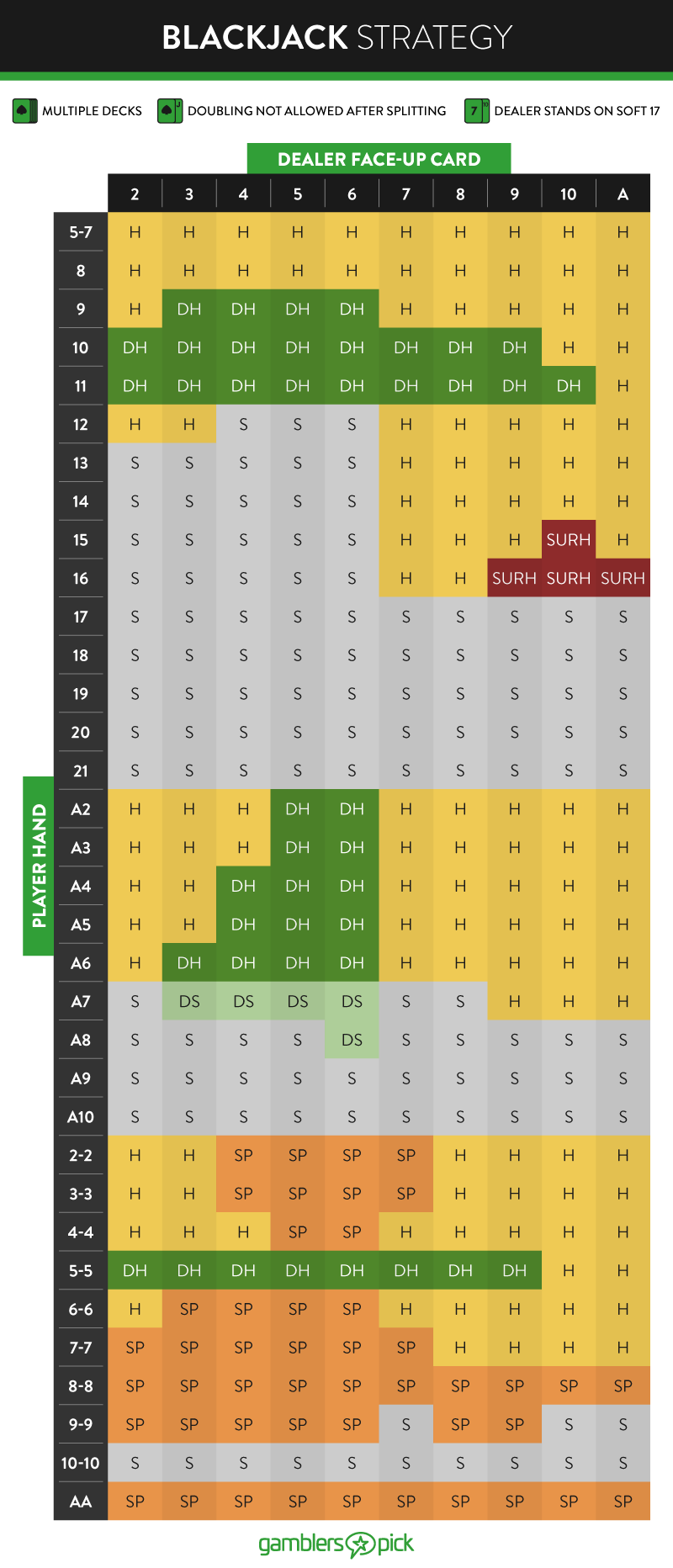 Blackjack With Multiple Decks, Doubling After Splitting Allowed, Dealer Stands on Hard 17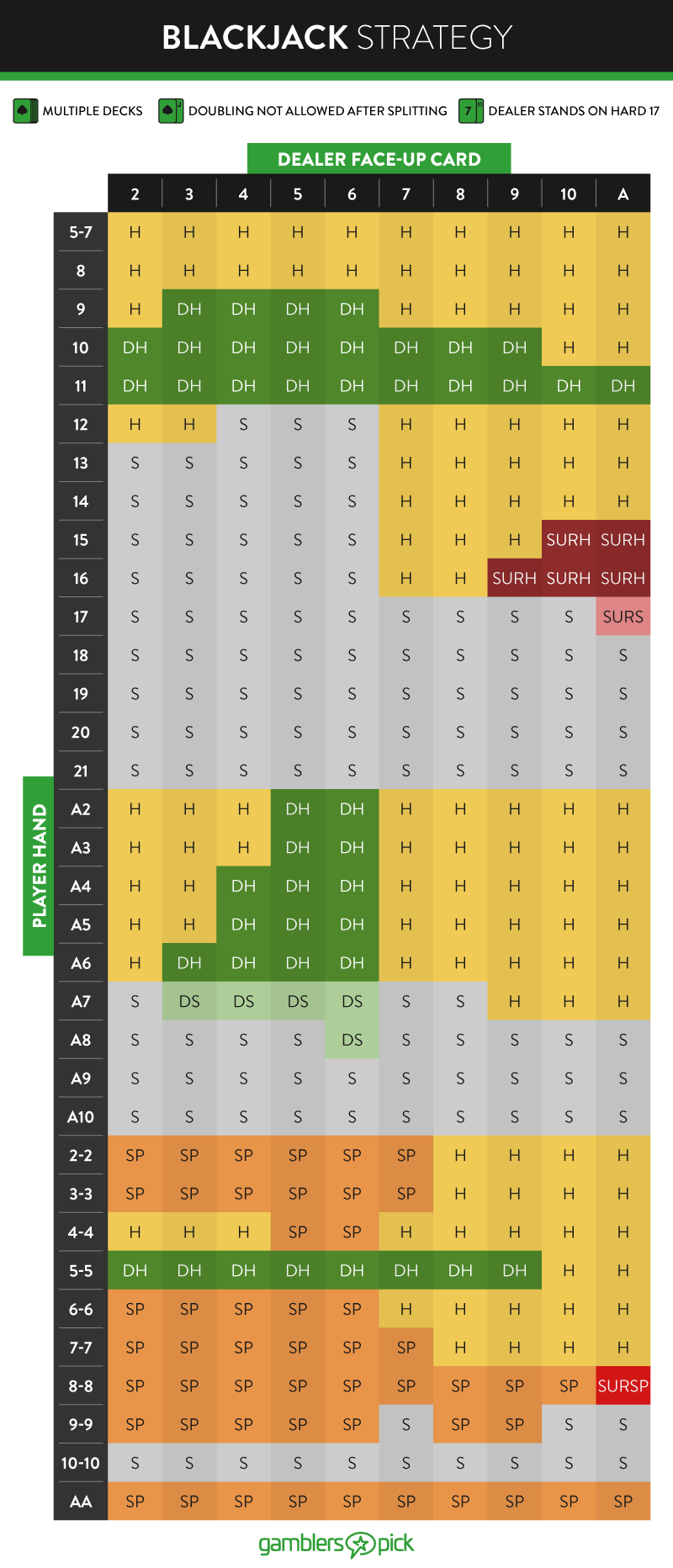 Blackjack With Multiple Decks, Doubling After Splitting Not Allowed, Dealer Stands on Hard 17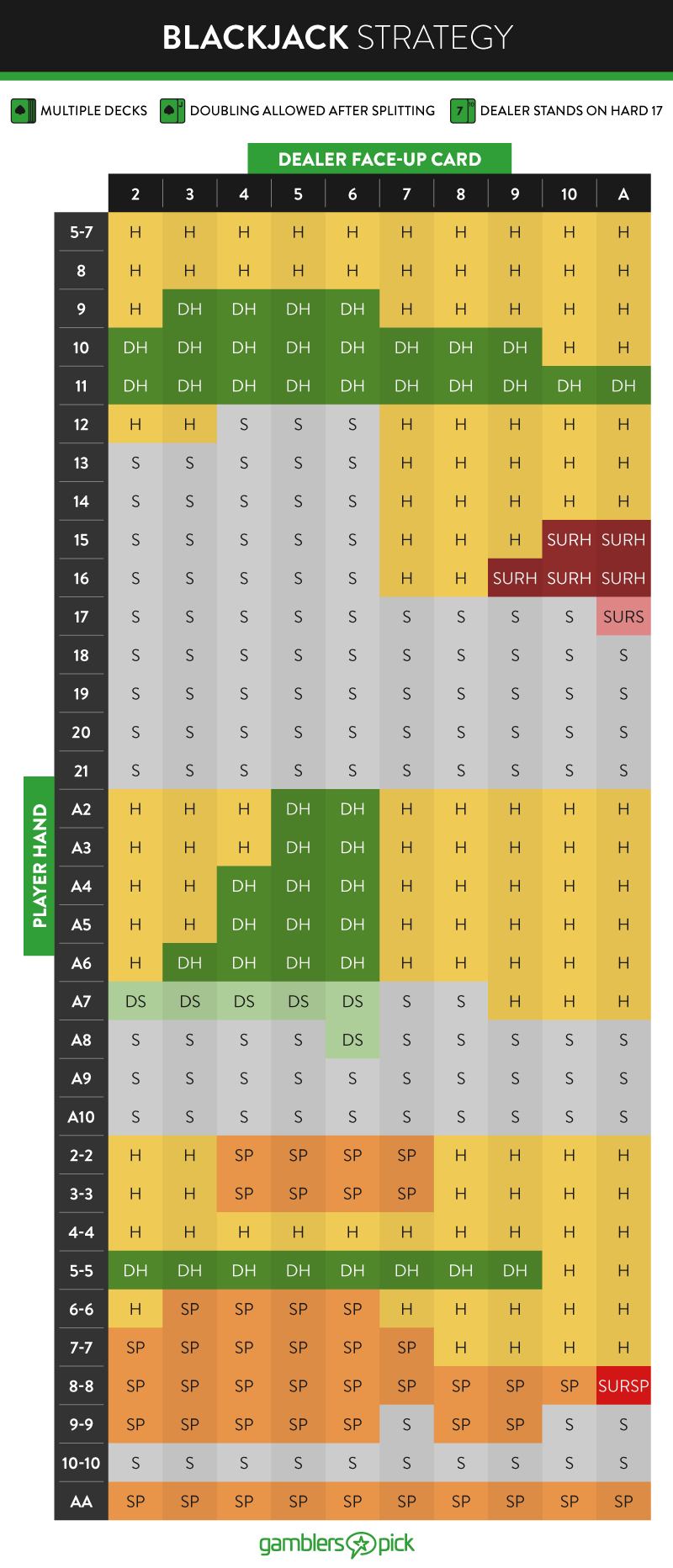 An aspect that can really increase your odds of winning more in a multi-deck game is whether the casino will let you perform multiple splits. Some tables will let you split three times and play as many as four hands at once. GamblersPick offers a variety of multi-deck blackjack games.
Keep an Adequate Bankroll
Now that you have a basic strategy for what to do during a blackjack game, you'll need to decide how much money to bring with you. When you play blackjack, you want to play confidently. If you don't have enough money in your bankroll, it can be hard to win. Gamblers have a term for playing with an inadequate bankroll: "playing with scared money."
To make full use of your strategy, you should have a bankroll that is 50 times the size of a table's minimum bet. For example, if the bet is $5, your bankroll should be at least $250. Having a big-enough bankroll will help you maintain a proper strategy during the inevitable periods in which the game won't be going your way.
Use Blackjack Basic Strategy Charts to Maximize Your Winning Odds
If you want to give yourself a fighting chance when it comes to gambling, the game of blackjack is your best option. Blackjack is one of the only casino games where the casino has a house edge of far less than 1%. If you have trouble remembering details, you can legally bring your basic strategy card to a blackjack table and use it while you play.
Still, there's no such thing as a sure payout when gambling with real money.  From Las Vegas to Atlantic City, the house always has the edge, or casinos and gambling establishments wouldn't stay in business very long. And, if you won every time, it wouldn't be very much fun.
Are you interested in learning more about blackjack? GamblersPick has real reviews from real players regarding the best online casinos, including online blackjack. We also have an assortment of strategy guides that cover every aspect of the games you want to play. With our help, you can give yourself the best chance of winning in a safe and responsible manner.