Covered topics
---
Whether you're a blackjack newbie or are looking for a few pointers, this comprehensive guide includes game basics and strategies for winning.
Blackjack is one of the most popular casino games in the world, and for a good reason. It's fast-paced and fun but also a fairly simple card game, so just about anyone can play it. All you have to do is bring the value of your hand closer to 21 – without going over – than the dealer.
With a little bit of skill, you can win big, too. Even without a betting strategy, it's one of the casino games with the best chances of winning. In addition to the low house edge (less than 1%), you're also only playing against the dealer rather than against other players.
If you're a blackjack newbie or are looking for a few pointers, keep reading this comprehensive guide. We'll share everything you need to know about the game and the strategies that will keep you winning.
The History of Blackjack
There's some debate about where blackjack, also known as "21," originated. Some say the game was created by the Romans who used painted pieces of wood instead of playing cards. Others say it first appeared in French casinos around 1700 but was originally called "Vingt-et-Un," which means 21.
French colonists brought the game to America in the 18th century, where its popularity spread. It was a favored game in Louisiana gambling halls. Centuries later, the game has evolved into blackjack, one of the most beloved card games in the world. The name change comes from a bonus payout in a later version of the game that's offered when a black jack — a jack of spades or a jack of clubs — is dealt with the ace of spades. The name "blackjack" stuck, although these bonus payouts are no longer the norm.
Today, the game is played in casinos across the globe from Las Vegas to Monte Carlo. And with the rise in online casinos, blackjack's popularity transfers over to the virtual world, as well.
How Do You Play Blackjack?
If you don't know how to play blackjack, it is not difficult to learn the game. At face value, blackjack has a pretty basic set of rules, although some versions of blackjack have different rules. Essentially, you're playing against the dealer, and you want to beat their hand as you both try to get the value of your cards as close to 21 as possible without going over. Depending on where you're playing, the game might be played as single-deck blackjack, with a standard 52-card pack, or played with a multiple number of decks. You'll make your bet before cards are dealt for each hand.
Once bets are placed, the dealer will provide one card from the deck face up for each blackjack player, moving clockwise around the table. They deal themselves one face-up card last. They then deal each player a second face-up card before dealing themselves a face-down card (known as the "hole card"). So, on the table, each player has two face-up cards to start and the dealer has one face-up card and one face-down card.
Before gameplay starts, players need to check to see if they have a natural blackjack, which is a hand valued at 21 on the first deal — meaning you have an ace and a card worth 10 points, which is any face card or a 10 card. Any player with a natural blackjack will be paid out 1.5 times the amount they bet. If the dealer has a natural blackjack, you lose the hand, and if both you and the dealer have one, it's a tie. You take back your chips and don't win anything extra.
If nobody has a natural blackjack, the game begins. The dealer will start with the player to their left. As players attempt to bring the valuation of their hand to 21 (but not over), they need to determine if they'll "stand" or "hit." A stand means you don't want to be dealt any additional cards. By asking the dealer for a hit, though, you're requesting another card to bring up the value of your hand. If you go over 21, you have what's called a "bust." The dealer wins if you bust, if they have a hand valued higher than yours and not over 21, or if they have a natural blackjack from the outset and you don't.
As you try to reach 21, each card is assigned a different value. Cards 2 through 10 are worth what it says on each card (e.g., a 2 card is worth 2 points). Meanwhile, an ace is worth 1 or 11 points, which you get to determine as you play. All face cards — jack, queen, and king — are worth 10 points each.
After each player has played their hand, it's the dealer's turn. They turn over their face-down card and if they have 17 or higher, they are required to stand. For hands worth 16 points or less, they have to take cards until they hit at least 17.
What Are the Odds of Winning at Blackjack?
Blackjack has some of the best odds of winning among casino games, as it has a low house edge of less than 1% percent. This house edge, also known as the house advantage, is roughly the same whether you're playing blackjack in person or online.
Remember, the goal of the game is to beat the dealer as you both try to build a hand up to or equal to 21. The dealer is just as likely to bust as you are. In fact, the odds of either of you busting is 33.15%.
As you build your blackjack hand, it's also important to keep in mind the odds of building a high-valued hand without going over 21. You're 14.61% likely to get a hand valued at 17, 13.87% likely to get an 18, 13.27% likely to get a 19, 18.12% likely to get a 20, and 6.99% likely to get a 21. These are among the most desirable hands in the game.
Useful Blackjack Strategies
Once you understand blackjack rules, you might want to take your gameplay to the next level. Here are a few tips and basic strategies to help you improve your game.
Know When to Hit and When to Stand
There's an art to knowing when to hit and when to stand when playing blackjack. If you're dealt cards that total 8, 9, or 10 — a number that increases the chances of you building a good hand close to 21 — you should hit.
If your hand totals 17, 19, or 20, you should stand. If you ask for a hit with this hand, you're likely to bust, which is an automatic loss.
Consider the Dealer's Up Card 
The choices you make for your own hand will largely be determined by your dealer's face-up card. If they're dealt a good card (i.e., a 7, 8, 9, 10, face card, or an ace), you should continue hitting until you reach 17 or higher in your own hand.
If the dealer has a lower or less desirable card, one that will make it difficult to reach 21, your goal should be to stop drawing cards once you get to 12 or higher. The dealer has less of a chance of beating you, and if you continue to draw, you might bust. In this scenario, though, you'll hope that the dealer is the one who busts.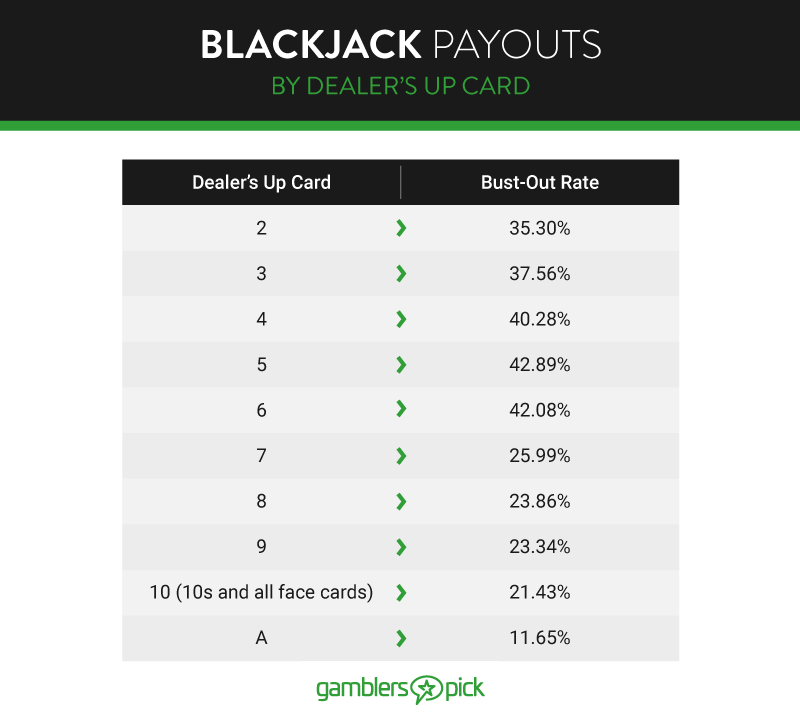 Split Pairs 
If you're initially dealt a pair of the same cards or 10-point cards, you can split them into separate hands. When you opt to do this, you'll receive two new face-down cards — one for each of your new hands. When it comes to the bet itself, your original bet will be put toward one of your hands. You'll need to place a second bet on your new hand.
Once the new bet is placed, you'll play each hand one at a time, starting with the hand to your left. You'll decide if you want to stand or hit like you would on a normal hand. Once that hand has played out, you'll move to your second hand.
Just because you can split doesn't mean it's always the best choice, though. If you have a pair of aces or 8s, it's advisable that you split them. But if you have two 5 or 10 cards, refrain from splitting them and consider doubling down with these cards. Likewise, if you initially draw two 4s, you should hang on to them, as a total of 8 is good to build on.
The dealer's cards also affect whether you should split. If you draw two 2, 3, or 7 cards, they're usually good for splitting. A good basic strategy is to refrain from splitting them if the dealer has a face-up 8, 9, or 10 card or an ace. And the only time you should split a pair of 6s is if the dealer has been dealt a 2, 3, 4, 5, or 6 card.
Double Down 
If your initial two cards total 9, 10, or 11, you might consider doubling down, which means placing a second bet that's equal to the initial amount you bet. Then, the dealer will give you just one additional card that will remain face down on the table until the end of the hand.
Experts advise that you always double down when you have a hand totaling 11. There are some exceptions when you're dealt a hand valued at 10 or 9, however. If your hand is worth 10 points, refrain from doubling down if the dealer's face-up card is a 10 card or an ace. If your initial hand is valued at 9, you should only double down if the dealer shows a card worth between 2 and 6 points.
Take Advantage of Aces
There are numerous combinations of cards you might be dealt. If you receive an ace (unless it's paired with a 10 card), it's considered a "soft hand." This ace is a versatile card that can be counted as a 1 or an 11. Basically, you can choose its worth and use it to your advantage as you determine whether to ask for a hit.
If you have a soft hand totaling a strong number, such as 16, you should still consider continuing to hit. Because the ace is versatile, you can build a stronger, higher-valued hand that pushes you to 21 if you hit on a soft hand.
Don't Bother With the Insurance Bet 
If the dealer's face-up card is an ace, you can make an "insurance bet" or "even money". This gives you the opportunity of betting up to half of your original bet. What you're betting on is that the dealer's face-down card is a 10 or a face card, which would mean they have blackjack. If they do have blackjack, you'll be paid double your insurance bet.
It's a mostly pointless bet, though; one that experts don't recommend. Even if you have a high-valued hand, it isn't recommended since the payoff on these insurance bets is only 2 to 1. The odds of winning this insurance bet are lower than the chances of the dealer having blackjack, though. The only time it would work in your favor is if you're confident that there are a number of cards valued at 10 that haven't been dealt yet.
Are You Ready to Play Blackjack?
Now that you've learned the basic strategies of blackjack and some strategies to help you fare well while playing, why not find an online casino to give the game a try? It's one of the most accessible online games to newcomers and you'll enjoy it even more with a few tricks and strategies up your sleeves. Playing online in a computer simulation is also the best way to introduce yourself to the game, as there's less pressure than if you were playing at a live table with strangers. We've compiled some of the top online blackjack games for you to consider, including single-deck games, double-deck games, and games using a bankroll of real money.
As a top resource for online gambling, our goal at GamblersPick is to help you find the right online casino for you. We can help you determine an online gambling outlet that fits your needs and interests based on the games you want to play, where you're located, and your preferred payment method. We review all the gaming platforms listed so you can safely and securely hit the virtual blackjack table.
It's also important to note that in addition to serving as a resource of information, GamblersPick is also a community. We rely on real players to share their personal experiences with different casinos and gaming platforms. With this information, we can help other players determine which online casino is best for them.
Blackjack Basic Strategy FAQs
What is the best strategy for blackjack?
The best blackjack strategies include: knowing when to hit and when to stand, considering the dealer's up card, using split pairs, doubling down, taking advantage of aces, and not bothering with insurance bets. There are also basic strategy charts that can be studied and utilized.
Do you hit or stay on 16?
If you have a 16, it's considered a soft hand, so you should probably hit instead of staying. Because of the ace's versatile value, there is a strong potential that your next card will push you to 21.
Is there any strategy to blackjack?
There are several strategies to the game of blackjack, including popular basic strategies such as the double down and knowing when to hit and when to stand. Card counting is also a popular strategy, but it can often lead to the card counter being banned from a casino.
When should you hit or stay in Blackjack?
If you're dealt cards that total 8, 9, or 10, you should hit in the blackjack game. However, if your hand totals 17, 19, or 20, you should stand.