online casinos have a lot of options for slot players and igaming developers release many titles every month. Even though these games are tremendously popular, for some punters, slots just don't make their hearts beat faster. This one's for you!
We have a look at what the online gambling world presents players with that does not include clicking spin. Read about games that include anything from the traditional table games to instant games that transform wagering into stock trading. Of course, we include some holiday cheer.
✓ Lucky Crumbling by Evoplay
Fancy becoming a day trader? Evoplay's new release is an instant game with a stock-trading style where punters decide whether it's a bull or bear trade. Lucky Crumbling is a multi-player game set on a graph that builds up in multiplier value and the aim is to cash out before the stock crashes. The game design reflects that of a trading app and the ambient sounds create a relaxed yet focused atmosphere.
RTP: 96%
Stakes: €1.00 - €750
Max Win: €750,000
Bulls vs Bears
Lucky Crumbling gives punters the chance to determine the game's variance and Evoplay's unique formula makes this a game suitable for high-rollers and more frugal players alike. Gamblers can double their chances in every round by placing two bets. Set these at whichever bet amount and cash each out at will to maximise your winning potential.
The stock you are trading will move up on the graph as a multiplier to your bet amount. It starts from zero and can go up to ten thousand, but it will take a tremendous backbone to sit tight for such a big payout. There can be instant bear crashes at zero however, bullish returns are likely for audacious players. The software developers used HTML5 technology, so this game works well on all devices and players can interact via the online chat option. The adrenalin junkies with grit can reach the hall of fame and have their name written in the top 100 or lead list.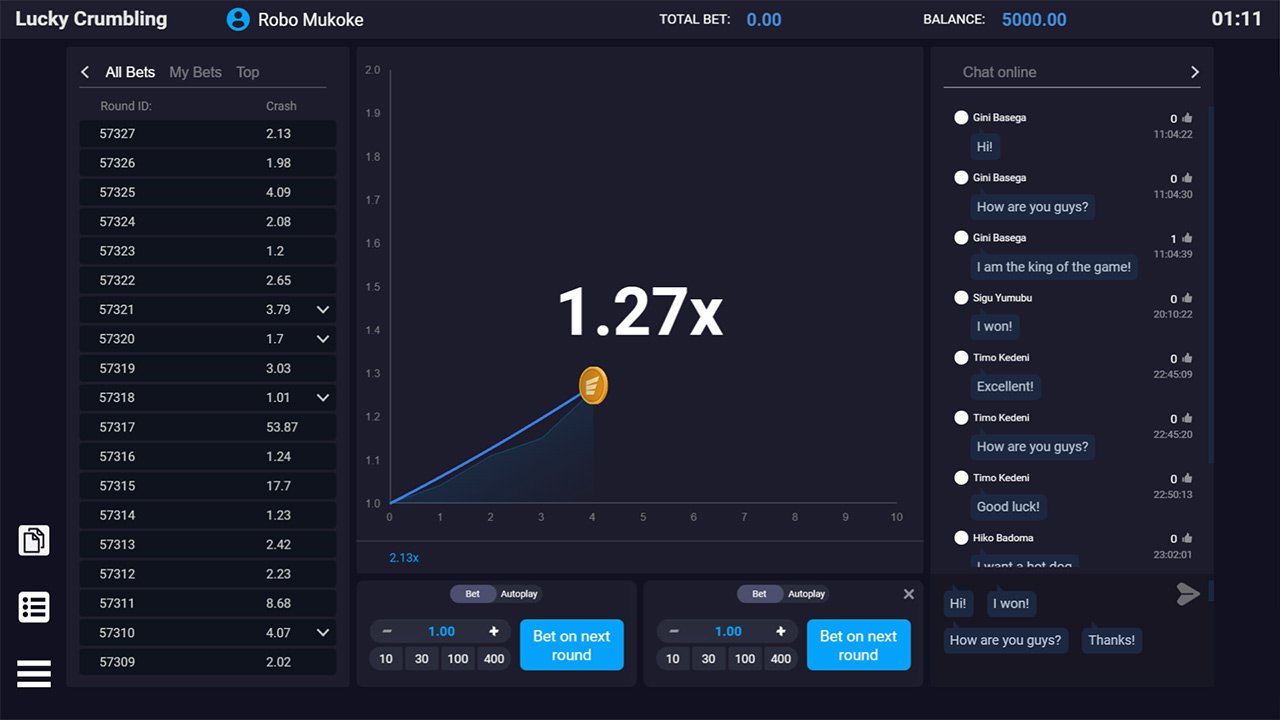 ✓ Real Christmas Roulette by Real Dealer Studios
Have a holly jolly roulette experience with Real Dealer's Real Christmas Roulette. Complete with a Christmas tree, baubles, flickering lights and all, this is the cosiest wager on black or red this season. Get into the holiday spirit with the old-fashioned winter home décor in the background and a simulated one-on-one experience with the croupier.
Volatility: Low
RTP: 97.30%
Stakes: €0.25 - €1,000
Max Win: €64,500
Santa can kick back and relax because all you'll want for Christmas is right here.
A Real Roulette Experience
Real Christmas Roulette is the newest addition to Real Deal Studios' roulette library, and it launches exactly a month before Christmas. The casino games developer combines RNG-based games and the magic of moviemaking with the help of film directors and professional actors. As an alternative to live casino games, gamblers enjoy an immersive video roulette experience that includes a human croupier.
This is a follow-up version of their Halloween themed roulette with a similar set-up. Roulette enthusiasts will enjoy a spectrum of Special Bets, Favourite Bets, and Full Statistics of the game. Real Christmas Roulette also has a Racetrack Bet option for those who want to take part in faster gameplay. The pre-recorded game will be available on PCs, tablets, and mobile phones.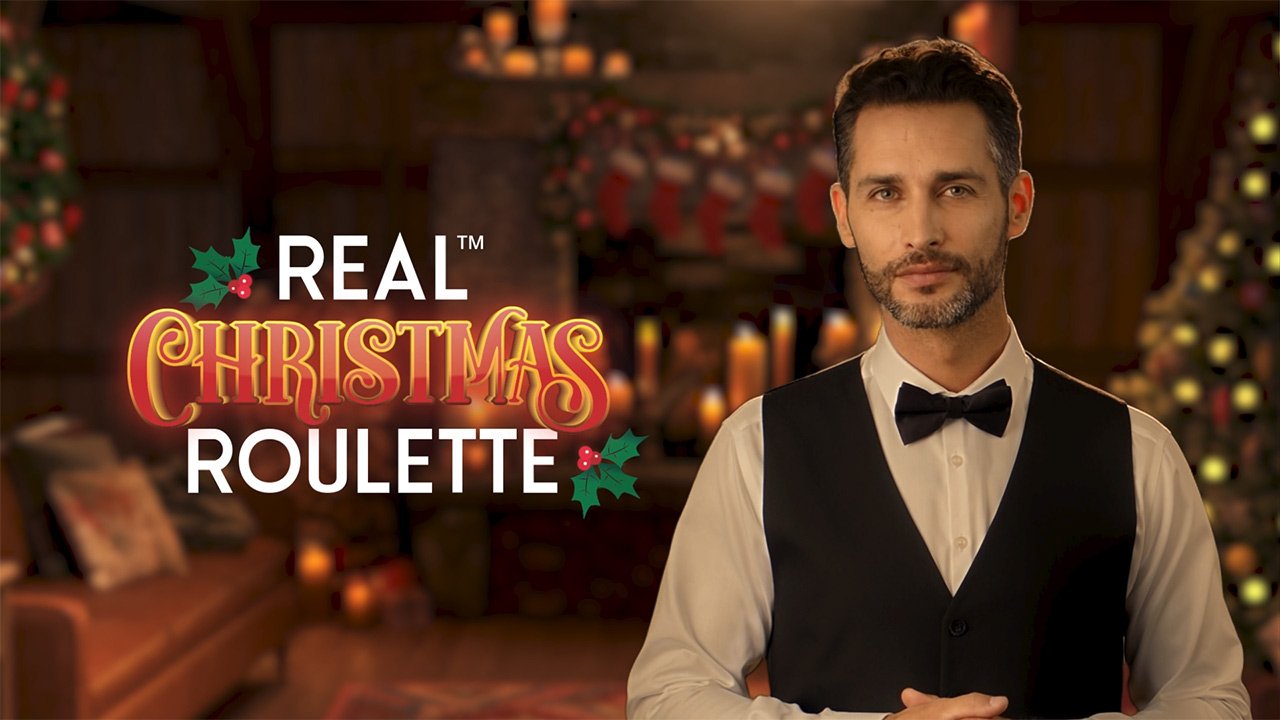 ✓ Teen Patti 20-20 by OneTouch
Premium mobile games developer, OneTouch, recreates a classic Indian card game through their world-class technology and brilliant design work. Teen Patti 20-20 is the new release from One Touch and comes with a modern twist on the authentic South-Asian game. The table game, often referred to as Indian poker, originated from the British three-card brag and has poker-like rules.
RTP: 93.59%
Stakes: €0.50 - €500
Max Win: 1,000x bet
Punters can enjoy the software developer's signature gaming design with single-touch interactivity and stunning visuals.
Simple Sophistication
The regal red and gold images pay homage to the Indian origins of the game with an exotic mandala in the background, adding a touch of eastern sophistication. The game includes cards from a digital deck of 52 cards that is re-shuffled before each round. Select your wager amount displayed on chips and decide whether hand A or B will end with the highest combination of three cards. Teen Patti 20-20 gives punters side-bet options like wagering on a tie, or whether the winning hand has a pair or higher.
A bonus betting feature on Teen Patti 20-20 is the 6 Card Bonus bet, which pays regardless of the main bet's outcome. Players bet on the combination of the cards dealt to create the best possible five-card hand. Enjoy the seamless play of this beautiful game on your mobile or desktop.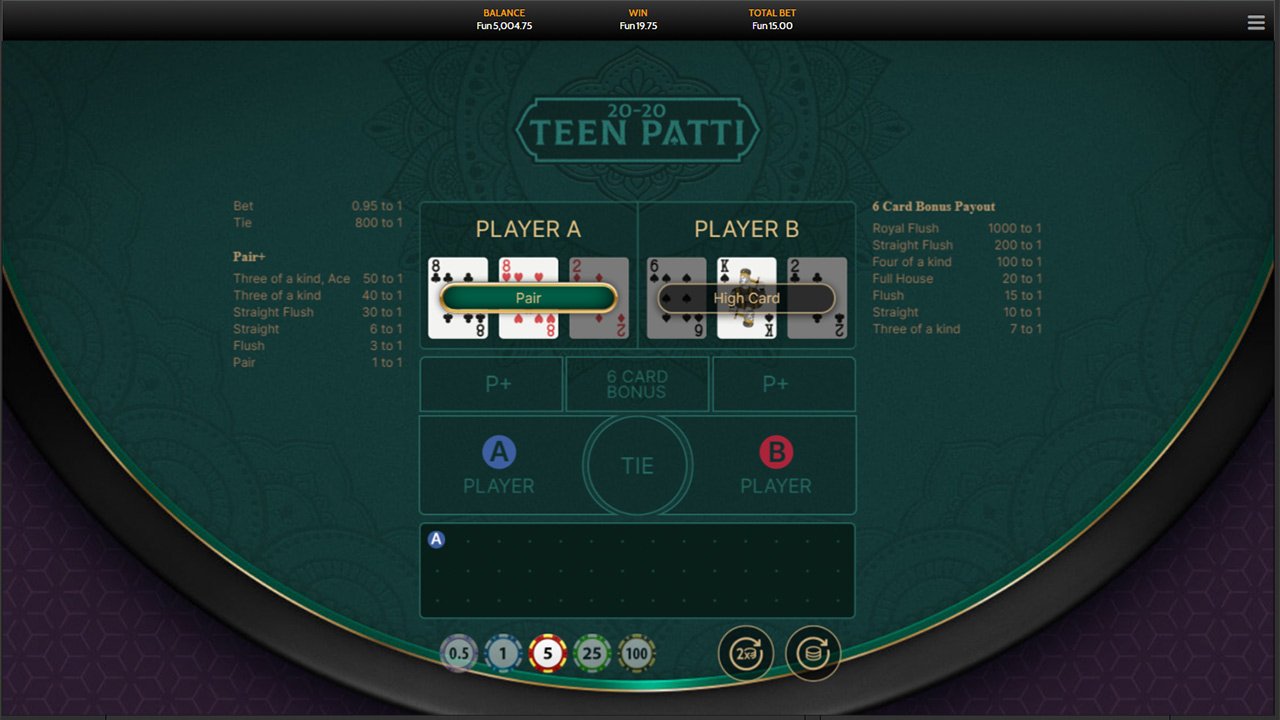 ✓ Perfect Pairs Blackjack by Swintt
Perfect Pairs Blackjack, from the innovative new igaming developers, Swintt, is a no-nonsense online casino game suited for novice and experienced card players alike. As one of the fastest-growing content suppliers in the online gambling world, Swintt offers punters with industry favourites and this version of the popular card game of 21, will not disappoint. Added features like customisable table and card colours and the ambient jazz music create a memorable experience.
RTP: 99.24% on Blackjack
Stakes: €1 - €100
A Perfect Addition
Once you've decided on your favourite colours for the deck and game background, you can stack your chips to wager. They accept a minimum of €1 and a maximum of €100 as your total bet, so decide how much you want to place on the possibility of holding perfect pairs. This side bet option has lucrative returns but the odds are somewhat inverse to the rewards.
A standard game of blackjack ensues once you click on the 'deal' icon and the fun begins. Once you have your first two cards on the screen, you decide on a hit or stand, and sometimes, you can split the hand. Punters who have a perfect pair in hand immediately receive a side payout of 25 to 1.
For a colour pair, players win a 12 to 1 payout, and for a non-colour pair, the pot is 5 to 1. If Lady Luck smiles down on you and you beat the house with blackjack, they reward you at a 2:3 rate.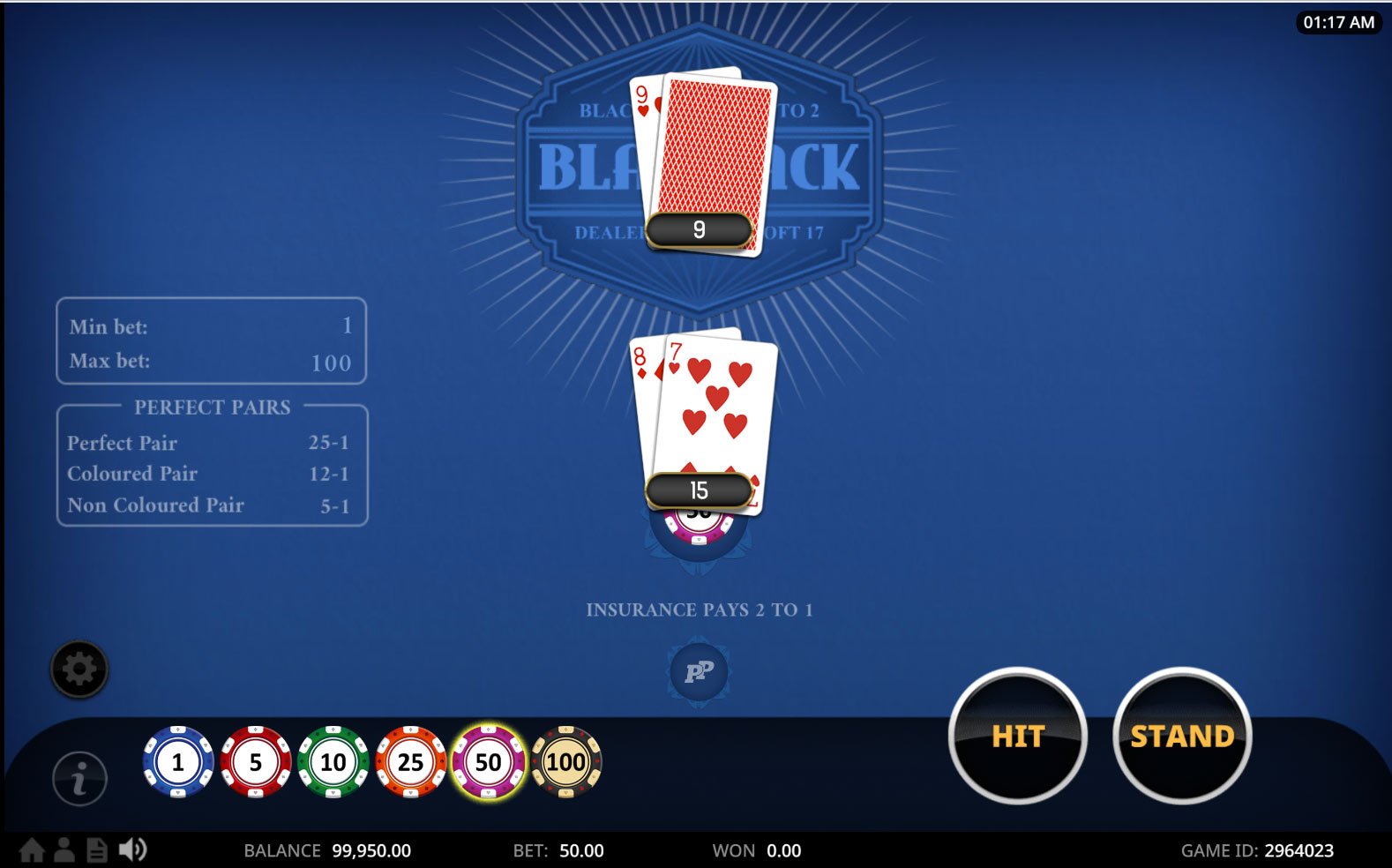 ✓ Cricket War by Ezugi
Sports and gambling have ties dating back centuries and with a little imagination and a lot of technology, Ezugi combined the two to present Cricket War. Their newest live casino game draws inspiration from card games like Dragon Tiger. In fact, for punters who enjoy Casino War, this will be a pleasant change of scenery with the same basic rules. Set on a felt table with a cricket pitch layout, this two-card game is simple and fun.
Cricket fans will enjoy this card game with a pace akin to the Pro 20 series, complete with a live dealer that becomes the umpire. Will the Bowler or the Batsman take the round? Place your bet and keep your eyes on the wickets.
Bet Before Wicket
Recorded from a live studio, the game has a sports arena feel to it. The rules of the game are straightforward, and punters of any level can enjoy this fast-paced table game. The two sides, Bowler and Batsman, each receive one card and the player bets on who will have the highest or whether they will end in a tie. With the help of bead roads and live betting statistics, players can adopt tactics to hit this game out of the park. Ezugi is a subsidiary of Evolution and we know both as developers who present unrivalled live casino experiences.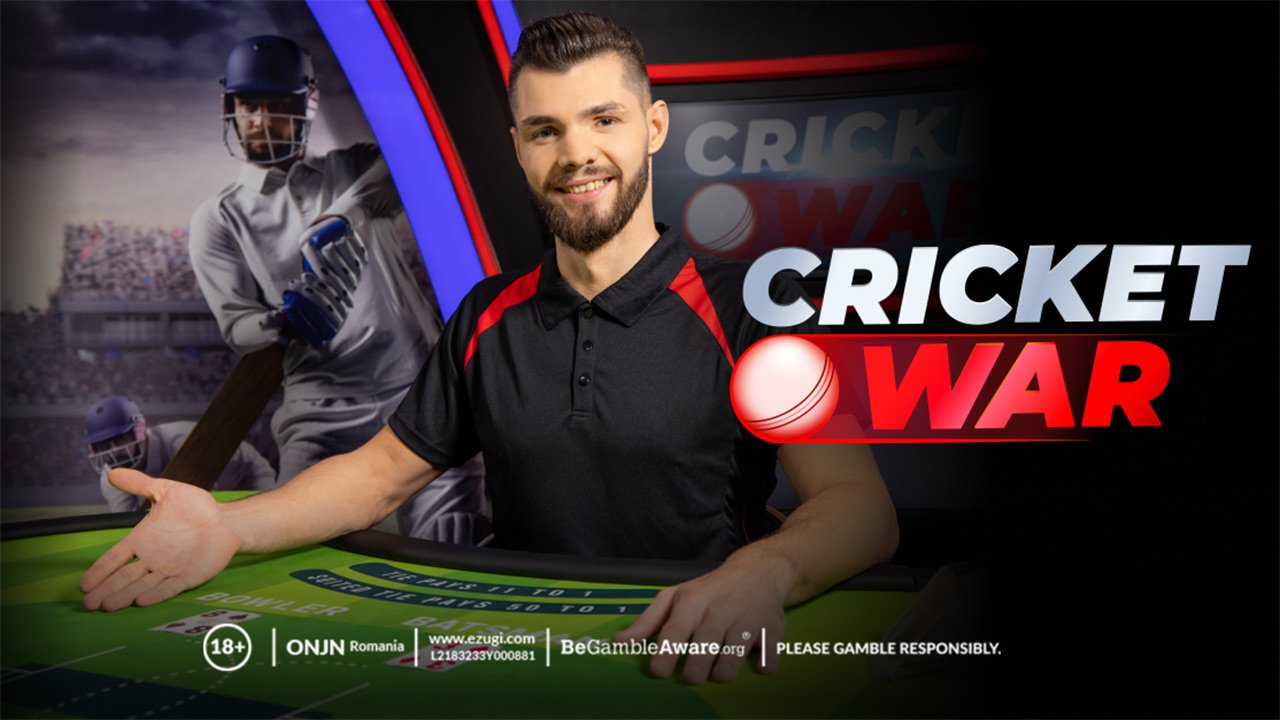 ✓ Lightning Blackjack Live by Evolution Gaming
Evolution Gaming released their newest live card game and added it to their existing Lightning series. Lightning Blackjack includes outstanding features and punters who may have experienced the Lightning Roulette and Lightning Baccarat versions in this series, will know what to expect. This electrifying spin on the age-old game of 21 includes guaranteed multipliers in every round.
Elegantly Electrifying
The live studio recording takes place on an Art Deco style set with glamorous black and gold finishes. Equally impressive are the live dealer's elegant attire and lightning flashes that deliver the multipliers for each round. Apart from the standard blackjack rules, players get a guaranteed multiplier prize with their win. At a Lightning Fee equal to the initial bet amount for the round, a multiplier between 2x and 25x is up for grabs. Should you win the following round, the multiplier you won increases your pot.
Evolution also offers a First-Person version of the game where players can experience the thunderous title with its higher payout multipliers, sparing the live feature for when the players choose to use it. Evolution uses RNG (Random Number Generator) based technology to create their collection of First Person games.