The issue of gender equality in sports is an ongoing discussion. Most famously the recent debate surrounding the pay gap between American male and female soccer players made headlines.
As with all such discussions while initially, they create friction and some level of discomfort the long-term benefits are undeniable. Ensuring remuneration based on skill and performance, equal working conditions and increased levels of support for sports regardless of the gender of the competitors is good for the industry.

DK Tracks Increased Interest
American daily fantasy sports and sports betting website DraftKings announced that it has been seeing incredible growth in betting on women's sporting events at the 2020 Tokyo Olympics.
Specifically noting that out its entire book of sporting events women's sports held four of the top ten spots:
2nd highest bets – Women's basketball
3rd highest bets – Women's soccer
6th highest bets – Women's tennis
9th highest bets – Indoor volleyball
When it comes to which women's sporting events were generating the most revenue, they ranked the top 10 sports by handle:
Olympic Basketball
Olympic Soccer
Olympic Tennis
Olympic Volleyball
Olympic Golf
Olympic Beach Volleyball
Olympic Softball
Olympic Swimming
Olympic Handball
Olympic Track & Field
Unsurprisingly the female sports stars who took gold medals at the 020 Tokyo Olympics were also the ones to generate the highest amount and value of overall bets. These included professional golfer Nelly Korda, competitive swimmer Katie Ledecky, and hurdle and sprint competitor Sydney McLaughlin.

 The Future is Bright
Enterprise technology firm Morning Consult released several interesting statistics around the propensity of people to watch women's sporting events and which events appeal most to key audiences.
✓Interest In Women's Sports At An All-Time High
While there is a lot of work to be done in raising the profile of women's professional sporting leagues with a massive 30+ point disparity between those interested in male pro sports versus female pro sports interest in male and female Olympic events is virtually the same.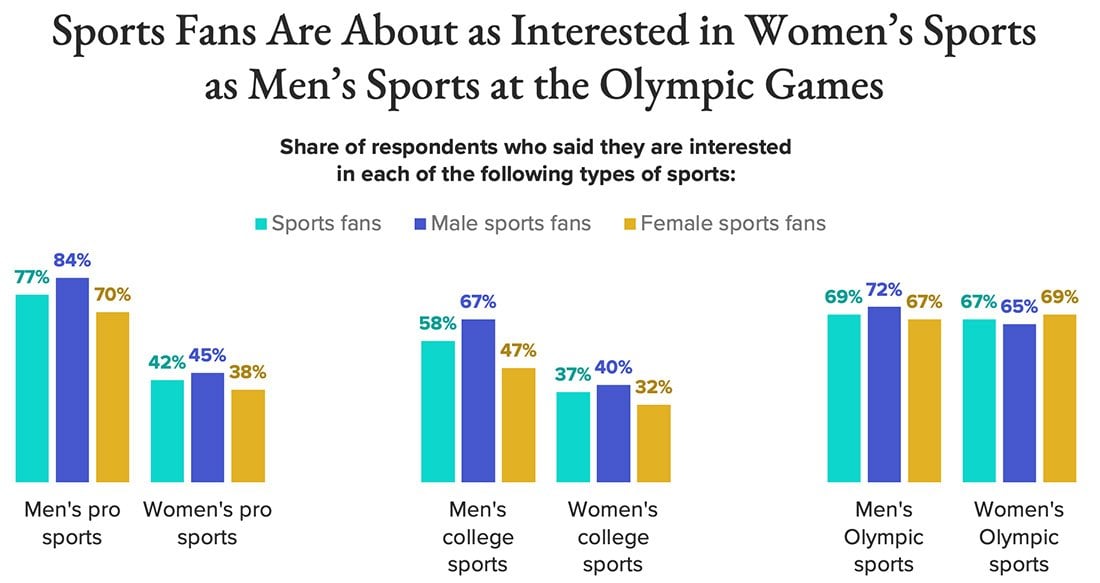 ✓Men Will Watch Women's Sports More Than Women
As a whole their study showed that more men than women consider themselves die-hard sports fans, yet even amongst female sports fans men were still more likely to watch women sporting events. This speaks to the increase seen in the online betting space as men are more likely to bet on a sporting event.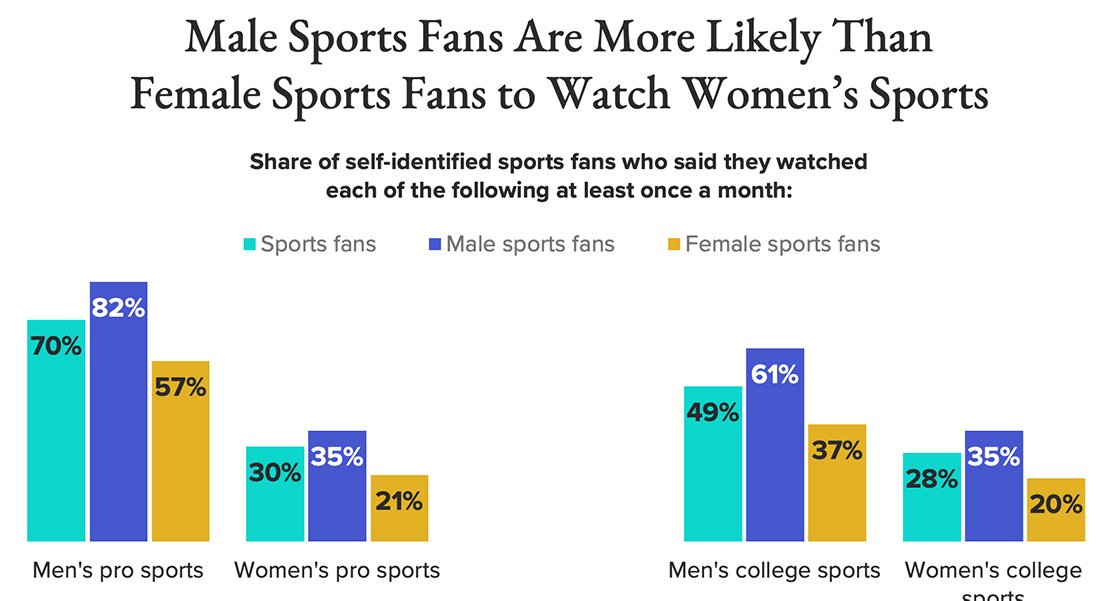 ✓Basketball and Combat Sports Draw Crowds
Despite tennis being one of the highest rated and watched female sporting events Morning Consult found that combat sports and basketball were among the top five sports to grab the attention of the American public.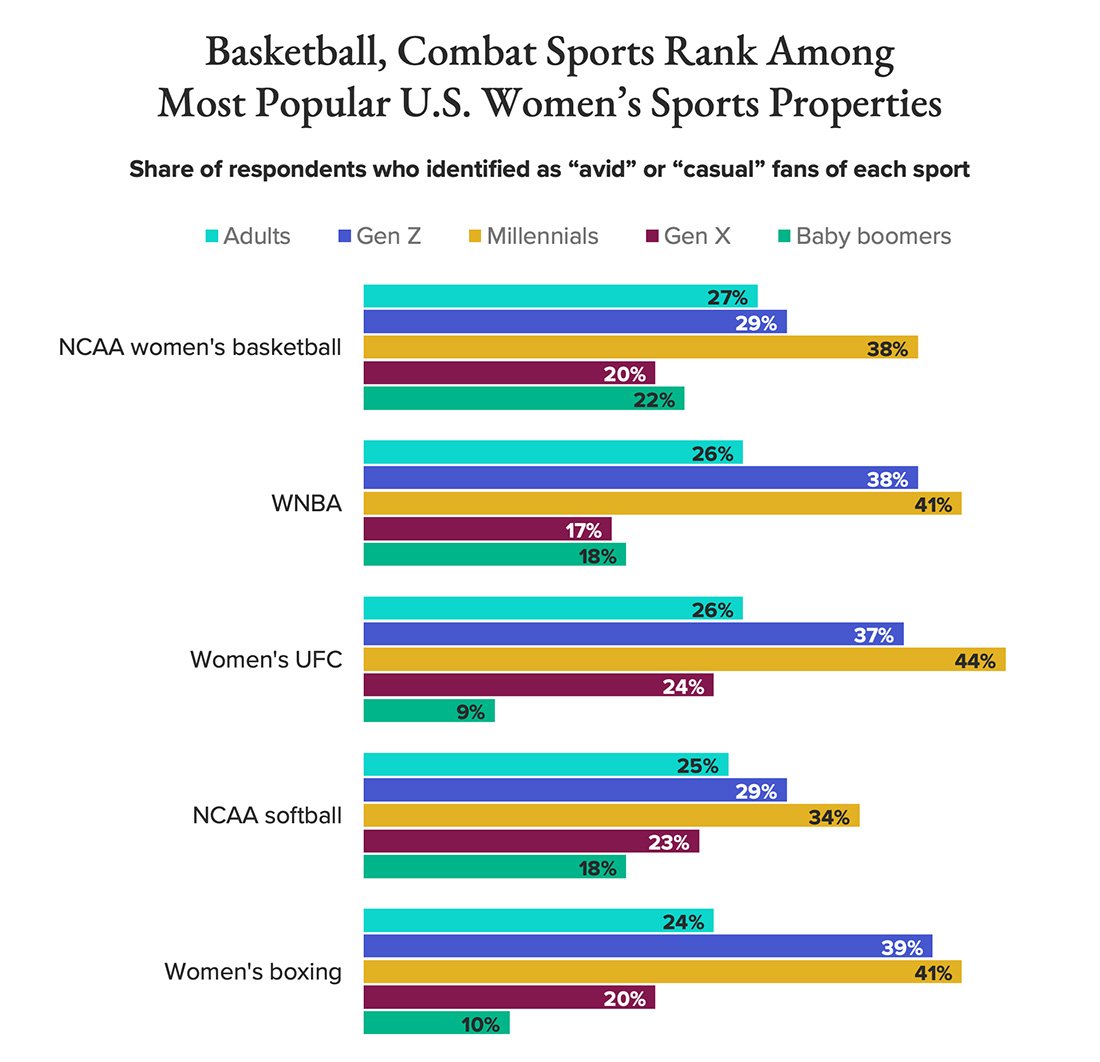 Like the graphics shows, these sporting events were found to be popular with Millennial (born 1980 to 1995) and Gen Z (born 1996 to mid-2000s) sports fans. This age range is also most likely to be inclined to placing a bet on a mobile casino or betting app which once again supports the increase in wagering on these events.