In a year where the world has been plagued by the effects of the COVID-19 pandemic, it's encouraging to see industries that have managed not only to thrive, but to keep us thoroughly entertained. Video game sales hit a record of $10.86 billion in just the first quarter, up a full 9% from an already successful previous year.
According to industry analysts, these sales represent comfort and connection being brought to the homes of otherwise distanced and disconnected lives. In that spirit, we chose to survey more than one thousand people who own at least one video game console. We asked them about the various upgrades they intend to make to their gaming experience as well as the types of considerations they make before purchasing. If you're curious to peek into the trends of this ever-expanding industry, keep reading.
Primary Console Upgrade Considerations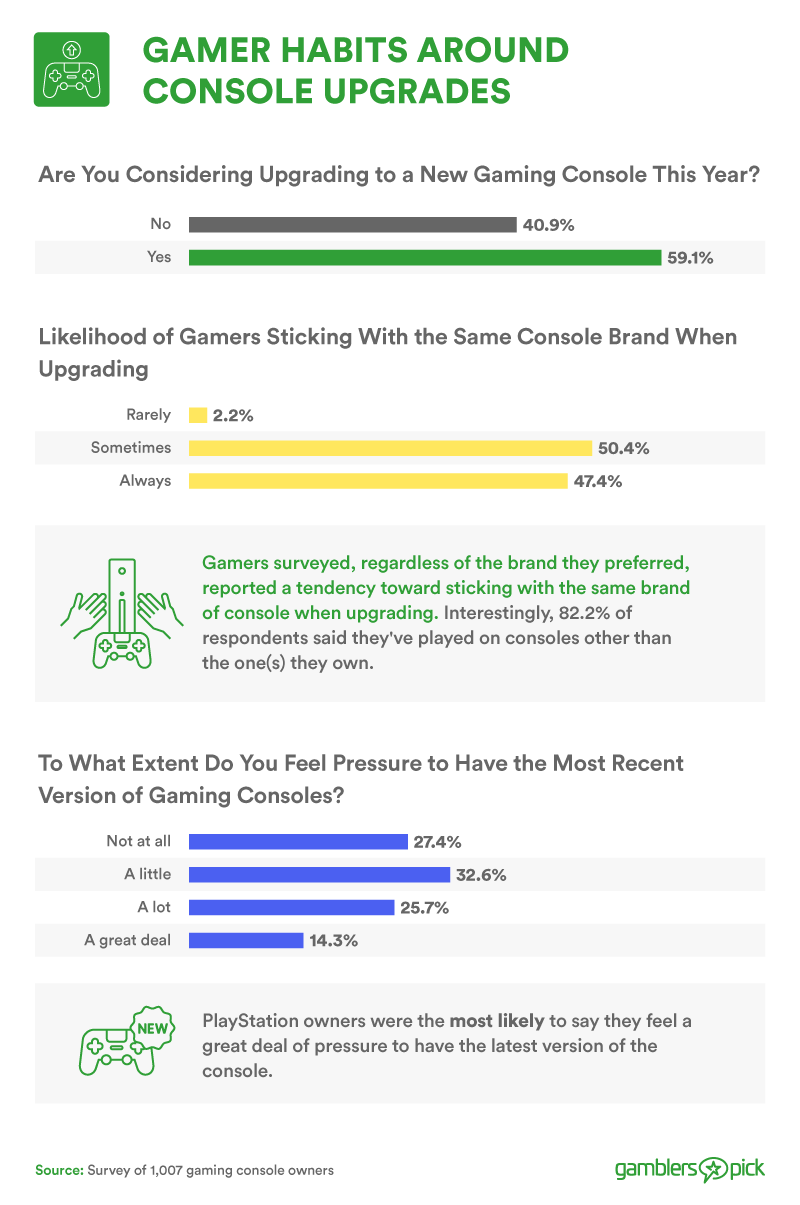 The first part of our study examined general console upgrading habits. The gaming world has been eagerly anticipating the releases of the Xbox Series X and the PlayStation 5, which were released on November 10 and November 12 respectively. So upgrades have likely been on the minds of gamers.
Over half (59.1%) of people who already own a gaming console said they intend to upgrade within the little time left in 2020. Given the timing of two big releases right as holiday shopping is starting to kick into high gear, it makes sense that a significant number of gamers are looking to upgrade.
While most gamers had at least tried consoles different from their own (82.2%), a plurality of gamers surveyed said they stick to the same console brand every time they upgrade. Just a tiny 2.2% of gamers said they rarely upgrade within the same brand.
As for feeling pressure to keep up with the latest consoles, 72.6% of gamers said they felt some pressure to keep up with the newest versions. PlayStation loyalty, however, was perhaps the most pressurized. These gamers were the most likely to say they feel a lot of pressure to keep up.
Thinking Through the Upgrade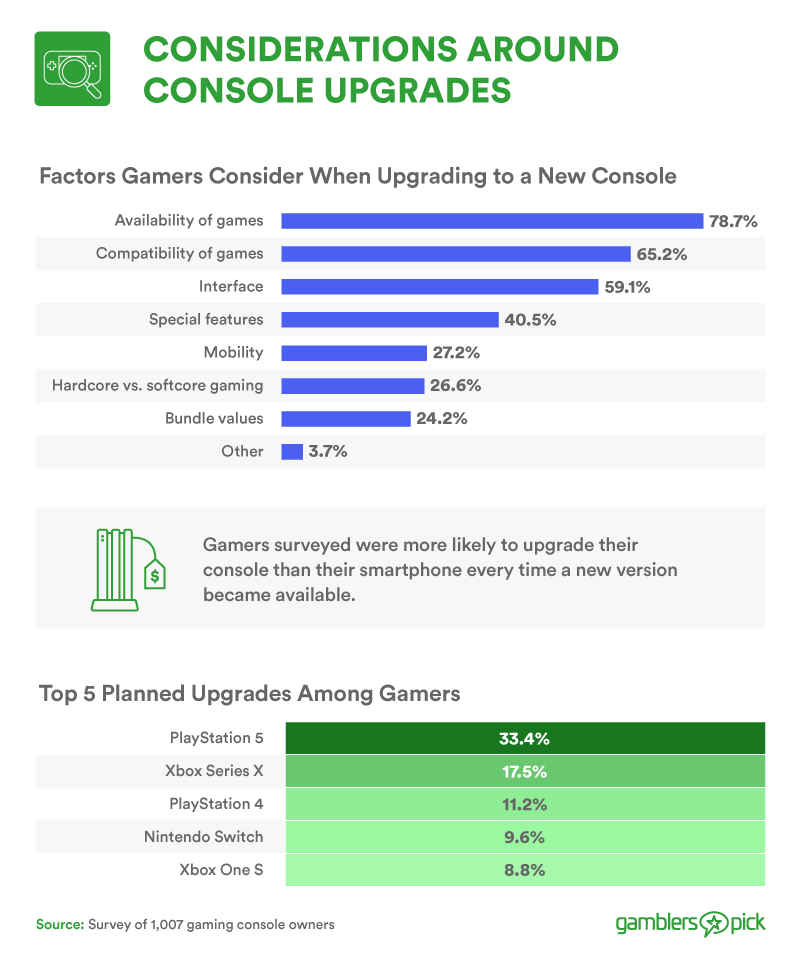 The next part of our study asked gamers about the factors they consider before upgrading their video game consoles. We also analyzed the most common upgrades people are currently considering.
The two main factors gamers said they consider before buying a console are availability of games (78.7%) and compatibility of games (65.2%). These factors eclipsed details like special features (40.5%) and mobility (27.2%). Even though those perks may be nice, the ability to play games actually presents a major barrier to purchase for many. More and more often, games are becoming tied to the consoles themselves, which can be frustrating for gamers. Many of Xbox's most popular games, for instance, are Xbox exclusives, meaning they can only be played on that particular console brand. So the console you have may very well dictate what games can be played. It makes sense then, that gamers would have to consider availability and compatibility of games so heavily before buying a console.
The most common console upgrade gamers said they were currently planning was to the PlayStation 5. That number, however, may be related to the fact that 39% of the people we surveyed already had PlayStation 4's, a higher percentage than any other gaming console. Instead, 17.5% of gamers chose to upgrade to the Xbox Series X this pandemic season.
It's not surprising that the Nintendo Switch was still among the top planned console upgrades among gamers, considering how popular it was early on in the pandemic. Even in the summer, after the first major wave of the virus had died down, people were still having trouble getting their hands on one.
Gaming Wish List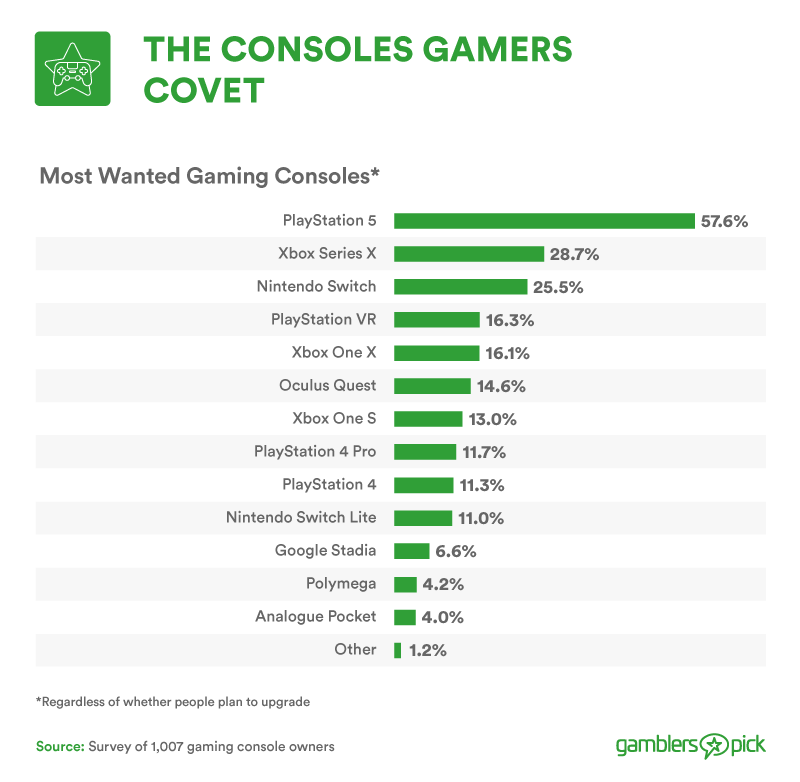 Whether or not people intended on upgrading, we were interested to see which consoles were most desired among gamers.
PlayStation was again the most commonly coveted brand. Specifically, gamers wanted the PS5, which is set to release in mid-November. Pre-orders for the console are already skyrocketing –some analysts call it the No. 1 product this holiday season.
The Xbox Series X, another notable release coming this month, was a distant second with only 28.7% of gamers saying they wanted it. Nintendo Switch also was a contender at 25.5%. There are reports that a new version of the Switch could be released in early 2021, so the fact that people are still coveting it now could mean good things for the new version when it's available.
Gaming More in a Global Pandemic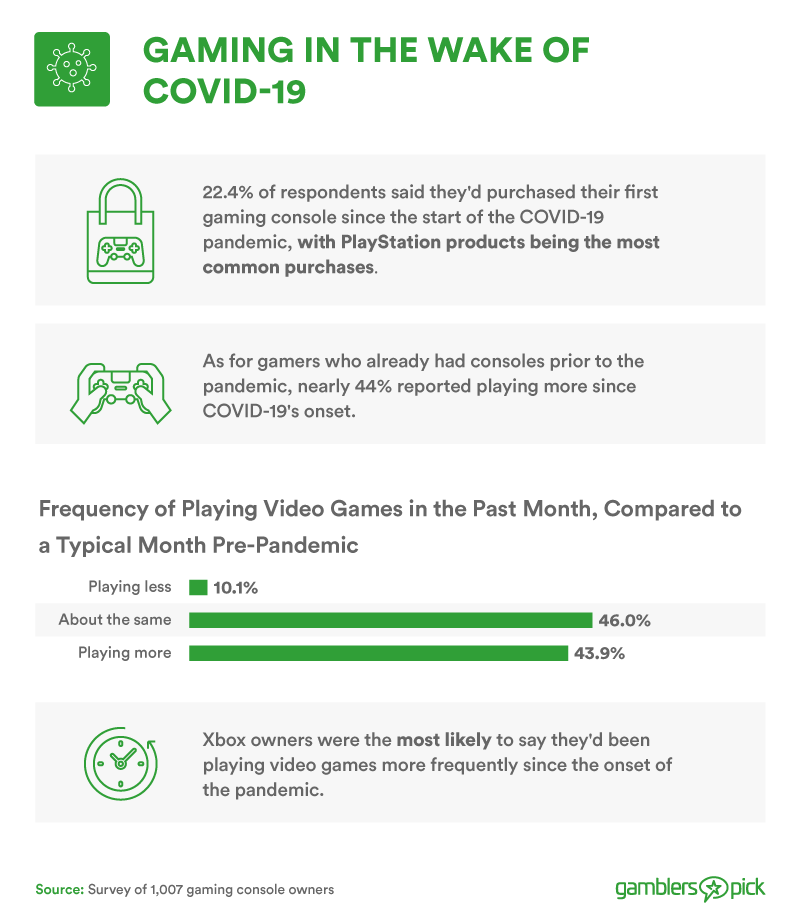 As we mentioned earlier, the video game industry is having a heyday as people have had to stay home and spend more time indoors this year. Evidently, COVID-19 brought some new people to gaming. More than 22% of respondents reported buying their very first video game console since the onset of the pandemic.
As for those who already owned a console, many (44%) did admit to playing more since COVID-19 struck. Xbox owners were the most likely to report as much. 
Gifting Games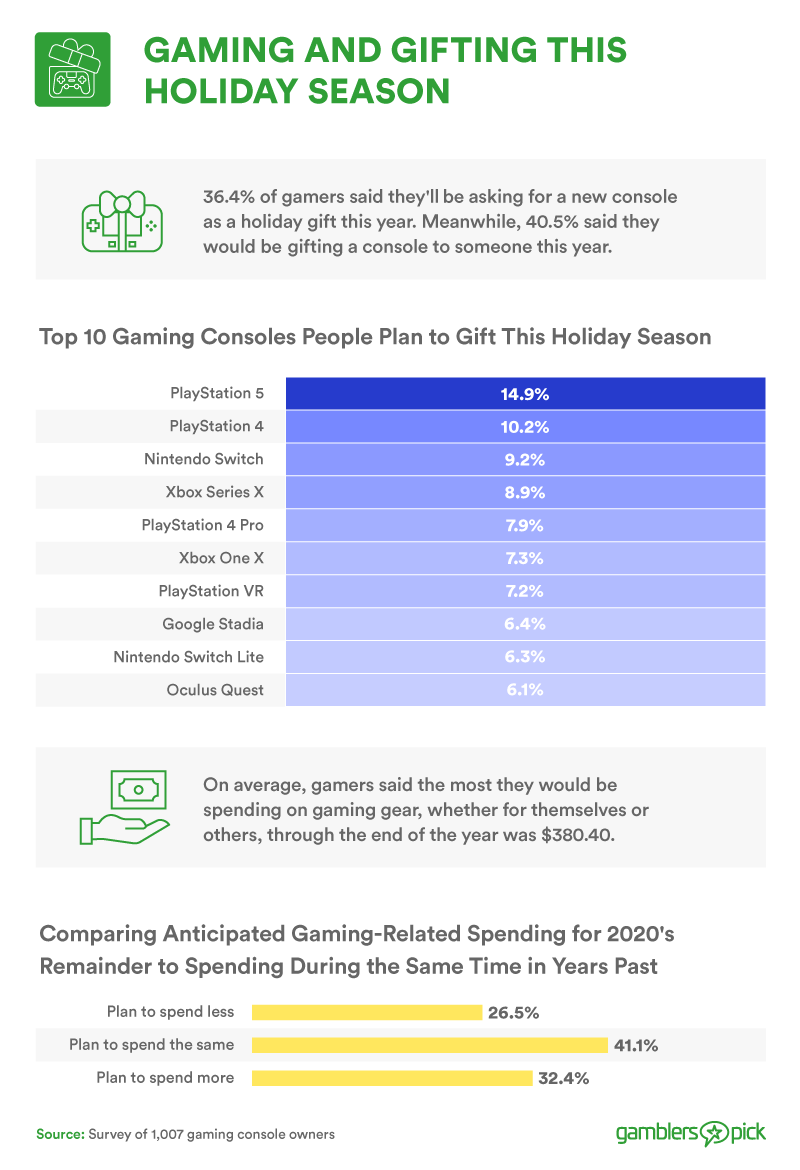 Not only are new consoles being released, but the holiday season is upon us. As gamers look toward these gift-giving occasions, we wanted to know what they had on their wish lists as well as their shopping lists. 
More than a third of the gamers we surveyed (36.4%) said they were going to ask for a new console as a gift this 2020 holiday season. That said, there was a major generosity streak circulating among gamers as well, with an even higher percentage (40.5%) intending to gift a console to someone before the end of the year. 
The most common gift gamers intended to give was the new PlayStation 5, which is no small gesture. On average, gamers intended to spend $380.40 before the year is over, whether on themselves or others. The two most common gifts (PS4 and PS5) were also the most common brands already owned by gamers. 
Game On
The hype was building for newly released consoles like the PS5 and the Xbox Series X, and gamers were clearly paying attention. Many reported that they're currently looking to upgrade their own consoles, and a fair number plan to purchase new consoles as gifts this holiday season. And we're happy to see it – not only the generosity, but the ability to connect and enjoy one another's company, if only virtually. 2020 is certainly a year where we need that. 
Methodology
We surveyed 1,007 people who currently own a gaming console. Respondents were 54.9% men and 44.5% women. Four respondents were nonbinary, one was transgender, and one respondent chose not to disclose their gender. The average age of respondents was 35.5 with a standard deviation of 10.2.
Data about the factors gamers consider before upgrading their consoles was collected through a check-all-that-apply question. Therefore, percentages won't add to 100. 
People were asked to report the most they planned to spend on gaming through the end of 2020. The average presented was calculated to exclude outliers. This was done by finding the initial average and standard deviation and multiplying the latter by three. This product was then added to the initial average. Any data point above that sum was then excluded from the calculation. 
When reporting what consoles they most wanted, even if they didn't plan to upgrade, people were instructed to choose up to three consoles. 
Limitations
The data we are presenting rely on self-report. There are many issues with self-reported data. These issues include, but are not limited to, the following: selective memory, telescoping, attribution, and exaggeration.
Fair Use Statement
Gamers demonstrated careful considerations before making upgrades. If you think information like this could help someone making a gaming-related decision, you are welcome to share what you've found. Just be sure that you link back to this page and that your purposes are noncommercial.
TAGS
Related Blog Posts