Key Takeaways
The Cincinnati Bengals have the most environmentally conscious fans (83.3%), while NFL fans perceived the Los Angeles Chargers/Los Angeles Rams stadium to be the greenest in the league (22.8%).
Overall, the Philadelphia Eagles have the greenest NFL stadium (Lincoln Financial Field), while the Jacksonville Jaguars have the least green NFL stadium (TIAA Bank Field).
The Mercedes-Benz Stadium (Atlanta Falcons) is the only stadium in the NFL with Platinum-level LEED certification.
13 out of 30 NFL stadiums have solar panels, while four more stadiums are in the process of installing solar panels.
Green Accountability
As the state of the environment continues to deteriorate, "going green" becomes increasingly relevant and important. Corporations, politicians, and (hopefully) even your next-door neighbor are all held to some degree of accountability for their carbon footprint. Therefore, it stands to reason that NFL stadiums are too. Since these buildings host some of the largest-capacity events in America, from football games to musical performances, it makes sense that stadium management and fans are concerned with how sustainable their stadiums' operations and facilities are.
We took a closer look to understand how concerned fans really are about the "greenness" of their stadiums. Additionally, using the most recent publicly available data and research, we ranked stadiums based on specific and measurable qualifications to assess just how green they really are. These qualifications include LEED certifications, energy-saving practices, and waste reduction techniques. Continue reading to see what we found.
Do Fans Care Whether Their Team Is Green?
We explored whether NFL fans cared about their home stadium's ecological footprint in order to properly understand if they hold their teams accountable in terms of environmental impact.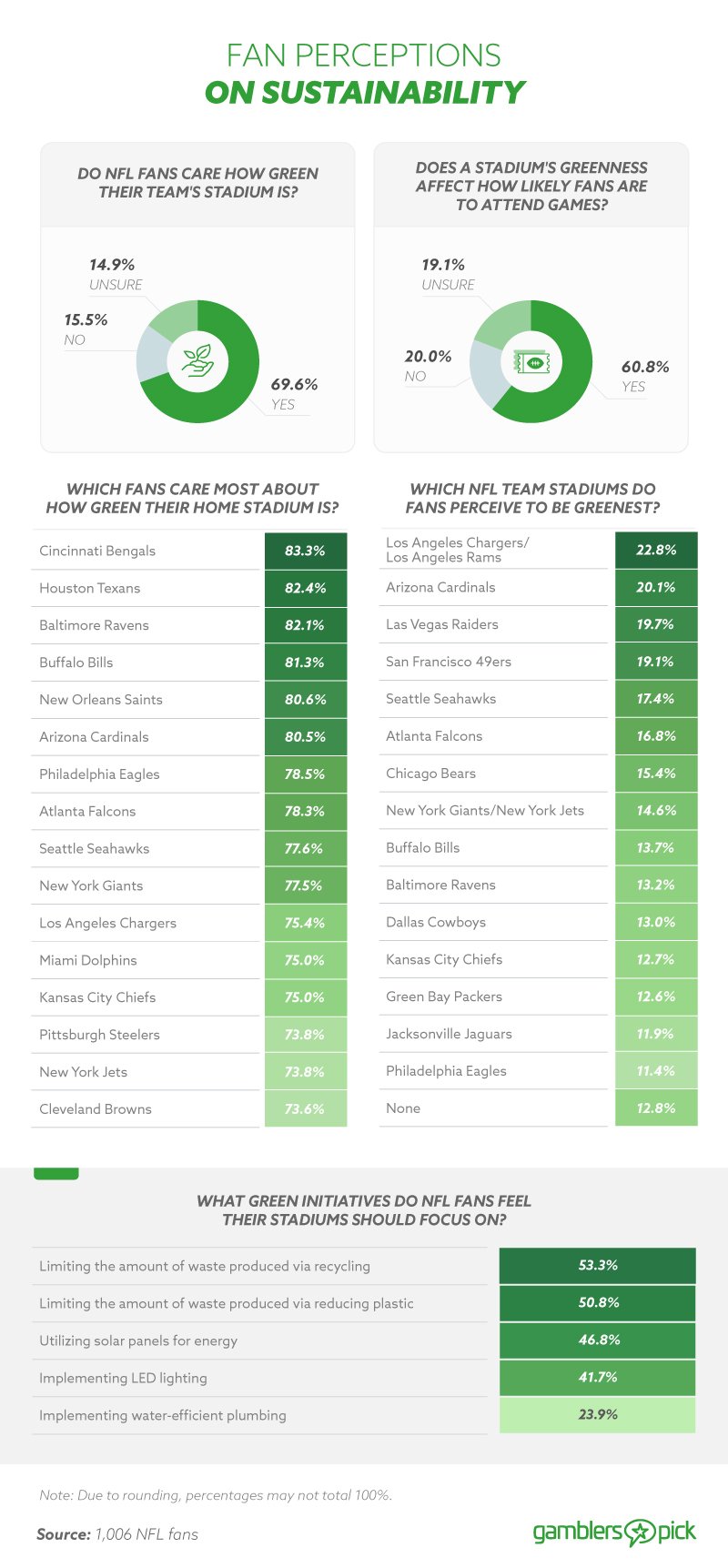 Clearly, NFL fans do care about their respective home stadium's ecological footprint, with 69.6% of respondents answering "yes" to this question, and only 15.5% answering with a definitive "no." The rest remained unsure. When asked whether they were more likely to attend a game if their team's stadium was environmentally friendly, most respondents answered affirmatively. Specifically, 60.8% of respondents answered "yes," 20% answered "no," and 19.1% weren't sure.
So, then, who are these environmentally conscious football fanatics? The 16 most caring NFL fandoms were within a 10 percentage point range of each other (73.6% to 83.3%), suggesting that NFL fans are, overall, more or less similarly concerned with stadium sustainability practices. However, when comparing individual teams, Bengals fans have reason to be even more proud that they're "not Cleveland." Specifically, the data indicated that 83.3% of respondents who were Bengals fans cared about how green their home stadium was, while only 73.6% of respondents who were Browns fans felt the same.
When asked which stadium they believe to be the greenest, NFL fans thought that Los Angeles' SoFi Stadium took the cake. Almost 23% of respondents believed the home of the Chargers and Rams was the most environmentally friendly, while roughly half of this percentage (11.4%) thought the same of the Philadelphia Eagles' Lincoln Financial Field. Interestingly enough, it also seems that a considerable percentage of respondents believed that no stadiums are particularly outstanding, with 12.8% answering that none of them are the greenest.
When it came down to how NFL fans believed their stadiums should actually implement green initiatives, it appeared that limiting waste production was the most popular option. Just over 53% of respondents believed that stadiums should focus on limiting waste production via recycling, while 50.8% believed that stadiums should do the same by reducing plastic use.
Which Stadiums Are the "Greenest"?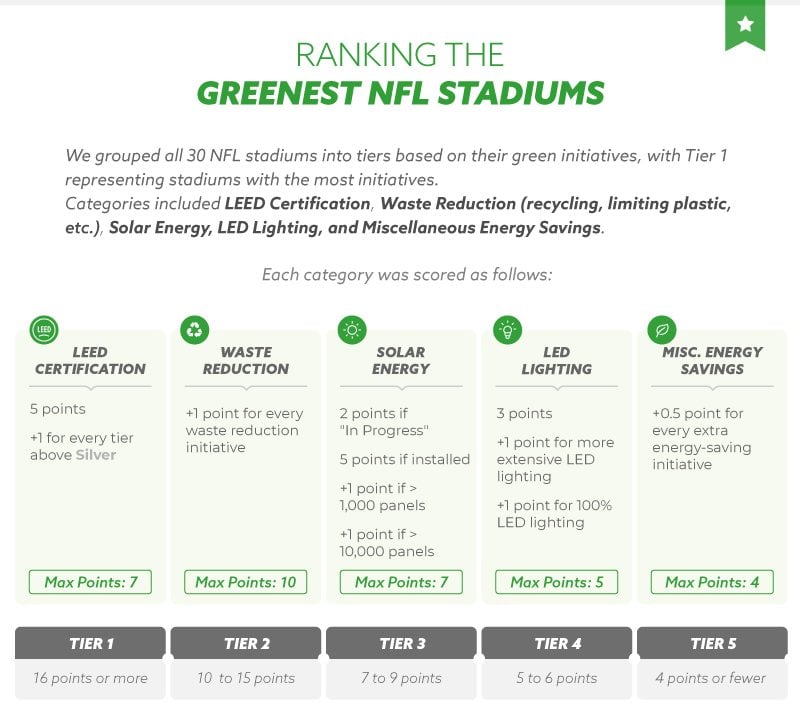 In assessing how environmentally friendly NFL stadiums are, it's obviously important to abide by certain objective and measurable standards. Therefore, we've ranked the 30 NFL stadiums into tiers based on points assigned to them in specific green categories. Point assignment was based on the following factors: LEED certification, waste reduction, and energy savings.
According to the United States Green Building Council, LEED – or Leadership in Environmental Energy and Design – certification is "the most widely used green building rating system in the world." Waste reduction can be measured by evaluating if and to what extent stadiums employ practices like recycling and limiting plastic use. Energy savings can be assessed by looking at if and to what extent stadiums employ methods such as LED lighting or solar panels. We'll take a closer look at these variables later.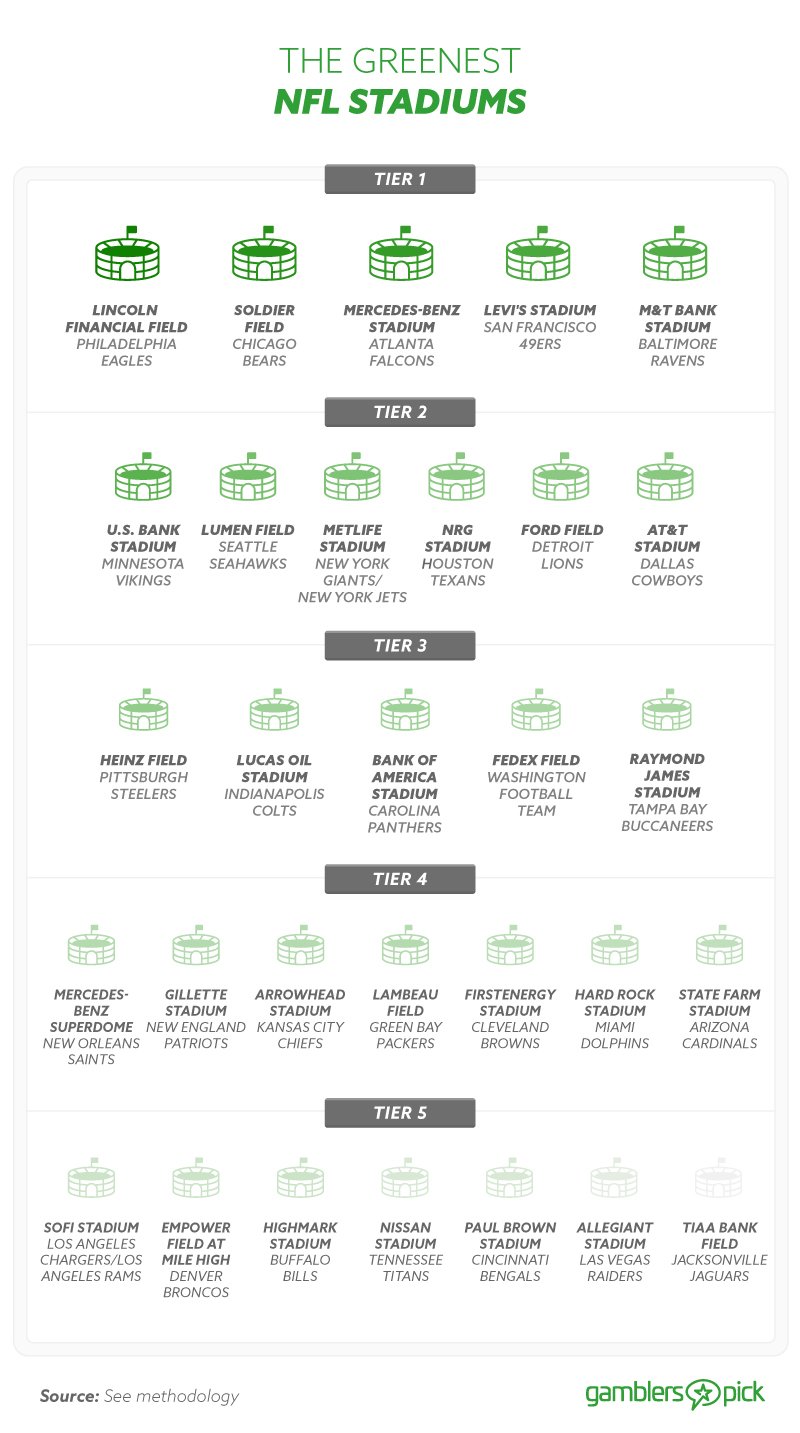 The results are notably different from the perceptions of stadium sustainability expressed by fans during our survey. Specifically, it appears that Lincoln Financial Field – which only received 11.4% in the survey – leads the Tier 1 pack. What's also interesting is that the aforementioned SoFi Stadium, home of the Chargers and Rams, is a Tier 5 stadium despite receiving the most votes in the survey data. The lack of green initiatives at SoFi Stadium could be related to its recent opening (2020), however one would expect a building built so recently to be more compliant with currency environmentally-friendly trends.
LEED-Certified NFL Stadiums
As previously mentioned, LEED-certified NFL stadiums are positioned in the world's most widely used green building rating system. It is important to recognize these stadiums in order to inspire others to follow suit.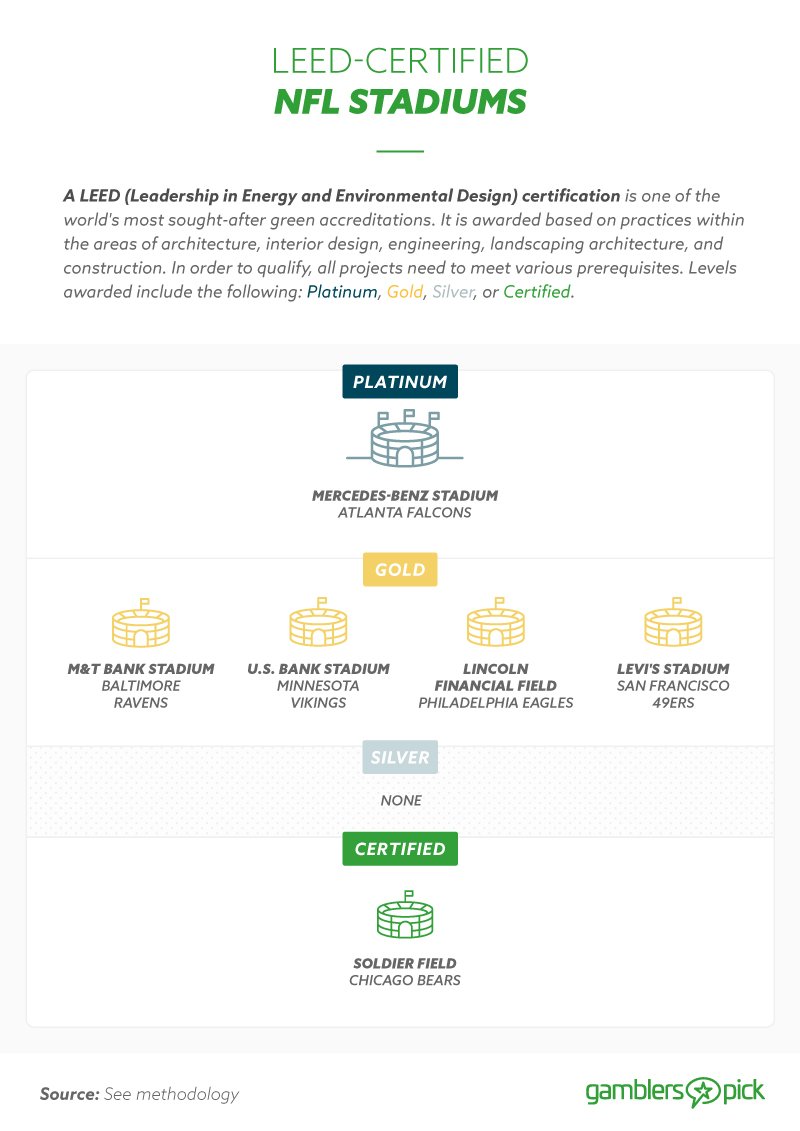 In order to qualify for LEED certification, stadiums must meet certain prerequisites within the categories of architecture, interior design, engineering, landscaping architecture, and construction. There's additionally a point and rating system in place to further distinguish qualified buildings. Specifically, Platinum-rated buildings are those that receive 80 points or higher in accordance with how they implement projects within the aforementioned prerequisite categories. Gold buildings are those that receive 60–79 points, Silver buildings are those within the 50–59 point range, and Certified buildings are those within the 40–49 point range.
The sole stadium in the Platinum category was the Atlanta Falcons' Mercedes-Benz Stadium. The Baltimore Ravens' M&T Bank Stadium, the Minnesota Vikings' U.S. Bank Stadium, the Philadelphia Eagles' Lincoln Financial Field, and the San Francisco 49ers' Levi's Stadium all fell within the Gold category. The Chicago Bears' Soldier Field was the only member of the Certified category. There were no Silver-ranked stadiums to date.
Stadiums' Use of Clean Energy
As for energy savings, it appeared most NFL stadiums implement at least some sustainable practices.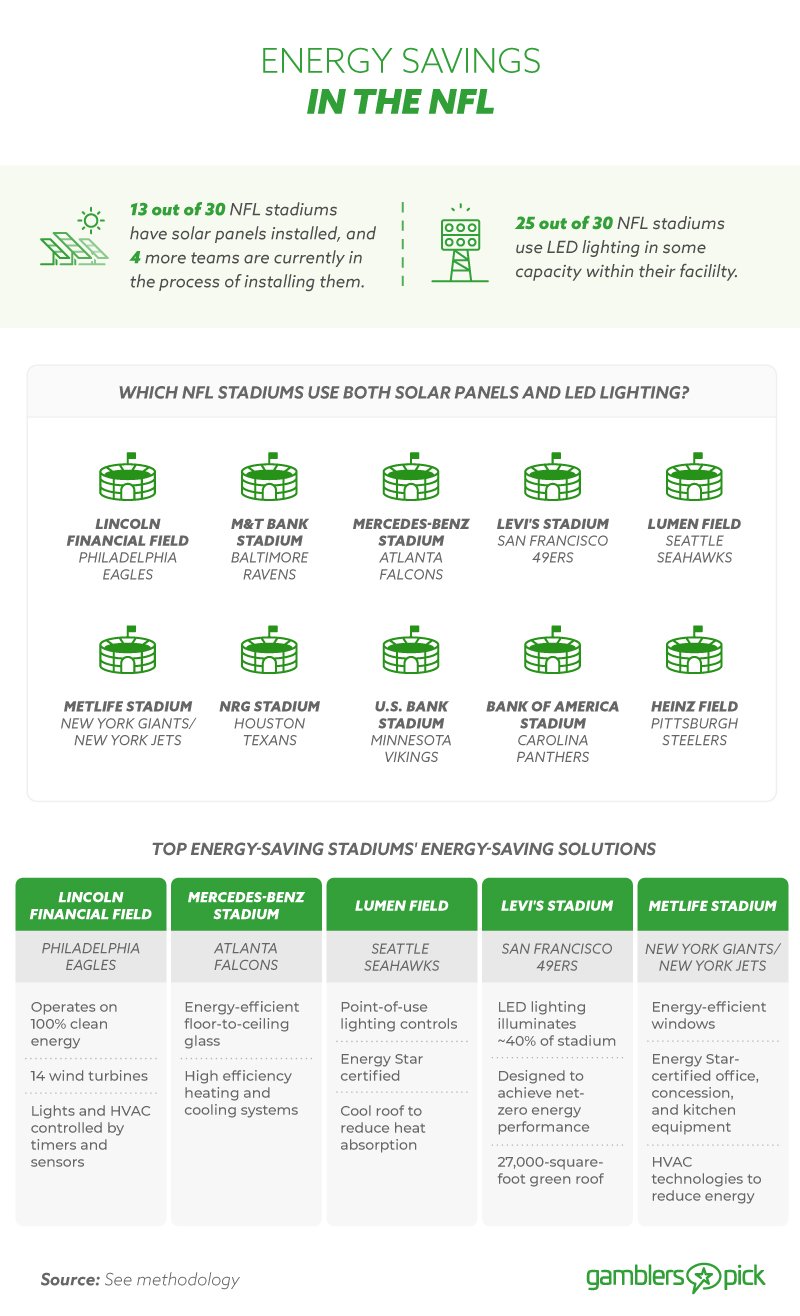 According to our research, 25 out of 30 NFL stadiums use some degree of LED lighting. Solar panel usage is less common, but the majority of stadiums are either currently using (13) or implementing (4) them. Additionally, 10 stadiums have implemented both LED lighting and solar panel usage in their facilities. Unsurprisingly, this is true for Lincoln Financial Field, Mercedes-Benz Stadium, and Levi's Stadium.
These same stadiums are additionally among the top stadiums in their usage of alternative energy solutions. Lincoln Financial Field operates on 100% clean energy, with 14 wind turbines and a network of timers and sensors to control the stadium's lights and HVAC systems. Mercedes-Benz Stadium boasts energy-efficient floor-to-ceiling glass architecture and high-efficiency heating and cooling systems. Levi's Stadium has a 27,000-square-foot green roof, is designed to achieve net-zero energy performance – meaning it produces as much energy as it uses annually – and uses LED lighting to illuminate approximately 40% of the stadium.
Reducing, Reusing, and Recycling
Waste reduction practices in NFL stadiums can exist in many forms: namely, the familiar concepts of reducing, reusing, and recycling. Examples of reducing include limiting the amount of harmful emissions and non-biodegradable waste associated with the stadium. Reusing involves decreasing the amount of single-use plastic distributed by the stadium and its vendors and substituting these for reusable materials. Recycling is the simplest practice and primarily involves ensuring that recycling methods are easily accessible to stadium employees and fans. So then, who's really putting the care into doing these things, you ask?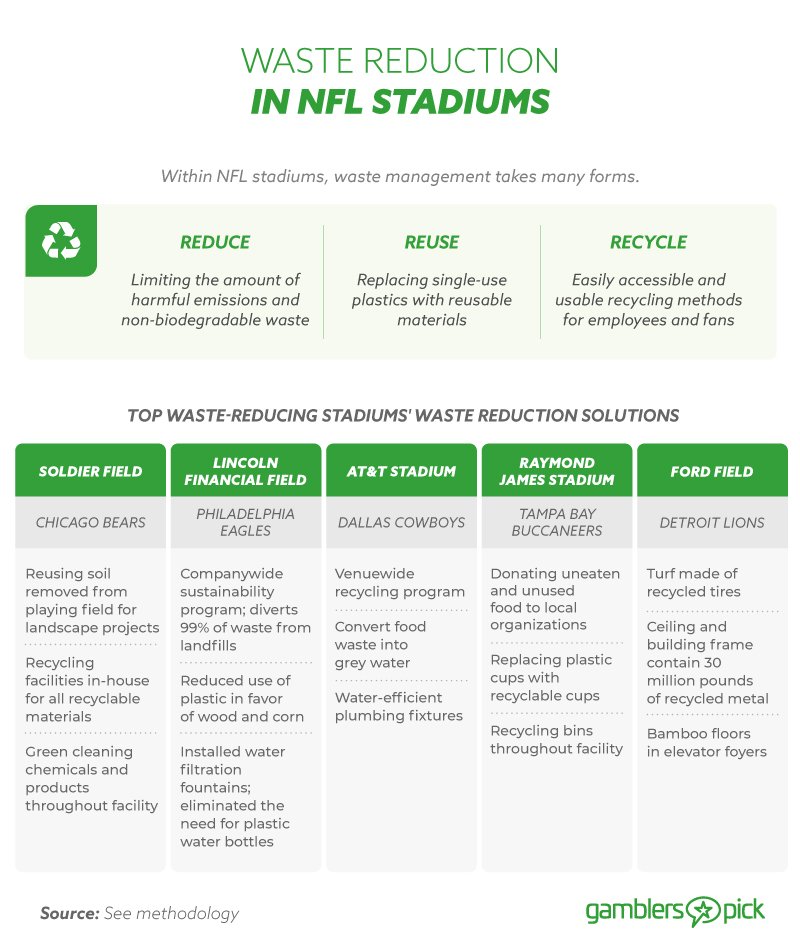 Some of the same stadiums mentioned earlier make reappearances, while others are new to the green NFL discussion. Soldier Field and Lincoln Financial Field put forth yet another chart-topping performance, with both implementing some very creative and effective waste reduction techniques. Specifically, Soldier Field repurposes soil removed from the field for landscaping projects, has in-house recycling facilities for all recyclable materials, and uses green cleaning chemicals and products throughout the facility. Lincoln Financial Field implemented a company-wide sustainability program that diverts 99% of the waste from landfills, uses water filtration fountains to eliminate the need for plastic water bottles, and reduces plastic usage in favor of wood and corn-based materials.
As for previously unmentioned stadiums, the Detroit Lions' Ford Field makes use of some interesting techniques. Ford Field's turf is made of recycled tires, the facility's ceiling and building frame contain 30 million pounds of recycled metal, and the building additionally has bamboo as flooring in elevator foyers.
Green Realizations
Generally speaking, it's safe to say NFL stadium administrators care about their home turf's ecological footprint, with many stadiums adopting creative and effective solutions to ensure that they're operating sustainably. The majority of NFL fans appear to be equally environmentally conscious, although it's likely that stadium sustainability isn't at the forefront of most followers' minds come game day. This is especially likely considering the complexity of each game and its many possible outcomes.
If you'd like to bet on those outcomes, GamblersPick has all the information you need. Whether you're in search of the hottest casinos, bonuses, or games, gamblerspick.com gives you the inside scoop. All you need to bring to the table is your intuition.
Methodology and Limitations
We surveyed 1,006 NFL fans using Amazon MTurk in order to get their perspective on how important it is for NFL stadiums to have green initiatives. Of these respondents, 62.4% were men, 37.2% were women, and 0.4% identified as nonbinary. Additionally, the average age of respondents was 38 years old with a standard deviation of 11.4.
The main limitation of this portion of our study is the reliance on self-report, which is faced with several issues such as, but not limited to, attribution, exaggeration, recency bias, and telescoping.
For the remainder of this study, we gathered research from online sources and compiled an extensive list of the various green initiatives used by each NFL stadium. Our gathered data was acquired from the most recent publicly available articles. Using this information, we were able to create a meta-ranking, assigning points to additional initiatives, certifications, and metrics that allowed for a fair and unbiased comparison.
Fair Use Statement
Given the growing use of sustainability measures in NFL stadiums and the increasing relevance of environmentalism in general, it's certainly possible you will find our data of interest. If that's the case, feel free to use this data to continue the conversation with friends and family. Just make sure you do so for noncommercial use only and provide a link back to this page.
TAGS
Related Blog Posts