• 77% of respondents believed video games make social distancing easier.
• 68% of respondents agreed video games reduce stress surrounding COVID-19; half of gamers said games distract them from negative news during this time.
• Nearly half of gamers surveyed had met up with friends in video games while social distancing.
• Discord was the most preferred voice communication platform for gamers during the COVID-19 pandemic.
• Gamers favored the PlayStation 4 over the Xbox One while adhering to stay-at-home orders.
The question of how we spend our time has really been put under the microscope lately. The COVID-19 pandemic has impacted everyone's schedules (to say the least), and whether your calendar got busier or blew wide open, you may have already learned a thing or two from the way your days have changed. Maybe you've gained a new skill, found ways to socialize, or have gotten creative. But perhaps you're just looking for ways to cope with the stress. Based on recent findings, however, there may be something that provides the perfect intersection: video games.
We spoke to 1,000 gamers who were actively practicing social distancing. They shared how they've continued to socialize using video games, as well as how gaming has helped them to cope with the stress of COVID-19. Continue scrolling to see what the gaming community has to say during these trying times.
Gaming at Home
Even during the height of the pandemic, using video games to socialize wasn't half bad. Most respondents rated the experience as "good," "very good," or even "excellent." In-game chat was twice as popular as Zoom to communicate with other gamers, as well.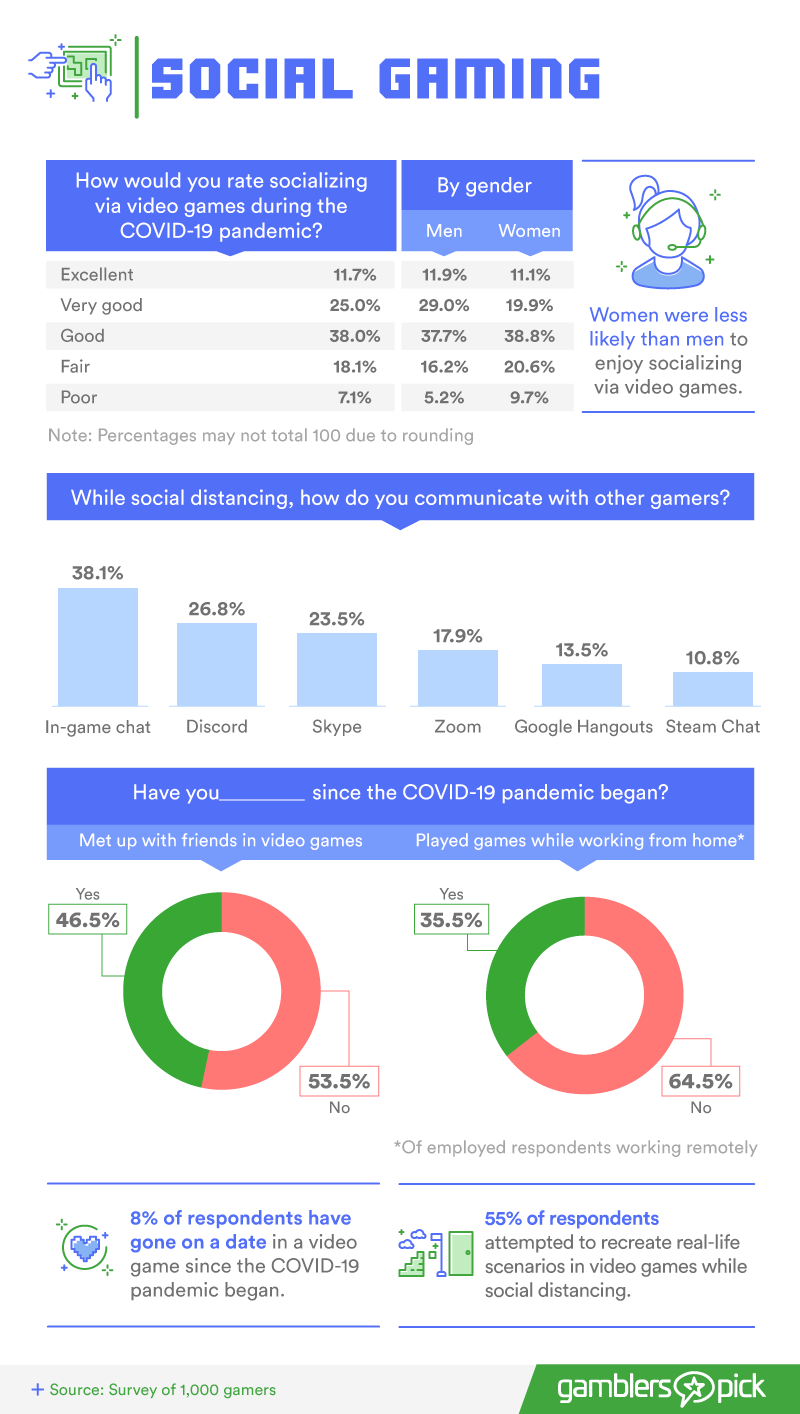 But what did video game socializing actually involve? A lot of the same things normal life would, just virtually. More than 46% had used video games to meet up with friends, and another 55% of respondents attempted to recreate real-life scenarios of some kind. Things like birthdays, baby showers, and even weddings are being celebrated online and often include virtual games.
Eight percent of respondents said they had also gone on a date in a video game since the pandemic began. That said, women were less likely to enjoy socializing in video games. Unfortunately, video games can be breeding grounds for sexual harassment, particularly of women. Of course, both men and women should socialize only where they feel safe, as they would in real life.
Consoles for Remote Life
The "console war" (as many techies call it) between PlayStation 4 and Xbox One was alive and well during the quarantine. This particular battle, however, was won by PlayStation: 23% preferred PS4 during this time, while Xbox served just 13.6%. PlayStation may be particularly conducive to socialization while in isolation –some fans praise the console's "social screen" feature, which allows others to see what you're seeing.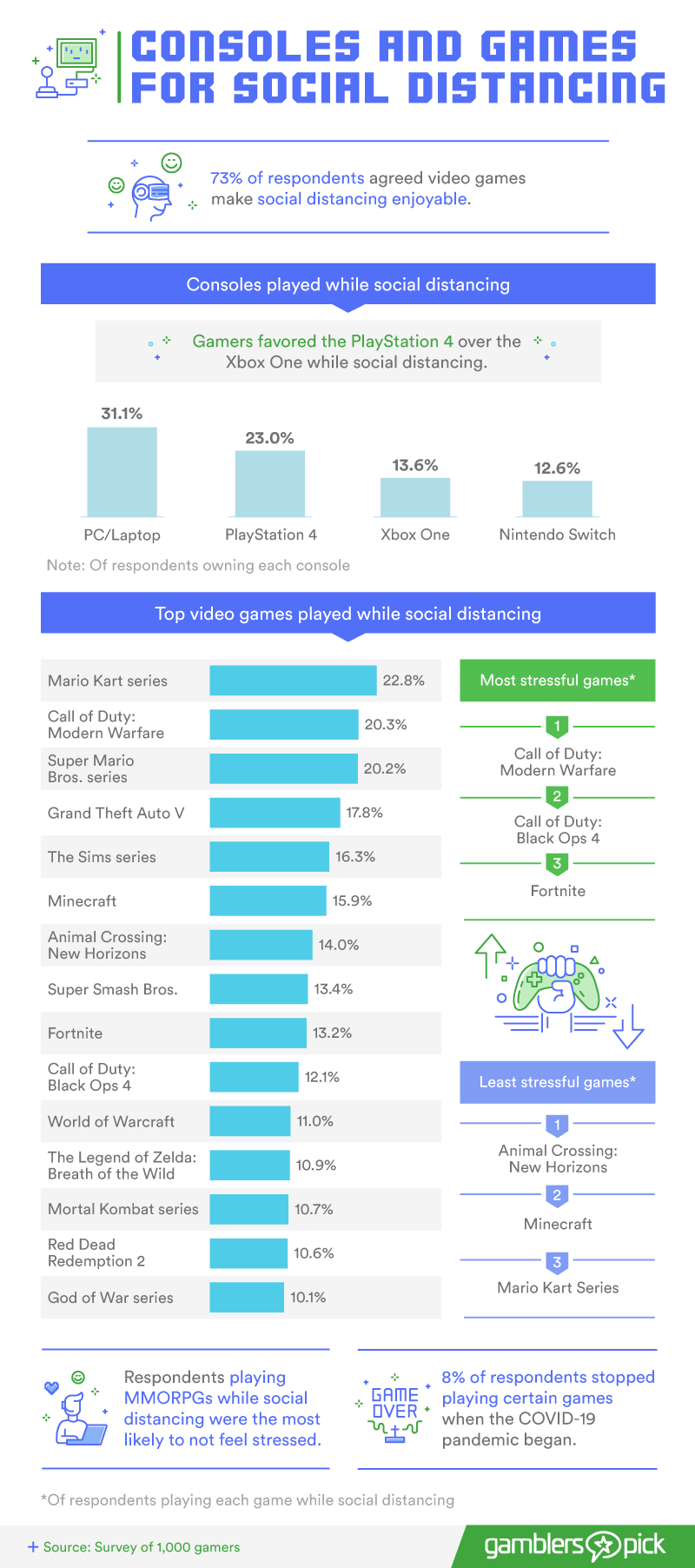 Another clear standout in quarantine was the Mario franchise. Mario Kart was the most popular video game to play while social distancing. And it also helped people feel the best: Players ranked this game as one of the least stressful things they could play during social isolation. It lost only to Animal Crossing: New Horizons and Minecraft. Call of Duty was almost as popular as Mario Kart but was the most stressful game to play in quarantine, according to gamers. Modern Warfare and Black Ops 4 (both Call of Duty games) took first and second place, respectively, for the most stressful video games.
Gaming Schedules
Without a normal schedule to adhere to, respondents found a variety of times that worked well for gaming. Evenings between 6 and 10 p.m. worked best, but afternoons and playing throughout the day were also popular. These hours added up to an average of 15 hours each week of gaming while social distancing. But nearly a third of respondents spent more than 20 hours each week playing video games during isolation.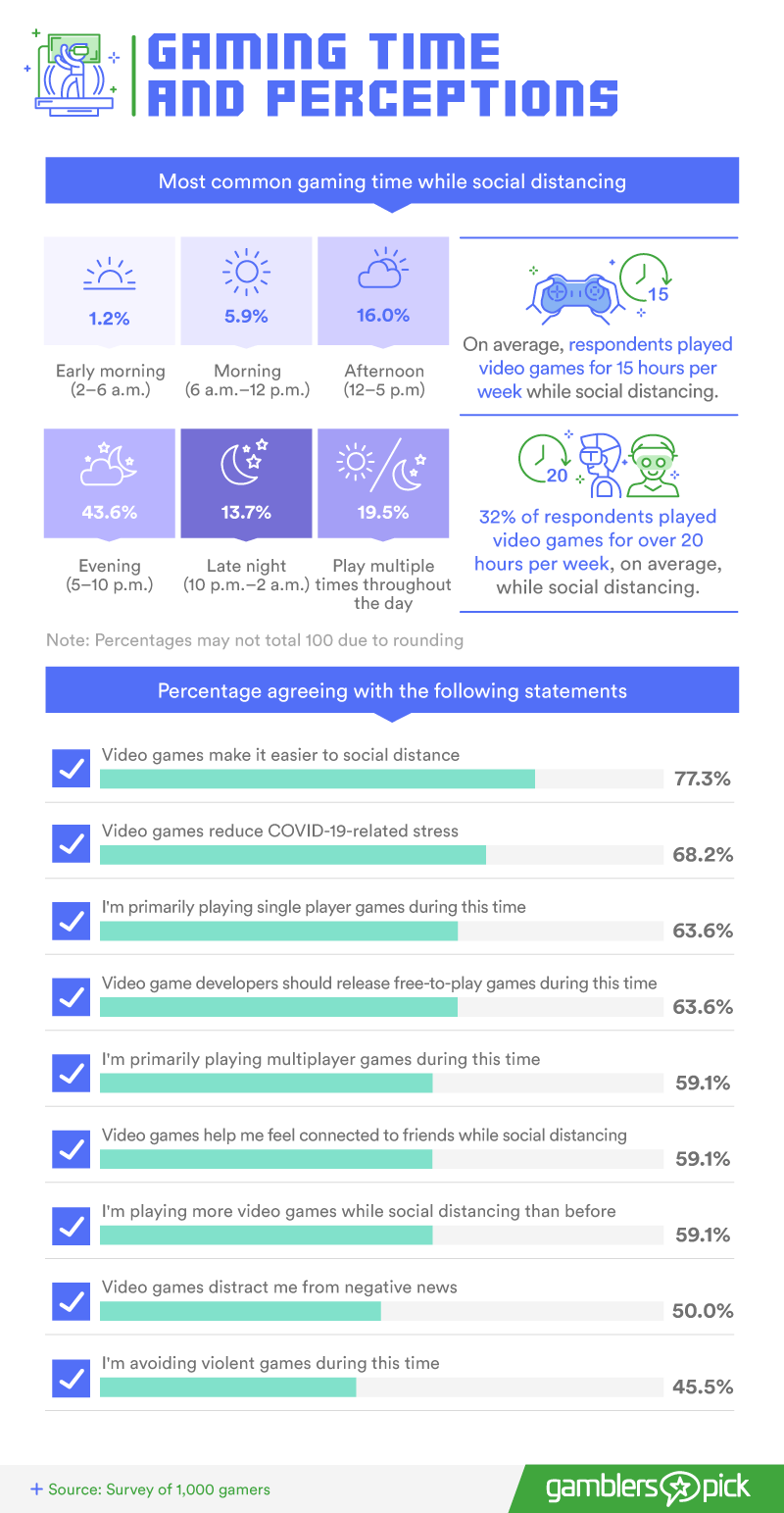 Those hours spent gaming represented much more than the games themselves, as we came to find out. Around 77% said video games make it easier to socially distance. In many ways, video games made them feel more connected to positive things: 59.1% felt more connected to friends, 68.2% saw a reduction in COVID-19-related stress, and 50% used the games to distract from negative news. Many even censored negativity – 45.5% chose to avoid virtual violence during these times.
Financing Gaming During COVID-19
Quarantine games weren't all free, however. While social distancing, gamers spent an average of $101. Nearly 41% of gamers spent money on video games, and 26.6% purchased downloadable content, while a much smaller percentage bought things like headsets and new controllers.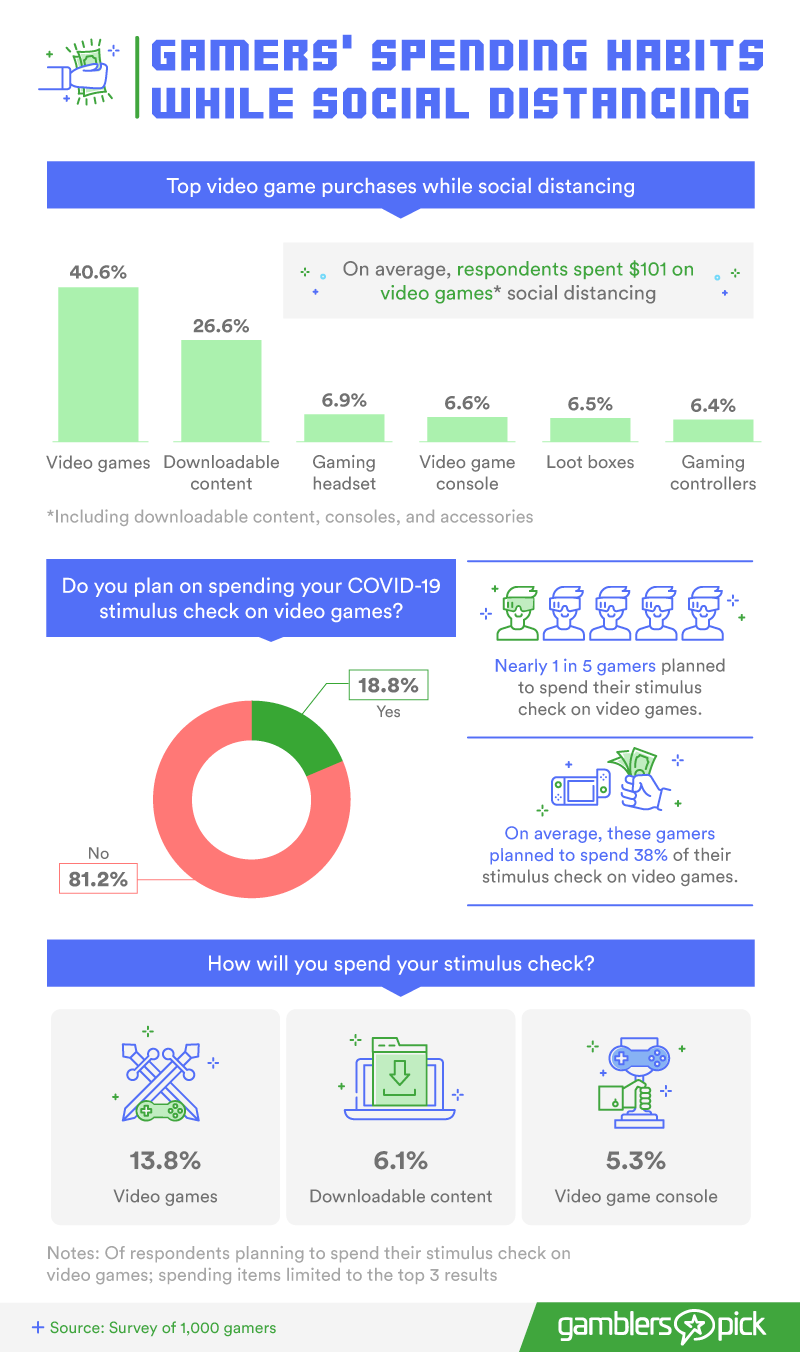 Nearly 1 in 5 gamers planned to spend their coronavirus stimulus check on something video game-related. More specifically, around 14% said they would purchase video games, 6.1% said they would use the check to buy downloadable content, and 5.3% were going to use the funds on a console. When all was said and done, gamers anticipated using 38% of the check on gaming supplies.
How to Start Gaming Now
With all of the benefits respondents expressed, we wanted to know if they would recommend it to others. We figured a few suggestions for enjoyable ways to pass the time in quarantine couldn't hurt. Sixty-eight percent believed nongamers should get in on the action and give video games a try while social distancing, and around 51% said to try it with family or friends.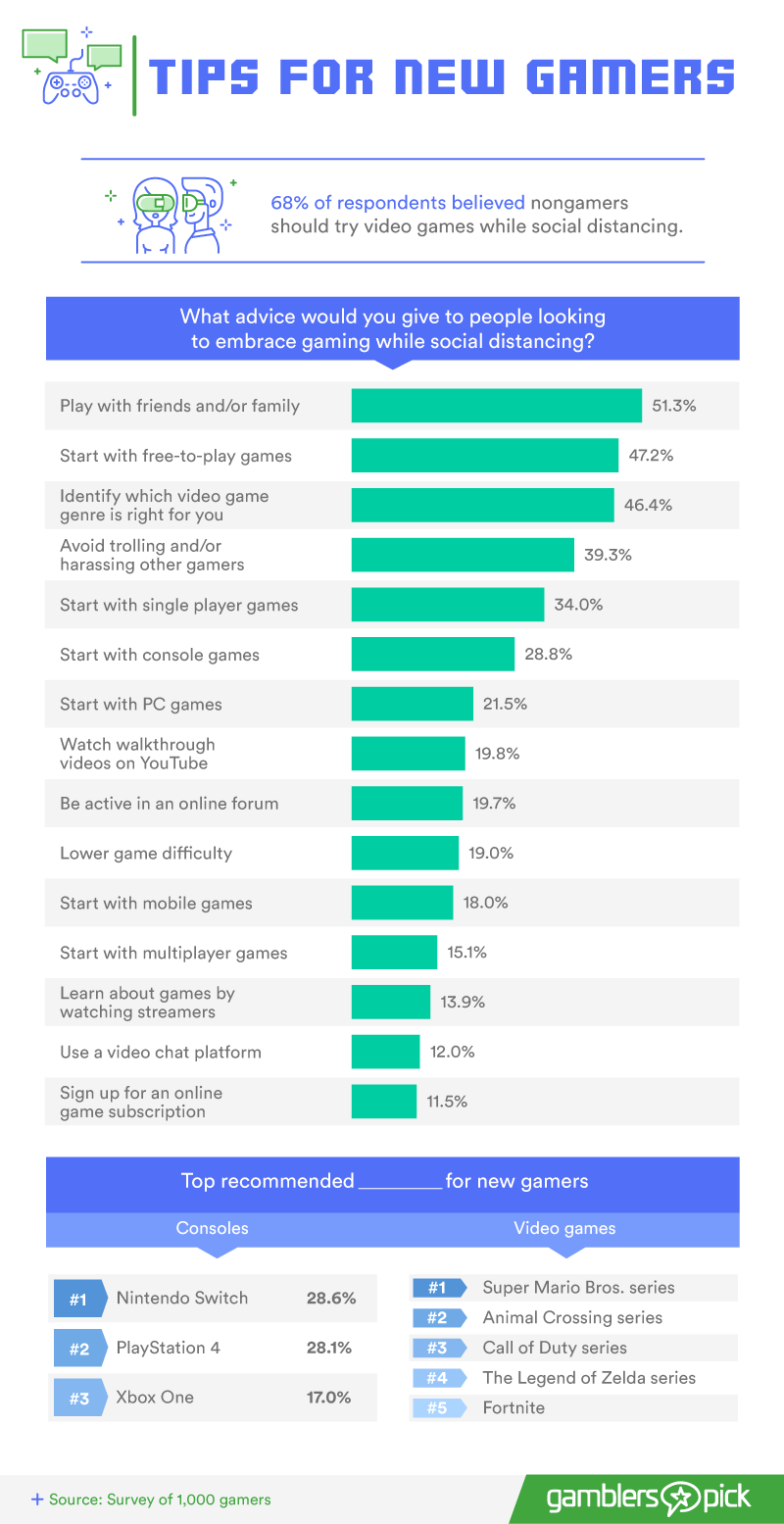 If finances are a concern (which they are for many during such an economically turbulent time), gamers had a solution for this as well: 47.2% suggested starting with free-to-play games. Identifying the right game for you was also highly recommended. This means that even if your first gaming experience isn't ideal, there may be other genres to try that are better suited to you.
The recommendations over consoles highlighted a rivalry once more – gamers were fairly evenly split over Nintendo Switch, PlayStation 4, and Xbox One, but the first two were ultimately the top choices. The Mario series was the top recommended game for social distancing.
Keep Playing
Gamers continued to list a host of helpful tips for both existing players and anyone else looking to get started in the exciting world of virtual games. During the height of social distancing, now more than ever seems like the perfect time to give gaming a try. Who knows? You may develop some great online relationships and feel a little less stressed.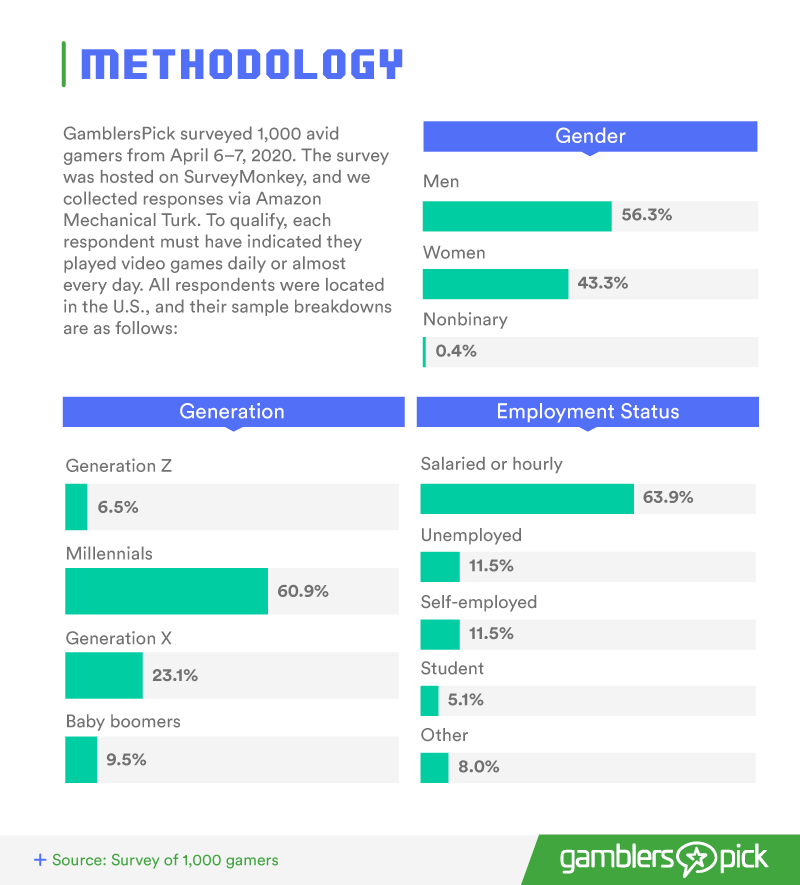 Fair Use Statement
Social distancing has certainly spiked the need for sharing. If you know someone who you'd like to share these contents with, you are welcome to do so as long as your purposes are noncommercial. You must also link back to this page so our contributors can receive proper credit for their work.
TAGS
Related Blog Posts