Covered topics
---
Ready to learn the tricks of the trade when it comes to online roulette? Here's everything you need to know about roulette and its payout chart.
Understanding the roulette payout chart is an important part of playing this popular casino game. When you are well-versed in how betting works for this game, it can increase your chances of winning (or your chances of not losing too much money, at least). Jumping into a game is much more exciting when you know how much money you may end up winning in the end. 
However, before diving into the specifics when it comes to coming out on top and winning big when playing roulette, it's even more critical to understand what the game is and how it's played. After all, you wouldn't want to put your money at risk without knowing proper gameplay and strategy, would you?
What Is Roulette?
First things first — roulette is a gambling game that can either be played in person at a licensed casino or online. It's a game of probability; a guessing game with strategy involved that stems from experience and critical thinking. 
The roulette wheel consists of numbered sections. A ball is dropped into the wheel, the wheel spins and eventually comes to a halt, and the ball lands in one of the compartments. Players bet on the number they think the ball will land on. The compartment numbers range from 1 to 36 and they alternate colors between red and black. There is also a green compartment for zero. The American version of the game includes two green compartments — one for zero and one for double zero — while the European version only has one for zero.
The game is simple: Players place their chips on the numbers they want to bet on and press a button to spin the wheel. The wheel stops on a number and whoever bet on that number wins a certain amount of money. Before the next spin, players have the option to continue betting on the same number or clearing their bets and starting over. 
The History of Roulette
The French word roulette actually means "little wheel." There are many theories as to where the game of roulette originated but the most widely held belief is that it was first formed in France sometime during the 17th century when a French math genius by the name of Blaise Pascal was working to create a perpetual motion machine. 
The game was perhaps inspired by two games that were popular during that time period: Roly Poly and Even-Odd. These games, like roulette, use a spinning wheel and the winners are determined based on the betting during each spin. Gambling at that time was not something that many people participated in since it was illegal in most European countries. This changed in the late 18th century when gambling laws were enacted and gaming was on the rise.
It's also said that during this time many gambling houses were opened by Prince Charles of Monaco as a way to sort out some of his own personal finance problems. Roulette just so happened to be the main game played in these houses, gaining popularity with those of royalty and wealth. 
So, how did the European-originated roulette become popular in the U.S.? It traveled to America with European settlers in the 19th century. The casino owners were not as accepting of the game at first because they wanted the game to potentially benefit them more than the players, which is how the double-zero compartment came about.
What's the Difference Between European and American roulette?
The main difference is that the American version is more challenging because it includes an extra slot for a double zero. This extra slot means there are more betting options, which can give an extra advantage to the house (the casino) and decrease the odds of winning for the players. 
The rules of the game itself are not much different. It's mainly the house edge that differentiates the two games: European roulette has a house edge of 2.70% while American roulette has a house edge of 5.26%. 
The European version gives players a slight advantage since it does not have that extra double-zero slot. There is also a French version that differs mainly in the appearance of the table. This version also has a "call bets" feature that allows players to place wagers on specific sections of the wheel just before the ball stops.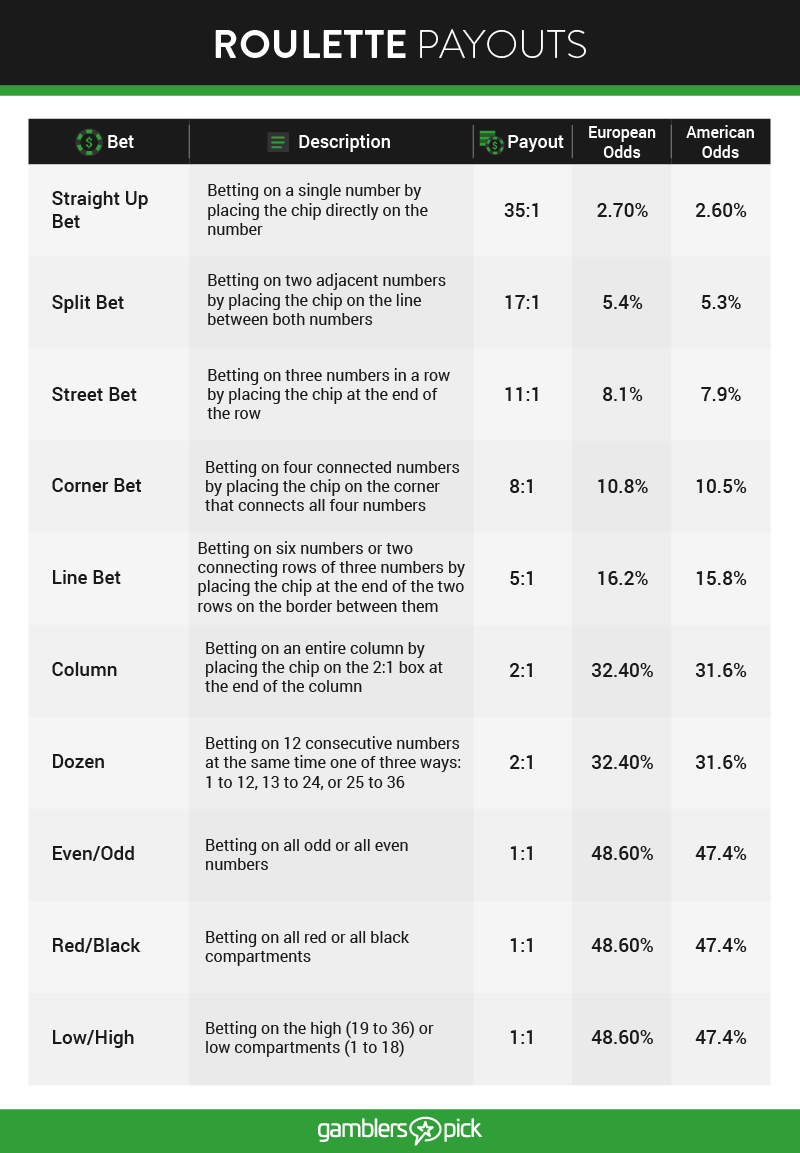 Roulette Variations
We call roulette the "king" of the casino floor because it's one of the most popular casino table games. Because of this, there have been many different spin-offs and versions of the game released online. 
Examples of online versions of the game include 3D, High Stakes, and Virtual Reality. 
High Stakes Roulette: This version is meant for the high rollers — the players who play by the law of "no risk, no reward" and place high, ambitious bets. Sometimes it is referred to as High Limits Roulette, High Roulette, Huge Roulette, or VIP Roulette.
3D Roulette: This online version is meant to give players a truly realistic experience from the comfort of their own home. Everything about the design of the game and the display settings (i.e., sound and animation) is reminiscent of a real brick-and-mortar casino.
Virtual Reality Roulette: This takes 3D roulette to a whole new level. Players are taken into the game via a virtual reality headset, where they can actually use their hands to interact with their surroundings, hear real casino noises in the background if preferred, and even play along with a virtual dealer. 
One of the main benefits of playing casino games like roulette online, whether from your computer or your mobile device, is that you don't necessarily have to play for real money. Some websites let you play for free. If you are someone who is just getting into online gambling or learning how to play roulette, this may be an ideal place to start. However, once you have gotten better at the game and want to raise the stakes, you can play for real money. 
Regardless of how you play, if you enjoy the game of roulette, Gambler's Pick is your go-to site for everything you need to know about playing and mastering this popular casino game.