Since its launch in 2009, cryptocurrency has taken the world by storm. In essence, it can be described as digital money. Many people invest in it, hoping the value of whatever crypto they have goes up. For example, at the start of 2013, Bitcoin was trading at around $13.50 per coin and peaked at just under $24,000 per coin in December of 2020.
To understand the full scope of the cryptocurrency global landscape, we surveyed over 1,000 people regarding their investment tendencies and feelings toward the digital dollar. What does the future hold for Bitcoin and the many other cryptocurrencies circulating around the net? With their rapid rise in popularity and worth, they may be here for the long haul and might even eventually render the physical money we know and love obsolete. Keep reading to discover who's investing in what and why.
Cryptocurrency at a Glance
From the surveyed population, 76% had invested in cryptocurrency entering 2021. Millennials were the most keen on it – 80.1% of them fell into this age category. Among respondents, 64% were men, and 36% were women. By a large margin, the most owned cryptocurrency was Bitcoin (51.4%). The next highest was Bitcoin cash at 10.4%, and the rest were all well under that. Investors were five times more likely to own Bitcoin versus other cryptocurrencies – there are a handful of factors that contribute to its popularity. Bitcoin is worth a lot (over $35,000 USD apiece at the time of writing this), has been around longer than other cryptocurrencies and major companies have started to accept it as a legitimate payment option.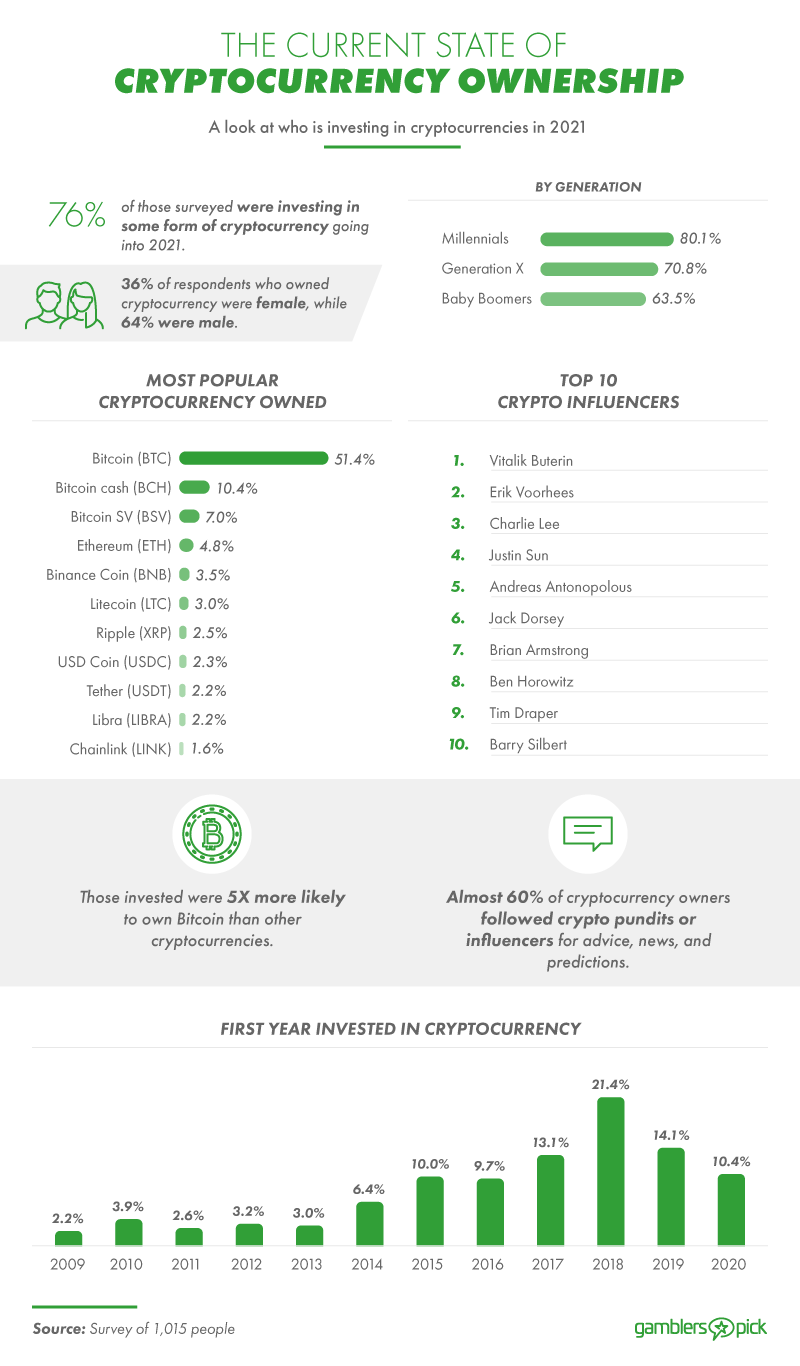 Crypto influencers offer advice, news, and predictions for the crypto world – almost 60% of cryptocurrency owners took influencer knowledge into account when investing. Vitalik Buterin, a Canadian-Russian programmer, is one of the most famous figures in the crypto world. He co-founded Bitcoin Magazine in 2012 and Ethereum in 2015, which has become the second-largest cryptocurrency worldwide. Another influencer, Erik Voorhees, is an American entrepreneur who has been at the forefront of numerous crypto-related ventures. He launched a bitcoin gambling website in 2012 called SatoshiDICE and founded Coinapult in 2013 which allowed users to send bitcoins via SMS. In 2015, he turned his attention toward his new venture, ShapeShift, a currency exchange and management platform that supported many different cryptocurrencies.
Of the last 12 years, 2018 saw the highest level of first-time cryptocurrency investment, with 21.4% of respondents entering the market at the time. Overall, 46% of respondents started to invest in 2018 and beyond. A tremendous increase in Bitcoin price over the last couple years could explain the rise in interest and subsequent investments.
The Crypto Experience
When further analyzing respondent's feelings toward cryptocurrency investment, more can be learned about their views, opinions, and experiences with it. Firstly, 53% of current cryptocurrency owners worried about criminal activity. According to a Crypto Crime Report conducted by Chainanalysis, the value of Bitcoin that had been sent to and from various markets on the dark web totalled over $600 million. To that end, 65% of respondents agreed that cryptocurrency should be regulated and monitored by the government in an attempt to crack down against the rampant illegal activity in the crypto underworld.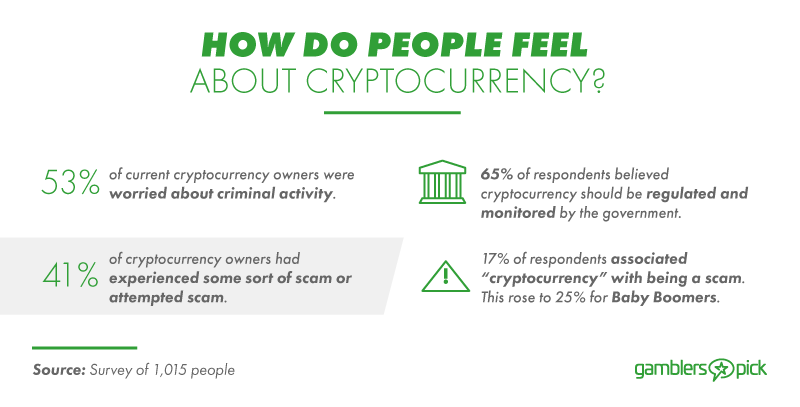 Forty-one percent of investors claimed they had fallen for a scam or experienced an attempted scam. There are a lot of tricks scammers can use to con people out of their money. It is usually done by email or telephone – a common strategy used is to offer participation in online referral strategy schemes or investment in a "surefire" business opportunity. Unfortunately, some people send their hard-earned money to the person on the other end of the line. They may promise to double your investment, but the money is almost always never seen again. Seventeen percent of all respondents and a quarter of baby boomers felt cryptocurrency as a whole is just a scam. Seeing as the concept and usage of cryptocurrency is fairly new, the hostility and uncertainty toward its long-term legitimacy isn't entirely surprising.
More on Investments
Respondent's average initial investment into cryptocurrencies was $2,235. In all, the average investment totaled $9,305. Seventy-seven percent of investors had set up automatic investment payments to continually increase their crypto accounts. Not every investment led to financial success, though. Over 56% of baby boomer respondents claimed to have lost money to the crypto market, followed by 49.2% of Gen Xers and 44.6% of millennials. Overall, 47% said they had suffered losses on their invested money, the average being $2,763. Fifty-eight percent decided to pull their previously invested money, averaging $3,305 in withdrawals.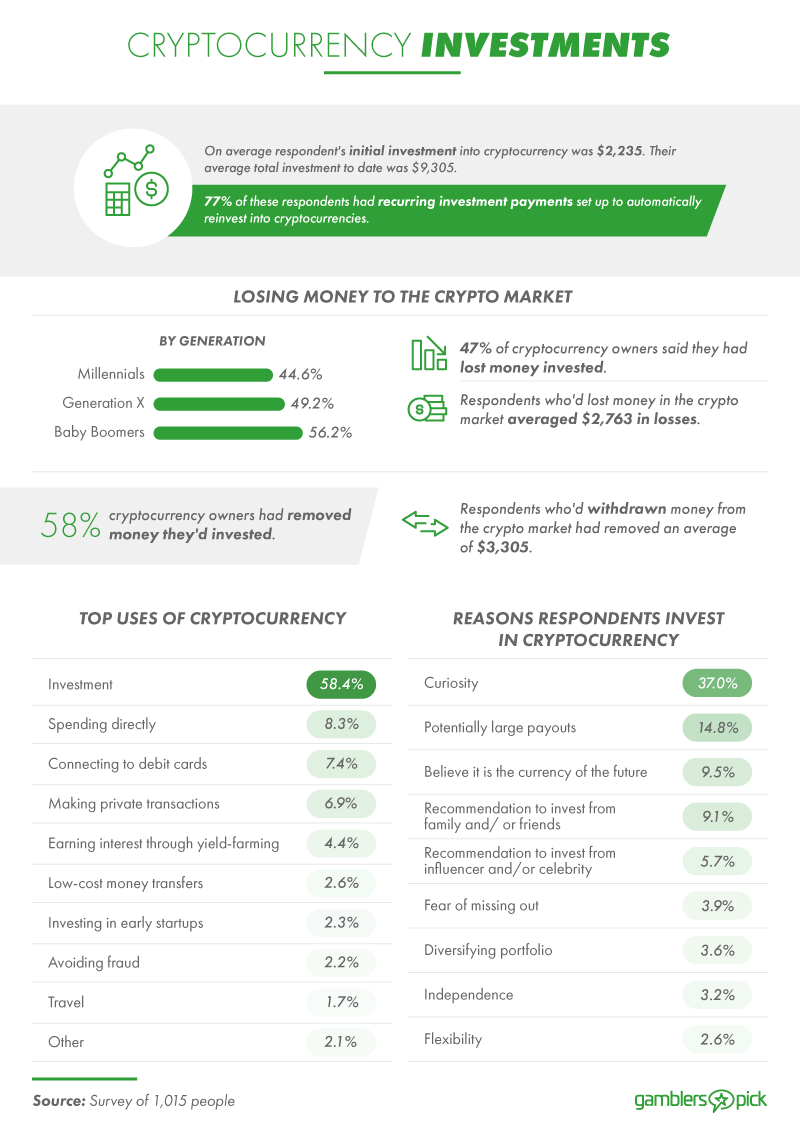 Well over half of respondents attributed their use of cryptocurrencies to investment purposes. Investment can be an attractive option, seeing as Bitcoin, for example, is a scarce asset, many believe its value can continue to rise as fiat currencies (e.g., the U.S. dollar) depreciate. Only 8.3% of respondents used it for direct spending – there is an increasing number of companies that have begun to accept crypto payments, and as more allow it, direct spending will likely increase as well. Just under 15% of respondents claimed to have invested in cryptocurrency in the hopes of churning out large profits. The majority (37%) had invested purely out of curiosity. It is still too early to tell how cryptocurrencies will fare in the future – it seems as if many people are just happy to be along for the ride and see how their investments do. It also provides investors an opportunity to learn more about the crypto world in the event a global movement toward digital monetary assets takes place.
The Future Is Crypto
Twenty-one percent of cryptocurrency skeptics said they plan on investing in the new year. On average, those that have already invested plan on injecting $7,145 into their crypto accounts. Newcomers planned on investing considerably less, at an average of $965. Unsurprisingly, 31.3% of respondents are looking to invest in Bitcoin over other types of cryptocurrency. Also, most of them (65.6%) felt hopeful about the future of cryptocurrency – a positive mindset could be the first step toward (financial) success.
As a whole, 45% of respondents felt a $100,000 mark is within reach for Bitcoin in 2021. Just over 54% of cryptocurrency owners believed as much, as did 16% of those without any crypto to their name.
Seventy-seven percent of cryptocurrency owners believed that it will become just as popular as government-issued currencies, whereas 40.2% of nonowners agreed. On average, 68% of respondents believed the two currencies will eventually become equally as popular. With the increase in interest in cryptocurrencies and subsequent investments, as well as Bitcoin being the best performing asset this past decade, a level playing field between crypto and government currencies could be here sooner than we think.
Crypto Quick Stats
Ohio
California
Wyoming
'Nakamoto'
Chris Larsen
Joseph Lubin
Changpeng Zhao
Cameron & Tyler Winklevoss
Matthew Roszak
Brock Pierce
Brian Armstrong
Anthony Di Iorio
Xu Mingxing
Nigeria
Australia
Spain
Canada
Mexico
U.K.
Colombia
India
Pakistan
Romania
Argentina
Portugal
Indonesia
Ukraine
Czechia
Colombia
Venezuela
The Digital Gold Rush
The rise of cryptocurrency is a fascinating one, and there is much controversy that surrounds the topic. Twitter CEO Jack Dorsey famously tweeted in 2018 that he believed the internet and the world as a whole will operate on one single currency, being Bitcoin. Although there has been consistent elevated interest displayed by the public in their investment efforts, many are skeptical about the safety of a digital currency. An average person may fear scammers and hackers, and governments are worried that it might destabilize their national currencies and hurt their economies.
The influence that cryptocurrency will have in the future is uncertain, as there are both positive and negative aspects that come with its total adoption. For now, it seems that people are happy investing casually and learning what it's all about. What we do know, though, is that the landscape may very well drastically change in the next ten years, maybe just as quickly as it has since Bitcoin's inception.
Methodology and Limitations
We surveyed 1,015 people about their views on cryptocurrency. Respondents were 42.1% men, and 57.6% women. One respondent was nonbinary, and two respondents chose not to disclose their gender. The average age of respondents was 38.3 with a standard deviation of 11.8 years.
Our survey included respondents currently invested in cryptocurrencies and those who are not.
244 respondents were currently invested in cryptocurrencies and 771 respondents were not. Questions on which cryptocurrency respondents own, their reasons for investing, what they use it for, which crypto influencers they actively follow, and what they associate cryptocurrency with were asked as check-all-that-apply questions. Therefore, percentages won't add to 100.
The data we are presenting rely on self-report. There are many issues with self-reported data. These issues include, but are not limited to, the following: selective memory, telescoping, attribution, and exaggeration.
Fair Use Statement
Think your friends and family might want to brush up on their cryptocurrency knowledge? Feel free to share these findings – we only ask that you do so for noncommercial use and that you provide a link back to this original page so the study's contributors can earn credit for their work.
TAGS
Related Blog Posts