The International Betting Integrity Association (IBIA) and leading independent online gambling market data and intelligence firm H2 Gambling Capital joined forces to do an in-depth analysis of the sport betting industry.
David Henwood, Director of H2, said:
"Our assessment of the various regulatory models in operation around the world has determined the key factors that are most likely to generate a successful well-regulated betting market: unlimited licensing, competitive GGR tax, wide product offering, integrity provisions and balanced advertising parameters. That position and our betting product and integrity evaluation is based on the most extensive and detailed collection of market data that has ever been assembled. The report's findings are therefore unique and illuminating."
The intent of the study was to use live data from existing sports betting markets to codify the earmarks of the ideal online betting market in the current market.
To pull this all together the resultant report offered the following six data sets:
A ranking of the current active betting jurisdictions
Ten regulatory pillars for a strong betting market
An evidence-based discussion of the availability of betting products
A report on potential high-risk markets
Key data points from evaluating €115 billion in bets placed
A data-led evaluation of match-fixing and its financial implication
Khalid Ali, CEO of IBIA, said:
"The study and its contents can rightly be justified as unprecedented. H2 has conducted a detailed examination of product data covering €115bn in turnover, along with its own market data. The result is a report that provides a never seen before insight into global consumer demand, integrity risks and regulatory practices. In doing so, it reveals the core facets of a successful regulatory framework for betting."
The quality of the resultant study has subsequently garnered the praise and the support of the top global gambling jurisdictions including the UK Betting and Gaming Council (BGC), the Swedish Trade Association for Online Gambling (BOS), the Brussels-based European Gaming and Betting Association (EGBA), the Spanish Online Gambling Trade Association (Jdigital) and the Netherlands Online Gambling Association (NOGA).

Keeping It Short and Simple
If you are someone who enjoys delving into rich data sets loaded with graphs, scales, and various commentaries then we highly recommend downloading the full 74-page report from the IBIA website. They have not locked it behind a paywall and it is freely available for any interested parties.
However, for the sake of brevity we will be focusing on three key areas: which markets scored best and why they did so, the foundation of a strong betting market, and what H2 discovered by reviewing more than €1.3 billion worth of bets.
1. Which Jurisdiction Offers the Best Betting Model?
The aim of the study is to not only review the current state of the online betting market but to also provide a model for regulatory bodies to use as a guideline. However, to achieve this H2 had to first determine which key metrics would be used to critique online betting as we have it today.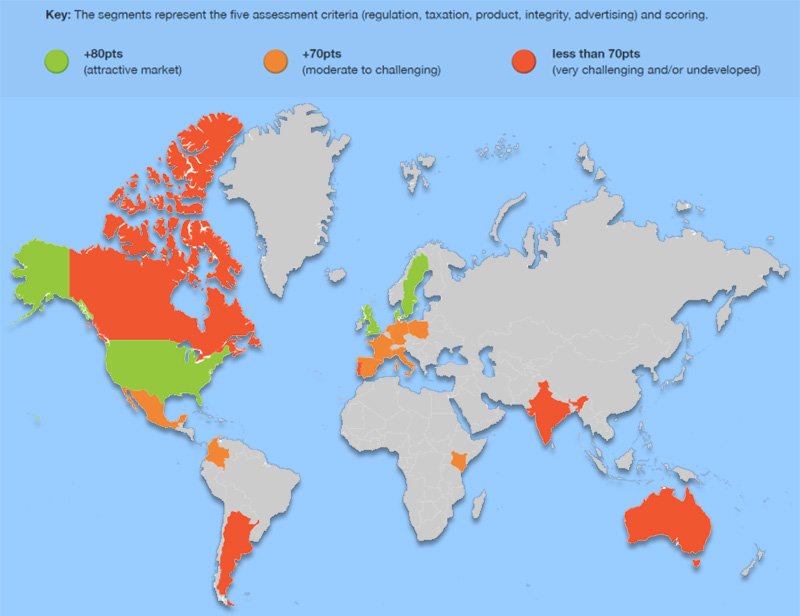 To this end the company decided to utilise the following five data points:
Regulation (scored out of /30)
Taxation (scored out of /20)
Product (scored out of /20)
Integrity (scored out of /15)
Advertising (scored out of /15)
Each data points weight is represented by its overall contribution to the score of 100. As you can see 'Regulation' was weighed out of 30 while 'Advertising' was weighted as '15'. This shows the overarching importance of strong regulation and the need to score well in this area to be considered a valued betting market.
✓The Top 5 Betting Markets
H2 used these scoring criteria to evaluate the 19 countries where online betting is offered. In total 18 of the 19 countries, they appraised all scored higher than 47 points out of a possible 100 points.

Only 6 markets managed to attain the "attractive market" score of 80+ points:
Great Britain – 91 points
Malta – 88 points
Denmark – 86 points
USA (Nevada) – 85 points
Sweden – 83 points
USA (New Jersey) – 82 points
The reason for Nevada and New Jersey having slightly different scores comes down to state-level decisions around taxation (19 pts vs 17 pts), the choice of betting providers (18 pts vs 16 pts) and a slight shift in the integrity score in favour of New Jersey (12 pts vs 13 pts).
The only market to score a single-digit result was India who barely scraped together a rating of 9/100, with its existing regulatory framework scoring an abysmal 3 points.­

2. The 10 Core Pillars of a Strong Betting Market
By creating a matrix that balanced the highest scoring regions against the lowest scoring regions, H2 was able to define ten core values and offerings that were ubiquitous across the leading regions and either missing or abused in the weaker scoring zones.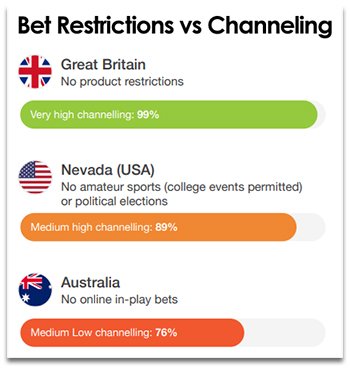 Based on this evidence they proposed the following market requirements:
Betting must be available to bettors through both land-based venues and through licensed and regulated online partners. This provides freedom, choice and lowers the chances of them using unregulated sites.
The licensing of betting providers must be either unlimited or set at a level that maximised operator and player interest. This negates the decision by some markets to offer monopolies to government gaming groups.
Licensing fees must be in alignment with the costs of regulating the market.
Safer gambling and player protection programs must be at the forefront of the jurisdiction development plans.
The best balance for taxation lies in the 15%-20% of gross gaming revenue (GGR) range.
Limited or no additional fees and taxes should be levied.
Bettors need a wide variety of betting options including single-event bets, parlays, prop bets, fixed odds and more. Again, this safeguards them from being lured to unregulated betting sites.
Allowance must be made for the operators to provide as many markets as possible, not be restricted by arbitrary limitations.
The Gaming Authority needs to develop a robust set of protocols and processes aimed at promoting betting integrity.
Advertising and sponsorships need to be carefully controlled to avoid abuse. This is of particular importance when it comes to celebrity endorsements, event sponsorships and social media accounts aimed at younger audiences.
Finding the correct balance of these core tenets is not something that can be done overnight, however, based on this study most new and existing markets could begin to build their 'better mousetrap' by dissecting the regulations of the top scoring jurisdictions and evolving them to meet local needs.
3. Lessons Learnt from €1.15 Billion in Bets
As the saying goes "the devil is in the details" and by not only reviewing the regulations on paper but digging into actual player behaviours, H2 was able to truly gain a sense of how well the market functioned, protected its players, and incentivised prospective business partners.
To do so H2 employed its vast research and analysis resources combining both manual and AI-driven reviews of the betting behaviours evidenced in total bets placed worth €115 billion!
The key takeaways from this analysis showed that:
Betting integrity is incredibly high across the global market at 99.6%. This means that for every 2700 sporting events taking place around the world only a single alert is raised, many of which prove to be false positives when investigated.
With only 1% of global turnover coming from in-play bets the assumption that only offering pre-game betting is safer has been proven to be a false assumption.
20% of all football-related betting alerts are generated by land-based betting venues disproving the assumption that online betting is more prone to fraud.
The global regulated sports betting industry only loses €21 million per year to match-fixing.
The basic stats go a long way to refuting the position held by many of the regions which rated poorly as to why they are hesitant to offer online betting, allow certain types of betting options, and as is the case with some countries, refuse to offer betting at all to preserve the sanctity of their sporting leagues.
TAGS
Related Blog Posts