Covered topics
---
Craps is one of the most popular online gambling games with dice. Use this payout chart to reduce the house edge and improve your winning odds.
Craps is one of the most exciting and popular gambling games, whether played online or in a casino. It's hard to beat the excitement of rolling the dice and waiting to see if you have the favor of Lady Luck.
While there are a lot of possible betting combinations in craps, you can always stick to the simple ones, with good odds. The game isn't hard to learn, even if you consider yourself to be poor at math. Increase your odds of winning and play with confidence by reviewing this basic information about craps, including the kinds of payouts you might receive, before you blow on the dice and roll.
History of Craps
Craps is probably the world's best-known gambling game played with dice. It's played online, in casinos on some cruise ships and throughout North America, and even in some British, Australian, and Asian casinos. The game is always played against the house. It usually involves a special table and layout, with bets placed with chips on specific parts of the table.
According to one legend, Roman soldiers invented the game of craps using the knucklebones of a pig as dice and their armor shields as a table. Others believe craps came from an Arabic dice game called Al Dar ("dice" in Arabic) and Arabic merchants brought the game to Europe in the 12th century.
We are on more sound historical ground tracing craps' origin to the English dice game of "hazard." The name "craps" comes from the nickname "crabs" for the throws 1-1 and 1-2 in hazard. The current rules of craps were also derived from the old English game.
Some Basic Rules of Craps
When playing craps, players place wagers on the outcome of tossing the two six-sided dice that are used in the game. The player throwing the dice is called the "shooter." The shooter is given a choice of dice and picks two to roll. The shooter and other players start with a pass line bet of "pass" or "don't pass." 
During the shooter's first toss (also known as the "come-out roll"), if the die total happens to be either 7 or 11, then the Pass bet wins the round. If the total of the come-out roll amounts to 2, 3, or 12 (also known as "craps") then the pass line loses the round, with the don't pass line either winning or returning the bet to the player.
If the come-out roll amounts to 4, 5, 6, 8, 9, or 10, then that number will become a point allocated to the player, after which the dealer labels that specific number on the virtual table. The shooter rolls the dice again and if the sum of the dice equals the point number, the players who selected the pass line bet are winners, while the others are losers. If a 7 is rolled, don't pass bettors win and the round is over. 
This is just a brief introduction to the rules of craps; there is more to learn before you start playing for real stakes. If you are a beginner, you may want to try playing without money first at a variety of online casinos.
Commonly Used Craps Terms
It sometimes seems that craps players have their own lingo. Here are some of the commonly used terms you might hear while playing the game:
"Snake Eyes" or "Aces": A roll of 1 and 1
"Ace Deuce" or "Acey Deucy": A roll of 1 and 2
"Easy Four": A roll of 1 and 3
"Hard Four": A roll of 2 and 2
"Five" or "Fever Five": A roll of 1 and 4 or a roll of 2 and 3
"Easy Six": A roll of 1 and 5 or a roll of 2 and 4
"Hard Six": A roll of 3 and 3
"Jimmie Hicks" or "Jimmie Hicks From the Sticks": A total of 6
"Natural" or "Seven Out": A roll of 1 and 6, a roll of 2 and 5, or a roll of 3 and 4
"Six Ace," "Up Pops the Devil," or "Big Red": A roll of 1 and 6
"Easy Eight": A roll of 2 and 6 or a roll of 3 and 5
"Hard Eight," "Ozzie and Harriet," or "Eighter From Decauter": A roll of 4 and 4
"Nine" or "Centerfield Nine": A roll of 3 and 6 or a roll of 4 and 5
"Jesse James" or "Railroad Nine": A roll of 4 and 5
"Easy 10": A roll of 4 and 6
"Hard 10," "Puppy Paws," "Dos Equis," or "Moose Head": A roll of 5 and 5
"Yo" or "Yo-leven": A roll of 5 and 6
"Boxcars" or "Midnight": A roll of 6 and 6
Craps Payout 
Not a lot of strategy is involved in playing to win at craps, but it's still a good idea to play the odds and do what you can to minimize the house edge (which can be over 16%, in some cases).
In the chart below:
True odds are the calculated odds that you will win or lose based on the bet you make. 
Craps payout is how much you get paid for winning your bet. A 1-to-1 payment means that you get $10 for a $10 bet.
House edge percentage refers to the percentage the house holds for a bet over even odds (50%). In essence, this is the percentage of likelihood that the house will win the bet.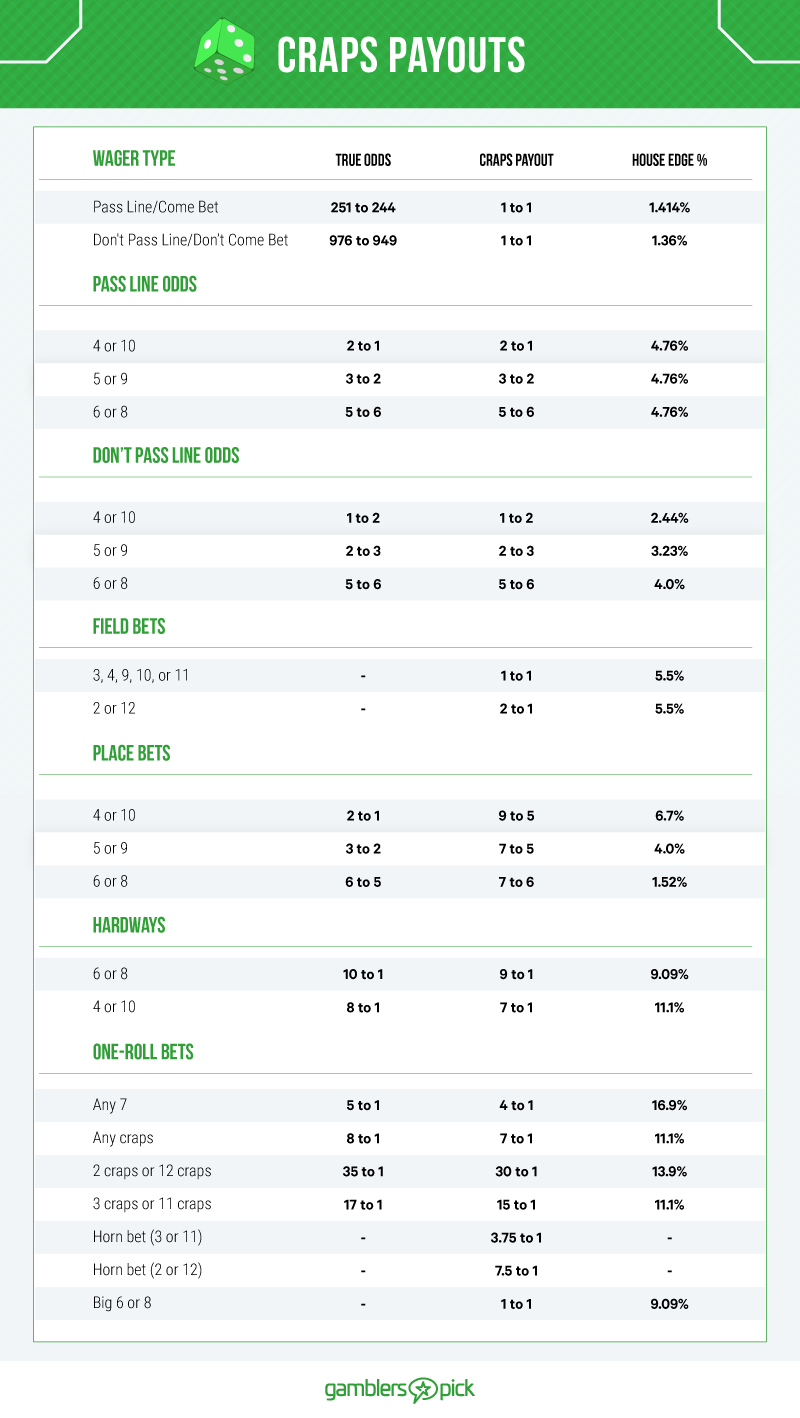 Beginners should remember to play the pass line or come-on bet because it has one of the lowest house edges (1.414%) and the highest odds of actually landing (251 to 244). The don't pass or don't come bet has a better house edge (1.36%) but, statistically speaking, 7 has a better chance of landing compared to a 2 or 3.
Everything Related to Online Gambling
To learn more about craps and other games of chance, check out the resources at GamblersPick, a free online hub of information about online gambling. We draw on deep industry experience to offer a rich selection of gambling news, guides to online casinos, bonus reviews, tips, tricks, and much more.
With the online gaming industry exploding, we can serve as a reliable guide so you can improve your game and (fingers crossed) have a winning experience.