Covered topics
---
Learn everything you need to know about playing craps and shooting dice with confidence.
If you've ever passed a loud crowd gathered around a casino table and wondered what was going on, the odds are that they were probably playing craps. The craps table is easily one of the most exciting areas of any casino.
Even if you don't know how to shoot dice, it's hard not to be drawn to the game. Fun and fast-paced, it has a reputation for lively action.
It can be an intimidating game if you're playing for the first time, though. That's why online casinos are the best forum to give it a try, learn the rules, and hone your skills. But how much skill goes into playing craps? After all, you're just shooting dice, right? 
Experienced players will tell you there are tips and tricks to controlling your roll. Meanwhile, by learning the ins and outs of the game and the wide range of bets you can place, you can learn to maximize your roll and win big.
In this article, we'll explore the world of craps — the rules, the types of bets, and ways to win. Keep reading to learn everything you need to know about shooting dice.
What Is Craps?
Craps is a game where players make wagers based on the outcome of rolling a pair of dice (also known as shooting dice). There are two types of craps:
Casino craps: In this version of the game, you play at a formal craps table in brick-and-mortar and online casinos. You also make your bets using chips rather than cash, and players bet against the casino, rather than each other.
Street craps: This is a simplified version of casino craps. It's played without a table and in informal settings. In street craps, you're also playing against bets made by other players rather than the house.
How Do You Play?
Players take turns rolling two dice. Before the dice are thrown by a shooter on the first roll (also known as the "come out" roll), all players place bets on various potential outcomes of the roll.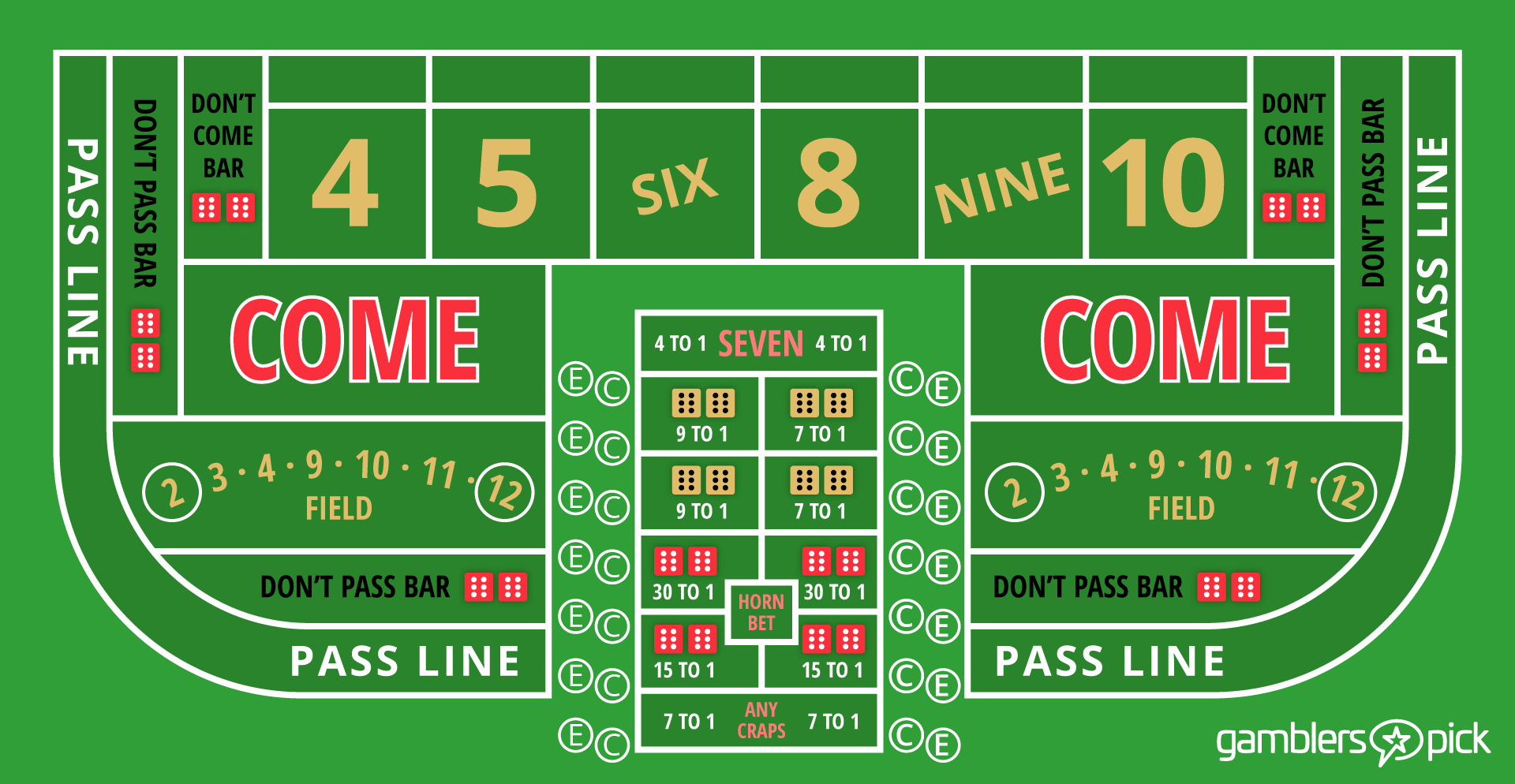 If you've never played before, placing a bet might seem complicated. There are numerous types of wagers to choose from, and each one is called something different. Here are some of the basic bets to consider.
Pass Line Bet 
Hands down, this is the most fundamental bet in craps. In fact, if you know nothing else, this one bet can carry you through the game.
Essentially, if you bet on the pass line, you win if the first roll is a 7 or 11. You lose immediately if the shooter rolls craps, a 2, 3, or 12, though.
If you roll any other number — 4, 5, 6, 8, 9, or 10 — that is called "the point." At the start of the game, there is a black-and-white on/off puck turned to the black "off" side at the top of the table. If you roll a "point" number on this first roll, that puck gets turned to the white "on" side and placed over that number's location at the top of the table. This reminds players what "the point" is. After this, the shooter continues to roll the dice until they hit the "point" number again or a 7, losing the game.
Don't Pass Line Bet
You also have the option of betting on the don't pass line. If you do, this means you're rooting for a 2 or 3 on that first roll. If a 12 is rolled, that's a push bet. While you don't lose, you also don't win. You just get your money back.
Also, if you choose the don't pass line in a casino, the other virtual players at your table likely won't be very happy with you because this essentially means you're betting against them winning. So, it's not the most popular bet to make.
Come Bet
The come bet has many similarities to the pass line. The big difference is that you can't place this bet until after the come out roll has been made and a point number has been determined.
On the craps table is a section labeled "come." This is where you place the chips for your come bet. 
If you've placed a come bet, you're hoping that the shooter rolls a 7 before hitting the point number again.
Don't Come Bet
This is also similar to the don't pass line bet. If you've made a don't come bet, you hope that the shooter rolls a 2 or 3, and you don't want them to get a 7 or 11, which are losing numbers for you. If a 12 is rolled, that's a push bet where you break even.
What Are Some Other Bets in Craps?
You can spend an entire evening playing craps just using those four basic bets discussed above: pass line, don't pass line, come, and don't come. But there are several other types of bets you might want to learn once you're comfortable with the basics.
Proposition bets are one-roll bets where you hope for a specific outcome when the shooter rolls the dice. These are the different types of proposition bets:
Any 7: The shooter rolls a 7 in any combination
Any craps: The shooter rolls a 2, 3, or 12
Ace deuce: The shooter rolls a 3
Aces: The shooter rolls a 2
Boxcars: The shooter rolls a 12
Horn: The shooter rolls a 2, 3, 11, or 12
Meanwhile, once the point number is determined, you're allowed to bet on any number on the table. These are called place bets, and you win if the shooter rolls that number before a 7. If the 7 is rolled first, you lose, and that round is over.
Then, there are field bets, another one-roll bet. You're a winner if a 2, 3, 4, 9, 10, 11, or 12 is rolled. You lose, though, if the shooter gets a 5, 6, 7, or 8.
Don't forget the big 6 and big 8 bets. On these bets, you're betting that a 6 or 8, respectively, will be rolled before a 7.
What Are the Odds of Winning Craps?
Good news: Craps has some of the best odds in a casino. Your odds of winning at craps are nearly 50%, making it a fun game for beginners.
The most basic bet, the pass line/don't pass line bet, has the lowest house edge — around 1.41% — and the greatest chances of winning. Come/don't come bets have similar odds.
What Are Some Tips for Improving at Shooting Dice?
Craps is largely a game of luck, rather than skill. And many casinos frown on you attempting to control your roll. Still, there are some tips and tricks to keep in mind so that you can shoot dice.
Whether you're playing craps or other dice games, you want to shoot dice with confidence and precision. In craps, everyone gets a chance to be the shooter, who changes after every round.
When it's your turn to go, you'll be offered several dice from which you'll select two. There are no differences between the dice, so pick the two that feel best to you.
When you throw your dice, roll them toward the end of the table farthest away from you. The dice must be tossed in the air when rolled and hit the back wall of the table. If either of these doesn't happen, a "no roll" might be declared, and you'll be asked to roll again.
There are many methods of shooting dice. For a little bit of flair, you might want to place the dice in the middle of your hand and toss them with a backhand roll. Others might cradle the dice between their thumb, index, and middle fingers. More commonly, though, many choose to hold the dice next to each other between their thumb and middle finger and swing their arm in a pendulum motion before releasing the dice on the table. However you choose to roll, you need to make sure it feels physically comfortable for you.
It's important to note that you must follow all the rules at the craps table. If a casino thinks you are trying to control your roll, they might ask you to stop playing or leave. This doesn't stop people from trying to control their outcomes, though.
In the virtual world, there aren't issues with players trying to control their rolls because they aren't physically touching any dice. Instead, they shoot dice with the push of a button. Every online casino has its own design and setup, so the "roll" button will be somewhere different based on the platform you're playing on.
In craps, the best games — those that are most fun, last the longest, and win the most money for players — are those who go the longest without rolling a 7. You'll often find people attempting to suppress the 7 so that it turns up less frequently when the dice are rolled. They start with the same numbers on each die face up, swing their arm like a pendulum, and gently arc their throw so that there is minimal bounce when the dice hit the table.
Ready to Roll?
Now that you've learned the basics of craps and shooting dice, why don't you give the game a try? Craps can be daunting for beginners in person, as it tends to attract a large, exuberant crowd and has numerous bets to choose from. You might want to consider giving craps a shot online first as you get comfortable with the game. Luckily, we've compiled some of the top online craps games for you to check out.
As an authority in online gambling, GamblersPick is here to find the right casino for you based on the games you like to play, your location, and your preferred payment method. Serving as a comprehensive resource, our website helps you explore online gaming in a safe and responsible way. We rely on our community of players to share their real experiences with different casinos and gaming platforms. This way, you know what to expect when trying out an online casino for the first time.