Covered topics
---
Improving your blackjack game online means knowing the right strategy. Learn single-deck and multideck strategies and become unbeatable today.
Most blackjack players are likely familiar with multi-deck games, but it's also very important to have a single-deck strategy if you want the best chance of success. Single-deck blackjack was, at one point, the standard, as it had the lowest house edge (0.15%). However, over time, more decks were introduced, and soon, multi-deck games became the standard. 
Regardless of what has become standard in the blackjack world, having a solid strategy for single- or multi-deck games will go a long way. So, what's the best strategy for single-, double-, 4-, 6-, and 8-deck blackjack? Let's find out.
The Basics
Before we get into strategy, we need to talk about the basics. For those just getting into the art of blackjack, having an understanding of the basic rules and objectives is crucial. The first thing to know is the simplest — to win, you want to beat the dealer's hand without exceeding a card total of 21. 
What are the cards worth? Well, face cards like queens or kings are worth 10. Ace cards are worth 1 or 11, depending on which makes your hand better. Two through 10 cards are always face value. One card of the dealer will be concealed until the end of the game, and each player starts with two cards. If you want another card, the term is "hit." If you want to hold the total you have and not hit, you'd say "stand."
When you hit, if your hand exceeds 21, the dealer wins. That's called "going bust." If you get 21 on your first two cards, which would be an ace and a 10, this is referred to as "blackjack." Blackjack gets you 1.5 times what you bet — meaning if you bet $30, you'd get $45.
Soft 17 and Split
With single-deck blackjack, some rules require an understanding of the concept of soft 17 and the definition of the term "split." When someone gets a two-card hand with the same value, they get the chance to split the hand into two separate hands and get another card for each of those hands. 
Soft 17 is a fairly simple concept, as well. Essentially, soft 17 is when an ace counts as an 11 rather than a 1. Many combinations count as soft 17, including ace-3-3, ace-ace-5, and more. 
Knowing these basics will help you understand some of the rules of single-deck blackjack, which, in turn, will help your strategy.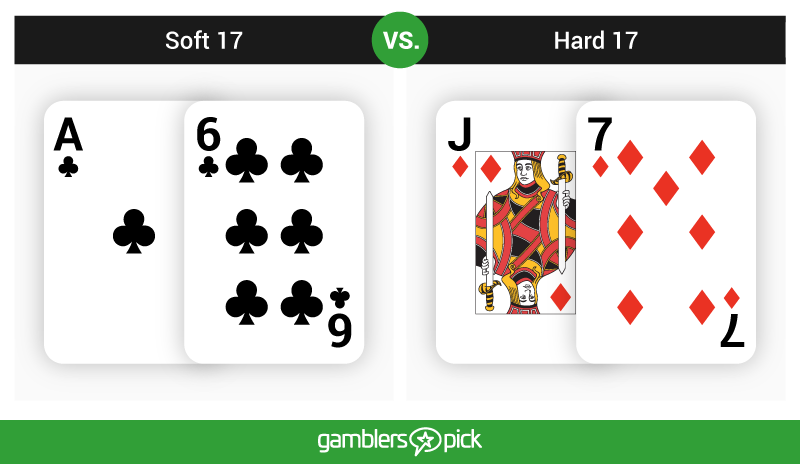 Single-Deck Strategy 
Single-deck blackjack often includes rules different from multi-deck games. For example, single-deck games may have rules that dictate whether a dealer can hit or stand on soft 17, whether a player can double down after a split, or when a player can surrender (which means you give up your hand if you have a small chance of winning it). 
Why are these rules in place? In single-deck blackjack, they increase the "house edge." For beginners, the house edge is the statistical advantage that the dealer has over the player. The great thing about online blackjack is that the house edge is the lowest of all online casino games. Remember that the house always starts with a card down, so they have an advantage because they can see your cards and make decisions based on that knowledge.
Let's assume that the common rules for single-deck blackjack are enforced. There are some plays you can try that increase your chances. For example, when you have a hard hand (i.e., no ace), you should always hit if you have between 5 and 7. For a hard hand of 8, double down if the dealer shows a 5 or 6. If not, you should hit.
If you've got a hard hand of 10, you should double down if the dealer shows 2-9. If you have a hard hand of 11, your best bet is always to hit. A hard hand of 17-21 means you should always stand. 
For soft hands (which include aces), you should always hit stand if you've got ace-9 or ace-10. If you've got an ace-8, you should stand unless the dealer shows a 6. 
Double-, 4-, 6-, and 8-Deck Strategy
When it comes to double-deck blackjack, the key here is getting a grasp on what to play and when. That rule of thumb only increases when you play 4-, 6-, and 8-decks. 
This seems tricky, but there are some simple strategies to follow that can help your game immensely in multi-deck strategies. With double-deck, you'll want to split 2-2 and 3-3 if the dealer shows 2-7. Also, if the dealer's up card totals a 2 through 10, and you've got a hard 5 through 8, you'll want to always hit for the most part. However, if the dealer's up card totals 5 or 6, and you've got a hard 8 or 9, you should double down.
For a hard 9 through 11, when the dealer has an up card of 2 through 6, you'll want to double down. As a rule, a hard 13 through 21 when the dealer's up card is 2 through 6 means you should always stand. 
For 4-, 6-, and 8-deck blackjack, if you've got an ace-2, you'll want to double down on a dealer's up card of 5,6. Otherwise, you should always hit. Another all-around rule for multi-deck blackjack is to always stand on a 10,10 hand.
What's Better: Single or Multideck?
Of course, the biggest advantage to single-deck blackjack is that it's much easier to keep track of which cards have come out of the deck. This can really inform your strategy if you know what comprises a deck of cards in terms of suits, face cards, and the value of a card. 
As the decks increase, it becomes harder to keep track of what's already out of the deck. That means it becomes crucial to have an understanding of the best strategy and the best ways to play certain hands. With some studying and practice, though, it'll ultimately become easier to get the hang of multideck games. 
The biggest downside to single-deck blackjack is that the house edge is higher, given the smaller number of face cards and 10s in one deck as opposed to multiple. The increased number of 10s and face cards in multiple decks means it's easier to double down, which is a pretty big advantage. 
Ultimately, there's a lower house edge in multideck blackjack, which is partly why it's more common in today's online blackjack landscape. 
Strategy Means Everything
As you can see, there are some advantages to both single and multideck blackjack. It's easy to see, though, why multideck has become much more of the norm in recent history as opposed to single-deck. It may seem like a lot of information and a lot to get the hang of, but once you have a basic understanding of the game and grasp on why certain strategies work, blackjack really becomes an art and a science all in one. 
There are blackjack strategies everywhere, and there's a lot available to study so that you can improve your game and, ultimately, your odds of winning. The more you do it, the better you'll get — and you may even want to try your hand at playing both single-deck and multideck games to gain as much experience as you can. Regardless of how you approach it, though, one thing rings true no matter what: A good strategy goes a long, long way. 
Strategy is just one step in navigating the world of online blackjack. Are you ready to take your passion to the next level and start playing? GamblersPick is your one-stop destination for all the information you need to get going. Sign up today for reviews from the top players on the best online casinos; you won't find a better resource anywhere.