Covered topics
---
To become a proficient Blackjack player, you need a betting strategy. Use these Blackjack odds charts to increase your chances of winning.
Twenty-one is a great number. If you're 21 years old, life stretches out before you with endless possibilities. If you hit 21 playing blackjack, you've got the best number possible and you're a winner. Blackjack!
Whether played online or at a semicircular table at a land-bound casino, blackjack is a card game fan favorite because of its simplicity and the fact that it has the lowest house edge of the various gambling games: between 0.5% and 1% (most gambling games are closer to 5%).
To win at blackjack, you just need to get closer to 21 than the dealer without going over that number. This is at the heart of any betting strategy, which you'll need to reduce the house edge and increase your chances of winning.
History of Blackjack
The history of blackjack is murky. Some claim its origins go back to the ancient Romans playing with blocks of wood with numbers on them. Others trace it back to French casinos around 1700, playing a game called Vingt-et-Un, which translates to "21." The game may have had its origins in other French card games, Chemin de Fer and French Ferme, and is said to have been played at the French Royal Court of King Louis XV.
French colonists brought the game to America in the 18th century, where it became popular in the 19th century and was played with great enthusiasm in the legalized gambling halls of New Orleans. The 20th century saw the rise of the great casinos in Nevada, which offered the popular card game 21. The name changed to blackjack and the rules changed as well, following the legalization of gambling. The rules set by the Nevada Gaming Commission are still used today.
Basic Blackjack Terms
In blackjack, face cards count as 10, aces are 1 or 11, and the other cards are worth their numerical value. Players are dealt two cards, usually face up, and the dealer most often has one card down and one up. The idea is for the cards to add up to 21, without going over, which is known as "busting".
If a player is dealt an ace and a face card, adding up to 21, this is known as a "natural" and usually pays off right away. The player can exclaim proudly, "Blackjack!"
Some other basic blackjack terms include:
Hit
We've all seen the movie with somebody playing blackjack and saying, "Hit me," meaning the dealer hits them with another card.
Stand
When you don't want another card (because you think you have a winning hand or you're afraid that you'll go over 21), you "stand." A player or dealer stands if they have 17 or higher, but it can also depend on what the dealer's face-up card is.
Soft
If you have a "soft 17," that means your cards are ace and 6. Because an ace can count as 1 or 11, this hand can be either 7 or 17, so a player won't go over 21 if they take another card and get a 10.
Doubling Down
If you believe your hand has a good chance of winning, you can "double down" your bet (increasing it by 100%). When you do, you are usually only allowed to take one more card to try to make a winning hand.
Split
If a player is dealt a pair of identically ranked initial cards, known as a "pair," they are allowed to "split" them into separate hands. The hands then play out the normal way. With pairs, aces, and 8s, you should usually split. With 10s and 5s, it's not such a good idea. Two 10s are already 20, which is a good hand. And two 5s add up to 10, so you would be in good shape if you get another 10, and even better if you were hit with an ace.
Basic Blackjack Strategy
If you are a newcomer to playing blackjack, it's a good idea to play with a strategy to increase your chances of winning. Basic good practices include:
Practicing as much as possible
Learning a good blackjack strategy and sticking to it
Doubling down on 10 or 11 (ace)
Splitting aces and 8s
Never taking the insurance bet
Not card counting (it's not technically illegal to count cards, but it can get you in trouble with a casino).
Keep an eye on card counters to ensure fair play
A player can take an "insurance bet" when the dealer's face-up card is an ace (increasing the possibility they have an unbeatable 21 if their face-down card is a 10). The player can usually bet half of their bet and insure some of his or her bet against a blackjack. But this is a losing strategy in the long run.
If you want to play blackjack without risking your bankroll of real money, there are a number of free online blackjack tables.
If you have a hard blackjack hand (that is, two cards without an ace), it's often a good idea to:
Always hit if you have 8 or less.
With 9, double if the dealer has 3 through 6. If not, hit.
With 10, double if the dealer has 2 through 9. If not, hit.
With 11, double if the dealer has 2 through 10. Hit if the dealer has an ace.
With 12, hit if the dealer has 2 or 3. Stand if the dealer has 4 through 6. If not, hit.
With 13 through 16, stand if the dealer has 2 through 6. If not, hit.
Always stand with 17 through 21.
There are also bad strategies you should avoid. A player might try to make up for losses by betting more aggressively. Or they might win a hand, figure they are on a roll, and start betting more. They may even think that after a number of losing hands, they are due for a win. The truth is that you have the same chance of losing or winning every hand. You can't depend on your luck turning or continuing just because you want it to.
Blackjack Odds Charts
The game of blackjack isn't all luck. Math and a good strategy can help reduce the house odds to an acceptable level. It's all a matter of looking at your two cards and the dealer's face-up card and then figuring out if the correct decision is to hit, stand, double, or split. Use these charts as a guide on how to play your next hand.
The chart below shows how likely the dealer is to go bust with any given up card.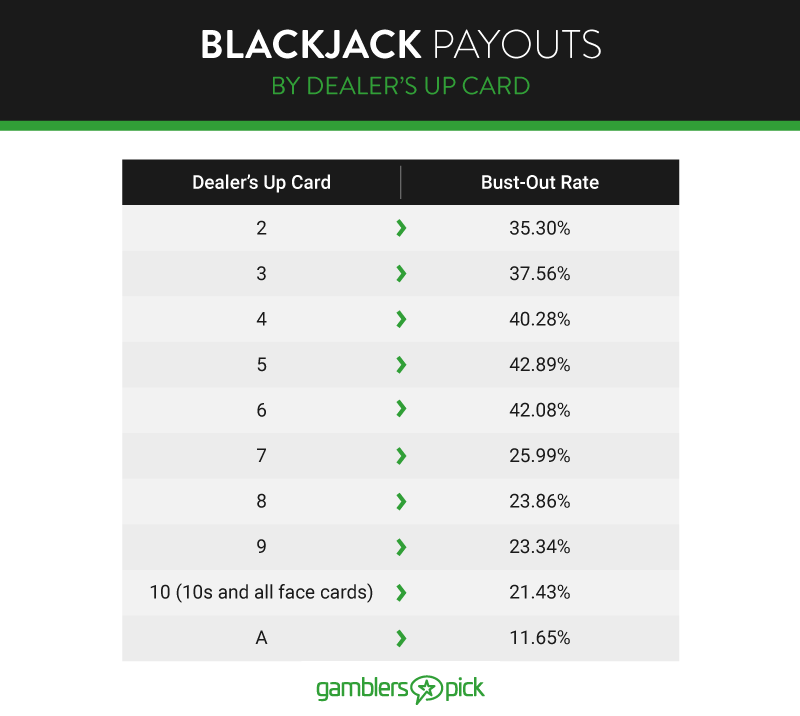 The dealer has an average bust-out rate of 28.36% on any given hand. For players, the odds of going bust on the first card drawn depend on the value of the cards they have in their hands.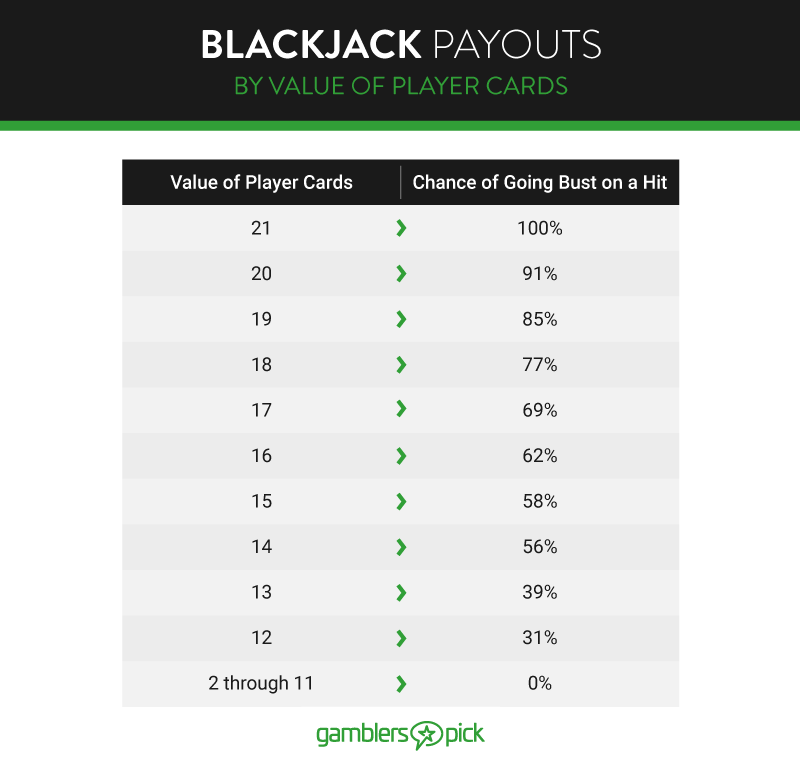 Your Gateway to Exciting Blackjack Action
If you want to play online blackjack, GamblersPick is your gateway to all kinds of online games, including mobile versions, and high-stakes, multi-hand, 3D, and VR blackjack games. We also provide a guide to blackjack rules and offer real reviews by real online casino players so you can play safely and responsibly.
We'll hit you with all the information and links you need to become a real blackjack player.
FAQs: Black Jack Odds Charts
What are the odds of winning at blackjack?
The odds of winning at blackjack are the highest out of any casino games, with a house edge of one percent.
What is the best blackjack strategy?
The best blackjack strategy can often be the most simple ones- check out our blackjack basic strategy chart here.
How many deck blackjack has the best odds?
The number of decks used in blackjack can have a slight impact on the house edge, with a single deck game's house edge being the lowest.
When should you stand in blackjack?
It's wise to stand in blackjack when the hand totals are 17, 19, or 20, as you won't gain anything by having another card dealt to you, regardless of the dealer's hand.