Covered topics
---
 Learn how a hit chart can help you make smarter decisions when playing blackjack and get access to a comprehensive blackjack hit chart.
If you're new to blackjack, it might seem like this card game is all about chance. While Lady Luck does play a role, there are steps you can take to improve your odds of winning. This guide provides a basic introduction to the game, hit and payout charts, and valuable information to improve your competitive edge when playing blackjack.
Blackjack 101
Blackjack is played with multiple 52-card decks. The more decks used, the tougher it is for players to use strategies like card counting. Regardless of the number of decks used, every card has a set point value. Your hand is calculated based on the sum of cards. Here's the basic point breakdown:
Ace = one or 11 points
2 through 9 = their face value (a 2 equals two points)
10, Jack, Queen, and King = 10 points each 
So, what's the goal? You want to beat the dealer by getting a hand that is higher than theirs without going over 21. Blackjack is your target. A "blackjack" refers to a perfect score of 21 and includes one ace and one 10-point card. If you "bust," your hand adds up to more than 21. If the dealer busts, their hand adds up to more than 21.
After the players place their bets, the dealer distributes two cards to each player and two cards to themselves. One of the dealer's cards is face up and the other is face down (the "hole card"). You can then take any of the following actions:
"Stand": When you stand with your cards, nothing happens. You don't get additional cards. You might do this further into the game when you're getting close to 21.
"Hit": When you request a hit, the dealer gives you another card. You can hit multiple times in a single game.
"Double" or "Double Down": When you double down on your bet, you can only get one more card from the dealer and your wager will be doubled.
"Split": This is a tactic you'd take if you have a pair of two cards worth 10 points each. When you split such a hand, you divide these cards into two distinct hands. The dealer then gives you a second card for each new hand, and the game continues. When you split, your wager will also be doubled!
"Insurance": If the dealer has an ace, they can offer insurance. This is a side bet you can choose to take (or not) as to whether the dealer will get blackjack or not. Insurance bets usually offer even money (1:1) in return. The house edge is significant, however — it's more likely that the dealer will not get blackjack — so taking insurance is a risky move.
"Surrender": With a surrender, players are allowed to risk only half of the amount they've bet. If you are sure you will lose your hand, you may choose to surrender. This isn't offered on every blackjack table, however, and it's rarely available in online casinos.
Knowing when to stand, hit, double down, split, or surrender (if possible) will improve your odds of beating the dealer. The next section provides more information on when it makes sense to take each action.
Blackjack Hit Chart
Once you are armed with a basic understanding of blackjack, you can start thinking about strategy. Let's say you have a queen and an 8 in your hand, totaling 18 points. If you get an ace (equaling one point) or a 2 (equaling two points), you're still good. So, in a standard 52-card deck with four aces and four 2s (one of each suite — clubs, diamonds, hearts, and spades), there are eight cards in total that will result in a positive outcome for you. The other 43 cards will leave you with a bust, however. When considering those odds, the smarter strategy is simply to stay and hope the dealer's hand doesn't beat your 18.
A blackjack hit chart provides guidance on exactly when it makes sense to take each action (e.g., stay, double down, split, or stand). The below chart provides a full overview.
Before diving in, here are two more essential terms to know:
A "soft total" is a hand that has an ace as one of the first two cards, with the ace counting as 11 points to start.
A "hard total" is any hand that does not start with an ace or a hand that has an ace that can only be counted as a 1 instead of an 11.
Here's a sampling of some hard-and-fast rules that you can glean from such a chart:
Always stand when you have a hard 17 or higher.
Always hit when your hand is 11 or lower.
Always double when you have a hard 10 unless the dealer has an ace or a 10.
Always split aces and 8s. Never split 10s.
Here is a beginner's blackjack hit chart in its entirety. Memorizing this chart will help you make smarter choices during a game. This particular chart assumes that doubling down after pair splitting is allowed — and that the dealer stands on soft 17 (a common rule in blackjack that requires the dealer to hit if they hold a soft 17).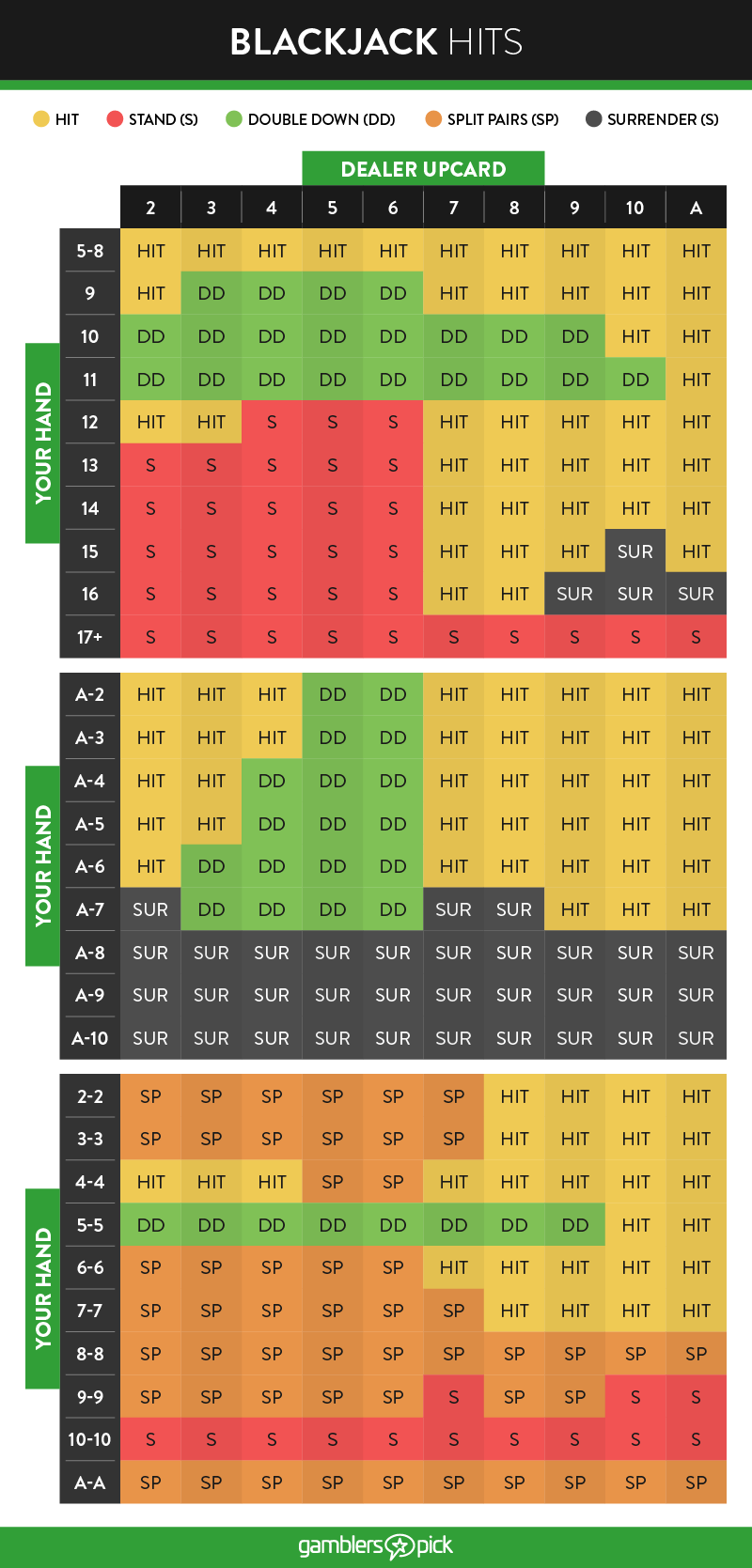 Tips for Blackjack Success
Of course, it takes more than memorizing a hit chart to win at blackjack. Here are some other steps you can take to improve your game.
Set a Spending Limit
Decide how much you want to win and how much you're willing to lose before you play a single hand. This ensures that you know when to walk away, whether that means walking away while you're ahead or before you lose more money than you can reasonably afford. One way to help keep your cash safe is to make a rule of playing only with your winnings. If you make an initial investment and win some money, use that money to fund further playing. Don't dig deeper into your pockets.
Stick to Smart Bets
Make smart bets. Sounds straightforward enough, right? Unfortunately, many people get dazzled by the gambling atmosphere. Be especially wary of dealers, whether you're playing in an in-person casino or online. Part of a dealer's job is to put you at ease and encourage you to make riskier bets, ensuring that the house stands to win more if you lose.
Practice, Practice, Practice
Memorizing a blackjack hit chart is one thing. Putting it into practice is another. You have to be able to think and act quickly while also analyzing what's in front of you. Remember, the hit chart is helpful but it isn't the only consideration. Once you've mastered the basics, you can proceed to more advanced strategies, like placing several bets at once. Online gaming is a great way to practice because you lose the distraction of the casino environment. You can also find free blackjack games to practice online.
Blackjack Payout Chart
So how much do you stand to win in Blackjack? It depends in part on how much you bet, of course. Most tables use a 3:2 payout system. For example, if you bet $2, you can expect a payout of $3. This chart breaks down some common bets and payouts for a table that offers a 3:2 payout. Note that if you and the dealer tie in terms of hand point value (called a "push") nothing happens. You don't win any money but you don't lose money either. Your bet simply stays on the table.
Finally, keep in mind that your payout will change if you split or double down (forgot what those terms mean? Look back at Blackjack 101 for a refresher). If you originally bet $1 and then double down, for instance, you are raising your original wager to $2. You will then stand to win $3 instead of the original $1.50 you might have gotten had you not doubled your hand. Of course, you also stand to lose $3 instead of just $1.50.
Hone Your Blackjack Skills With GamblersPick
GamblersPick gives you the opportunity to put your newfound skills to the test. From free blackjack to live dealer blackjack, you have a variety of options to choose from. The platform also offers additional guides, covering everything from poker to roulette. You can enjoy learning about and playing your game of choice from the comfort of your own home.